The CPU temperature monitoring tools have become an essential utility for modern PC and laptops because they tend to overheat very fast.
When users are playing games, overclocking the CPU, or running a stress test their PC's CPU starts heating up.
The CPU Temperature monitor software collects DATA from various sensors helping you diagnose the problem and fix it.
Users can also check real-time CPU temperature using these tools.
These PC hardware monitoring tools can also give you hints of which part is performing slow and then you can take proper measures to fix the problem.
If you are looking for the best CPU temperature monitor that can help you manage ideal PC temp, control CPU fan speed manually, and works as the best system information tool.
Then we have handpicked the list of best PC temp monitor tools that are reliable, accurate, and free.
Best CPU Temperature Monitor tools For Windows
1. Core Temp – Best PC Temp Monitor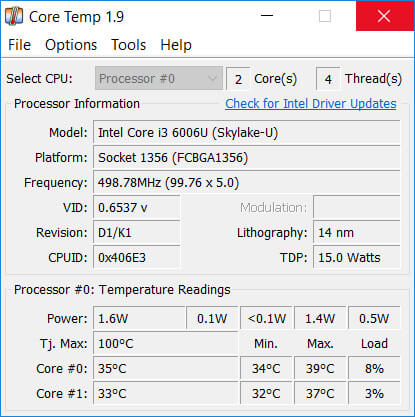 If the only requirement you have is to monitor the CPU temperature of your PC then Core Temp is the best CPU temp monitor. It's a free and lightweight tool that gives you real-time accurate temp readings.
Core Temp collects data using the Digital Thermal Sensors that all major processors have on them. These sensors give more accurate information and Core Temp utilizes them to show us data.
Core Temp also shows you the individual temperature and load for each of your CPU's cores. This tool also gives you helpful information like current, maximum, and minimum CPU temp, Core threads, CPU model, frequency, power in wattage, and TJ.Max values.
You can download the latest version of Core Temp on any Windows OS.
You can leave Core Temp running in the background without slowing down your other programs. To prevent your PC from overheating you can also enable overheating protection feature. It will inform you when your PC temp goes beyond normal limits.
2. Speed Fan – Best PC Fan Controller Software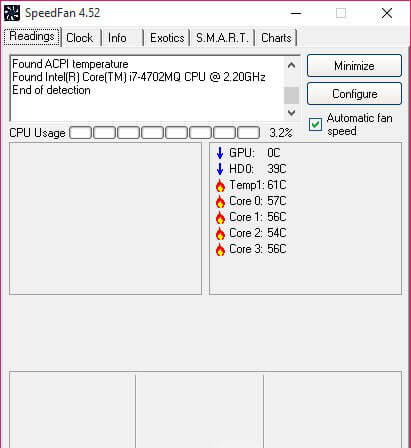 If you need a hardware monitoring tool that not only shows your current CPU temperature but it can also control the PC's CPU fan speed. Then download SpeedFan latest version on your PC that is totally free and highly compatible with all modern processors.
The interface of Speed Fan may seem classic and old but it's the best CPU temp monitor even in 2021. It can access S.M.A.R.T info and show hard disk temperature, CPU fan speed, voltage, and CPU temperature.
The Speed Fan is one of the best fan controller software for Windows PC. You can manually increase the fan speed of your PC or laptop using this utility. You can also set a custom fan curve that will automatically increase the fan speed when your computer overheats.
3. Real Temp – Best Intel CPU Temp Monitor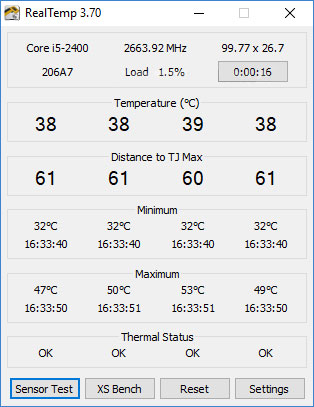 Real Temp and Core Temp are quite similar to each other because both have one reliable feature that is to monitor CPU temperature. Real temp can also show you the temperature of each individual core. This PC temp monitor comes great in handy if you have an intel processor.
Real Temp is a very simple and lightweight CPU heat monitor that you can use to check live CPU temperature. This utility can display the minimum and maximum CPU temperatures using different test sensors and includes a high-temperature alarm and shutdown feature.
If you don't want to know how hot your CPU should be running at then Download Real Temp because it uses TJ MAX values to protect your PC. Temperature Junction Maximum (TJ MAX) is the highest CPU temp limit where a CPU will start throttling to protect itself.
The only drawback is that this tool does not support AMD processors or Pentium 4 processors.
4. HWMonitor – Reliable Hardware Monitor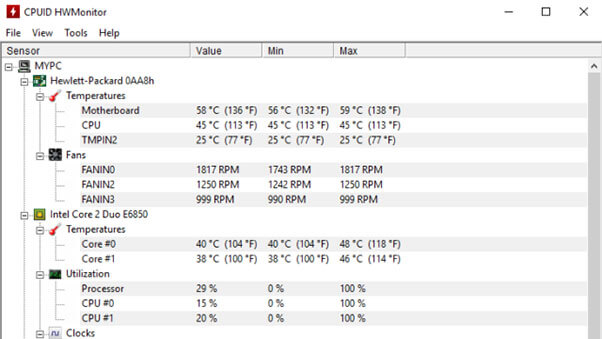 HWMonitor is not just a CPU temperature monitor but it's a complete PC hardware monitor. This tool displays a complete list of all the installed hardware using different sensors. Not only you can monitor CPU temp, core voltage, frequency, load, check CPU fan speed but you can also monitor GPU temp, HDD temp, and many more.
For the ease of users, HWMonitor is available to download in two different versions either download HWMonitor portable or HWMonitor setup. Upon minimizing this tool doesn't add up in the system tray so to check readings you need to open it up manually.
5. NZXT CAM Software – PC Monitoring and Optimization tool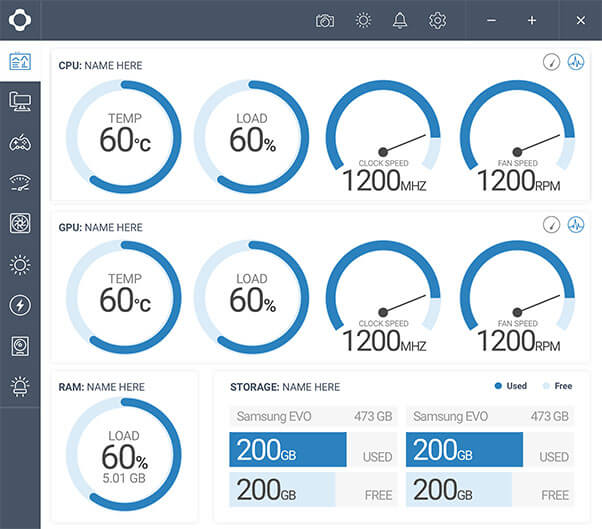 For Windows, iOS, Android
If you have NZXT products installed on your PC and you need to monitor their performance or temperature, then download NXZT CAM software. It's a free, efficient, fast, and easy to use tool that gives you complete control over your PC hardware.
You can check accurate readings about CPU temperature, Memory usage, Storage capacity, Network consumption, and Running process in a single window. If you have a custom graphics card install then you can also check the current GPU temperature.
The NZXT CAM also shows the RPM of the CPU and GPU fan but in case your PC overheats a lot you can also set the custom fan speed of the PC. Although this tool was built mainly to control NZXT's products still it's a reliable fan controller software to download.
6. MSI Afterburner – Reliable CPU/GPU Overclocking Software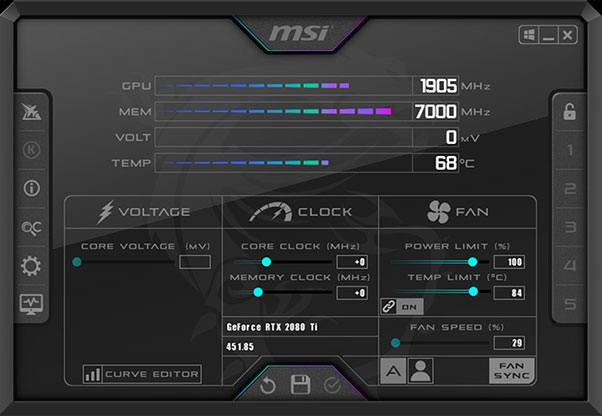 MSI Afterburner is the world's most famous graphics card overclocking software that is used by millions of users even in 2021. If you want to overclock your CPU or GPU then you can download MSI Afterburner. You can also check CPU temp and GPU temp, monitor CPU fan speed, CPU frequency, load.
This tool is best for gamers because this tool has an on-screen display feature that enables users to check CPU/GPU temp while playing games. Users can also check FPS while gaming.
The latest version of MSI Afterburner is free to use that supports all modern graphics cards i.e. NVIDIA GeForce and AMD Radeon. This tool has built-in safety features that help users protect their PC while overclocking. This is the best PC benchmarking tool because it quickly disables the whole testing process if voltages go out of control.
7. Speccy – Best System Information Tool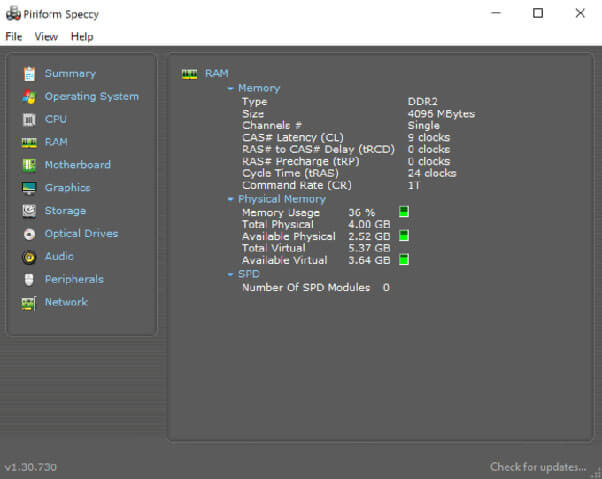 Most users don't know how to check PC's specs, when asked what's the motherboard model they can't tell. If you want to know what's inside your PC then download Speccy on your PC. It's a complete system information utility for Windows PC.
Speccy gives you more information than the other CPU temperature monitor. Not only you can check CPU temperature, load, frequency, voltage GPU temperature but you can check your motherboard model, manufacturer, RAM, graphics cards, hard disks, optical drives, and audio support.
Users can download the Speccy professional version that gives extended customer support with automatic Speccy updates.
8. Argus Monitor – Just Another PC Fan Controller Tool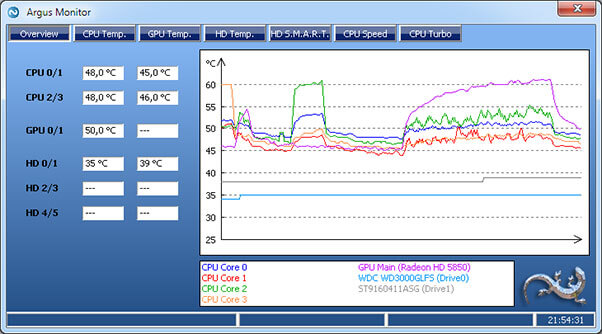 Argus monitor is a lot like SpeedFan in the way that it can monitor and control PC fan speed. Although you can also check CPU temp using this utility the main feature of Argus Monitor is to control CPU fans peed of a PC and laptop.
If your PC fans are noisy or don't spin fast enough to dissipate heat then you should download Argus Monitor's latest version to manually change the PC fan speed. This tool also shows important information such as current GPU temperature, hard drive temp.
The Argus monitor is also a reliable GPU fan controller as it supports all NVIDIA and AMD GPU's. you can download the Argus monitor on your PC for 30 days trial version after that you need to buy its full version.
9. HWiNFO – System Information and Diagnosting Tool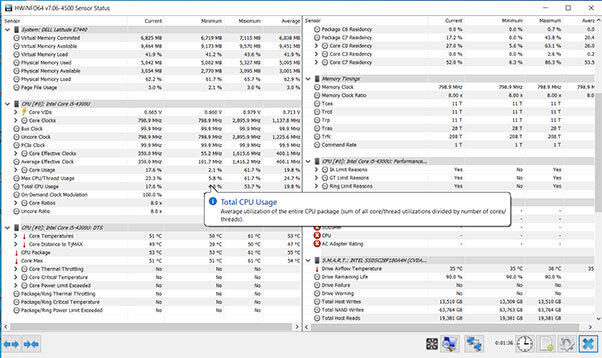 HWiNFO is another CPU temperature monitor for Windows PC to check CPU temp, GPU temp, CPU load, frequency, and fan speed. This system information tool displays tons of info about your PC hardware. If you simply want to monitor CPU temp then HWiNFO is not your choice because the way this tool shows data might confuse you.
If you need software that can customize alerts and send you notifications on any parameter monitored then Download HWiNFO on your PC. You can also get reports and integration this tool with external 3rd party add-ons and extensions.
10. Open Hardware Monitor – Open Source Temp Monitoring Tool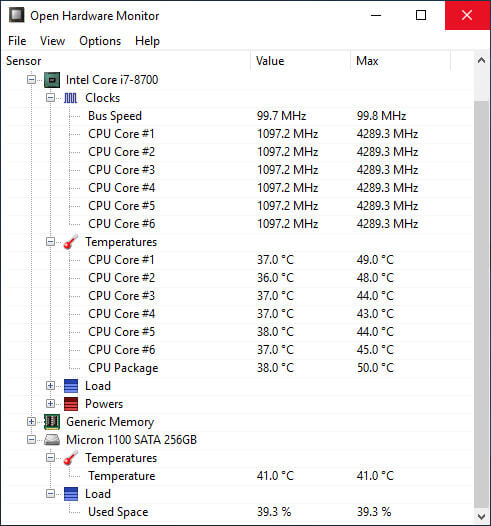 The Open Hardware Monitor is a free open source tool that monitors CPU temperature, fan, and clock speeds, and voltages of a PC. Due to its lightweight and simplicity, it is one of the best PC temp monitoring software. You can easily check CPU temperature and maintain it under optimal limits.
This tool can also access S.M.A.R.T sensors and show you the accurate hard disk drive temperature. Another benefit of using this hardware monitor is that it works with both Intel and AMD processors. You can also check your GPU temperature as it supports ATI and Nvidia graphics cards.
If you are looking for a CPU temp monitor for a laptop then download Open Hardware Monitor because it consumes fewer resources and is lightweight. No installation is required to use this software.
11. AIDA64 Extreme – Perfect Solution For Home PC Enthusiast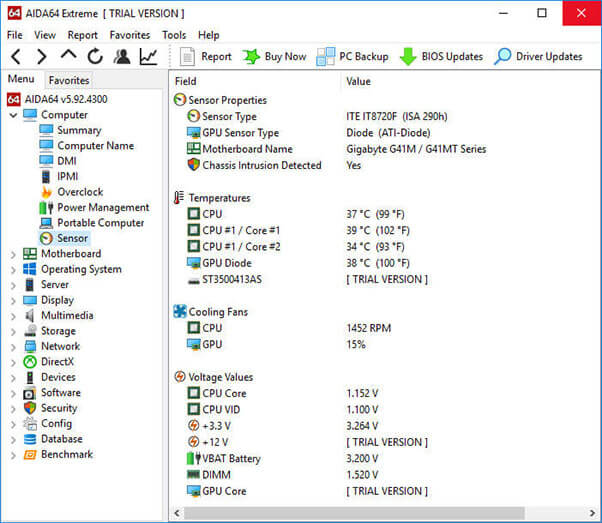 It's not a lie if you say that the AIDA64 Extreme is a Swiss Army Knife. This PC temperature monitor is available in different versions. You can download any of the versions as per your needs. AIDA64 Extreme has multiple features for its users such as it has hardware monitoring, benchmarking tools, stress-testing capabilities, diagnostics, and more.
If your only requirement is to check PC temperature then download AIDA64 Extreme which is a trial version. The trial version will work for 30 days after that you have to buy AIDA64 if you want to utilize all its features.
This tool is very handy for those users who have a habit to overclock their PC. With its advanced diagnostic features, you can keep an eye on hardware performance.
12. Corsair Link 4 – Hardware Monitoring App for Corsair Products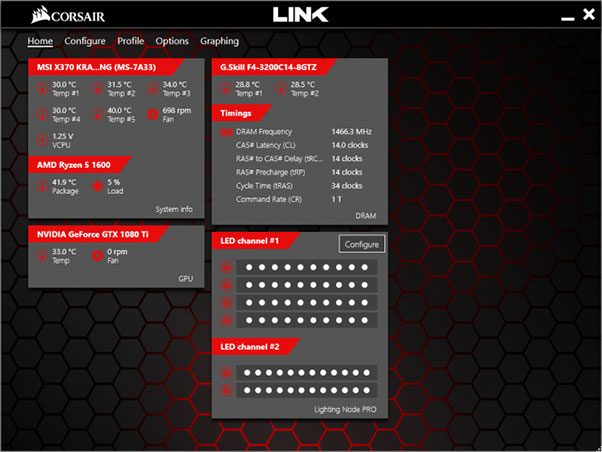 Corsair Link 4 is another CPU temp monitor specifically built to control corsair products i.e. liquid CPU cooler, PC fans, Case fan, RG lights. Even if you don't have corsair products you can still check CPU and GPU temperature, models, and core.
The corsair link 4 creates a link between liquid CPU cooler, case fans, DRAM, power supplies, hydro GFX, and helps you control them with one utility. If you want to change PC fan speed then you need to make sure that you have corsair dedicated products.
It's the best CPU temp monitoring software that is totally free to support all Windows versions.
13. CPU Thermometer – Simple Tool to Monitor CPU Temperature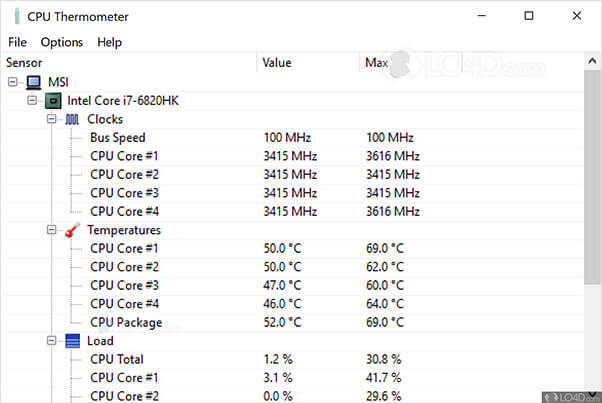 The last tool we have in our list of best CPU temp monitors is the CPU Thermometer. This is a simple lightweight tool to monitor CPU temperature and CPU load. This utility supports all the modern CPUs.
Another cool feature of the CPU Thermometer is that you can set a maximum CPU temperature limit. When the temperature reaches the max value, you can choose to display a warning message, shut down the computer, or reboot the computer.
Final Words
All the above hardware monitors cum PC temp monitors are the reliable tools that support all Windows 7/810 both 32-bit and 64-bit OS. Most of these tools are free and some offer a free trial. These tools will help you keep a close eye on your system's main health.