Krnl is a free-to-download and use Roblox script executor for Windows 10 & 11 PCs (64-bit only). It is one of the few famous script executors that are still updated to this day. It supports advanced features like a debug library, and drawing library, and can also run super complex scripts such as Owl Hub.
Although it is free, it does work on the traditional linkvertise key system that has to be repeated every 24 hours. It is not available on Android mobiles as of September 2023 but you can use Arceus X as an alternative. Keep in mind that your account can still be banned if it is detected using this executor/Exploiter, so use it with caution and at your own risk.
How to Download and Install Krnl
Take a look at the instructions below to learn how to get the Krnl download and get it running in Roblox.
Step 1: Scroll to the top of this page to download the latest version.
Step 2: Extract the downloaded zip archive and launch it via the exe file.
How to Get Krnl Key
Before we can start injecting scripts into Roblox games, we must first obtain a key to get access for 24 hours. To obtain this key we will need to visit the linkvertise link and watch a few 15-second ads after which the key will be provided to us.
Avoid going for websites that offer a Key Bypass 2023 or Key Generator as most of them are fake or don't work anymore and will simply waste your time. The only real place to get a valid key is the official website. See the steps below to find out how to get a key.
Note: Make sure the executor is running before you start this process.
Step 1: Click on this link and go through checkpoints 1, 2, 3, 4 & 5 by clicking Continue once the button is available after watching the ad.
Step 2: Once all the checkpoints are cleared, the Roblox exploit will automatically pick up this key and you can start injecting scripts into Roblox.
How to Inject & Use Krnl
Here's how you can get started with injecting and executing custom scripts in Roblox games like Blox Fruit,
Step 1: Once the linkvertise key process is complete, run the Microsoft Store version of Roblox and in the exploit click on Inject.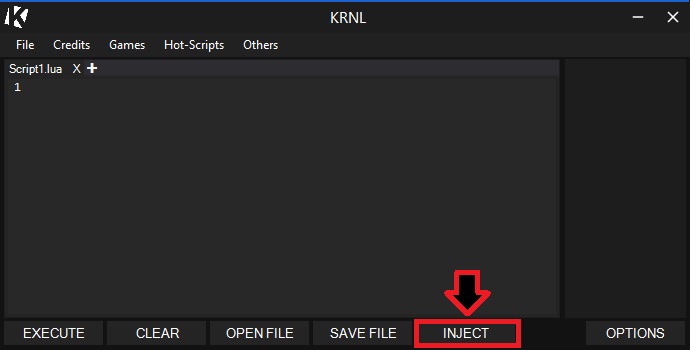 Step 2: Now that the exploit is injected into Roblox, you can start executing scripts by either copy-pasting the script of your choice into the Lua Script Editor and clicking on Execute. However, if you're using the custom script editor then paste/write the script and click on the Play button to execute it.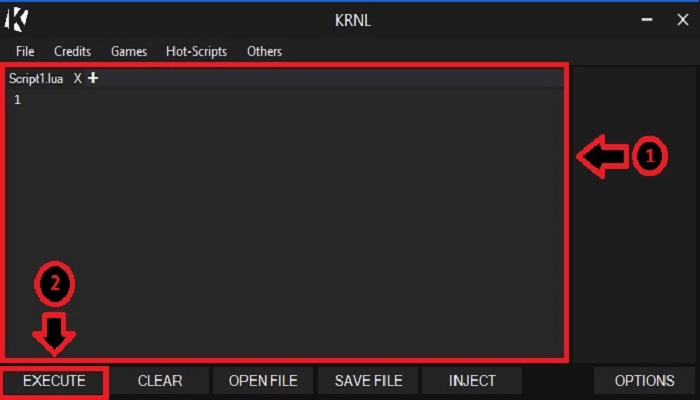 Step 3: That's it! Your custom scripts should now be working in Roblox.
How to Update Krnl
There are two methods to updating this cheats app, we'll be sharing both so pick the one that suits you best.
Method 1: Uninstall the old version of the app > Download and install the latest version.
Method 2: Download the Krnl Console Bootstrapper (Can be found via a Google search) > Uninstall exploit > Run the bootstrapper > Wait for the update to complete.
How to Uninstall Krnl
The safest way to uninstall it is to end all running tasks related to it in the task manager, and then delete all of its files. This will remove it completely from your PC, as a security measure you can also uninstall Roblox and reinstall it just to be safe.
Krnl Not Working
This not working problem is a very common issue that can be easily fixed. See the steps below to see how to fix it.
Step 1: Uninstall the older outdated version and restart your Windows PC.
Step 2: Get the latest version of the download and add it as an exception in your anti-virus software. Alternatively, you can also turn off your anti-virus software.
Krnl Stuck on Correct Key
This error is quite common and occurs when the exploit is verifying the key. If you're also stuck on the correct key then launch Task Manager, end the Roblox task, and launch it again. Doing this should fix the stuck-on-correct key error.
Krnl Could Not Connect to Servers
If you're facing this issue a good fix is to use an actual VPN before you launch the cheating tool. This will help you bypass this error and connect to the servers properly now. Here are some VPNs that we suggest using.
FAQs
What is Krnl and is it free?
It is one of the most popular Roblox Script Executors that will work in 2023. It does get patched every now and then but comes back soon with an update.
Yes, it is free but does require you to go through a bunch of ads to get a key that will give you access to the software for 24 hours after which the process will need to be repeated.
What level is Krnl?
It is a level 7 executor which is just 1 level lower than the most powerful Roblox executor at level 8.
Is Krnl safe?
This Roblox exploit is fully safe to use, so long as you download it and obtain its key officially. We have tested it personally and found it to be free of viruses and malware.
Is Krnl down?
It is still working in December 2023 according to their official Discord channel.
Is it available on Android?
No, this Roblox script exploiter is only available on Windows PCs but you can use Arceus X as an alternative on Android Mobile devices. It also works on a similar key system.