Delta Executor is a powerful script execution app for Roblox. It can be used to hack/cheat in games such as Pet Simulator X, Blox Fruits, Shindo Life, Arsenal, Jailbreak, etc. It is also a keyless executor so players won't have to go through a bunch of ads to get access to it.
Delta Executor download is free on Windows 7/8/10/11, and Android and receives constant updates on these devices. MacOS and iOS are not supported and there are no plans for future support anytime soon. It receives updates regularly along with Roblox.
Note: As of October 24, 2023, this executor is patched on Windows and UWP (Universal Windows Platform). An alternate way to run it on Windows is to use an Android emulator on Windows. We recommend using BlueStacks as that is what we used in our tests.
How to Download and Install Delta Executor
Since this executor's PC version is patched, we will be downloading and installing the APK file on PC with BlueStacks Android emulator, here's how you can do it:
Note: Please be worry of fake websites claiming to be the official website for this executor, they're mostly providing fake APKs that can infect your device.
Step 1: Start the download of the APK file from the top of this page after clicking the download button.
Step 2: Go to your downloads folder where the APK just got downloaded.
Step 3: If you see the BlueStacks logo on the APK file then just double-click it. Otherwise, right-click it and choose Open with BlueStacks X.
Step 3: Once installed launch it via the Roblox icon in the app player section and start enjoying it on PC.
How to Download and Install Delta Executor APK on Android
For Android devices, the steps are quite similar as mentioned above:
Step 1: Download the APK from this page and launch it.
Step 2: If prompted to enable the install APKs from the Unknown Sources option then do it by following the on-screen instructions.
Step 3: Once enabled, go ahead and install the APK.
Step 4: After installation is complete you can launch it via the Roblox Icon on your home screen.
How to Use Delta X Executor
Using this exploit is pretty straightforward:
Note: Please always remember to use an alternate account when trying any executor as there are chances of being banned if you spam cheats too often.
Step 1: Launch the app via the Roblox icon on your phone's home screen or your Android Emulator main screen.
Step 2: Once it starts up, enter the game you want to run the executor in.
Note: We used it with the Blox Fruits game. You can find plenty of Blox Fruits Scripts to run with this executor.
Step 3: After you're in-game, there will be a small ninja icon at the top middle of the screen (see image below for reference). Click on it to open the executors menu and start using it.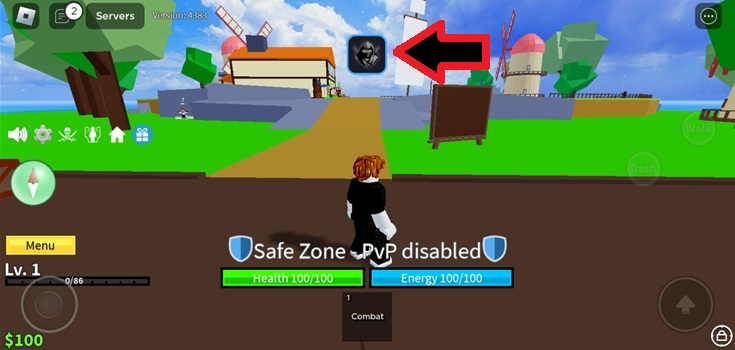 The following are the most suitable alternatives:
If you're just looking for an FPS Unlocker then try out the latest RBXFPSUnlocker. It is one of the most downloaded tools for Roblox ever.
Check Delta's Old Version
FAQs
Is it working right now?
Yes and No, The PC version is not working right now as it is patched. The Android version however is working just fine and can also be used on PC via an Android emulator.
Is Delta Executor free?
Yes, it is a free-to-use exploit. You can easily download and install it on Windows or Android devices.
Is Delta Executor safe?
Yes, it is completely safe to use as we found in our testing and scans. It may be flagged as a virus by your browser and Anti Virus software but that is just a false alarm.