Are you currently using Windows 10 and want to update it to the latest version?
Or you want to download Windows 10 ISO and switch over to Win10 in 2023.
But can you use Microsoft's new OS legally free without having to buy Windows 10 Pro or Home license?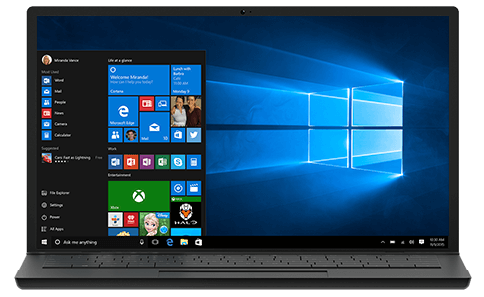 The safest way to do any of the above is to download Windows 10 ISO file to your PC from an official source and install the ISO file using a bootable USB drive.
On Softlay you will get the original Windows 10 ISO files for both 32-bit and 64-bit OS from our secure high-speed download server. All you need is a genuine licence key with you. BTW, we don't offer Product Keys for Windows 10 OS.
Windows 10 OS
Download Win 10 latest version for x86/x64 PC.
If you don't know how to legally download and install Windows 10 ISO file, we will cover the basics. Just keep reading to learn what you need to do.

Windows 10 Latest Version Update
Tired of waiting for the latest Windows 10 feature update? Learn how to update Windows 10 to the latest version or download new Windows 10 updates manually.
Getting started with Windows 10 may be somewhat daunting at first, but it is definitely possible to switch to Microsoft's latest OS release. But yes, there are some steps involved.
How To Download Windows 10 ISO File
To install the latest Microsoft operating system on your PC, you need to download Windows 10 ISO file. There are two best sources to download Windows 10 ISO legally for free.
One official source to get Win10 ISO file is Microsoft itself. You can also download ISO file directly from Softlay's fast and secure download servers. Let's explore both sources.
Download The ISO legally from Microsoft
Microsoft is indeed official, but not the best legal source to grab a copy of the Windows 10 ISO. There is no direct download link available on the Microsoft's website. You have to install a software to get the ISO file or create an installation media. This makes the process lengthy and time-consuming.
However, if you do want to download Win 10 ISO from the official site, visit Microsoft website. You will find two buttons on the Windows 10 download page. Click on the "Download tool" button. It will download the Windows media creation tool on your PC.
Our guide on Windows 10 media creation tool will help you out to download the Windows 10 bootable ISO Disc Image.
Download Windows 10 ISO File Directly from Softlay
For user's convenience, we keep an untouched and malware-free ISO file on our server for direct download. You can now download Windows 10 ISO files directly from our fast downloading server without wasting your time in finding the ISO file on the Microsoft site.
Directly download Windows 10 latest updated version disc image (ISO files) bootable files for laptop PC from Softlay without product keys or media creation tool pre-activated disk image for free full version 32/64-bit (x86/x64).
How To Install Windows 10 Using ISO file
There are two ways of installing Windows 10 OS on any PC. One way is to install directly from an ISO file and the other one is to install the OS from a bootable USB flash drive.
You can install Windows 10 directly from the ISO file while running a Windows PC. An ISO file is like a DVD image of Windows 10 OS, which can be used to run the Win10 Setup.
You can also burn the ISO image file to an external media, usually a USB flash drive. This is the recommended method to install Windows 10 from a bootable USB drive on any PC.
Let's explore both ways of installing Windows 10.
Install Windows 10 directly from the ISO file
You can install Windows 10 directly from the ISO file Within Windows 7 or 8/8.1 PC. This type of installation will be called upgrading your PC's operating system. In this case, you will upgrade from Windows 7 or 8.1 to Windows 10 OS.
If you are using any previous version of Windows and want to upgrade to the latest Windows 10 for free. Follow the guide to upgrade or update your Windows for free.
Upgrade Windows 8.1 to Windows 10
If you're running Windows 8 or 8.1, you can simply upgrade your PC or laptop to the latest version of Windows 10 by mounting the ISO file.
For this simply visit the softlay to download Windows 10 ISO file for free.
Open the folder where you have downlaoder the ISO file.
Double-click on ISO file to open it.
Click on Setup.exe, and the installer will open.
Choose to install Windows 10 in place, leaving your files and programs.
All necessary data will transfer from the ISO to your computer, which will eventually restart your PC to complete the installation.
That's it!
Upgrade Windows 7 to Windows 10
If you're running Windows 7 or an earlier version of Windows, you can't mount ISOs directly to install or upgrade your Windows. To upgrade your Windows 7 to Windows 10, you need to download Virtual Clone Drive to install ISO files.
Once you've downloaded the Virtual Clone Drive, open it and mount your Windows 10 ISO file. Once you've mounted the drive. Follow the steps below for Windows 10 installation on your Windows 7 PC.
Note: You also can try the Windows 10 Upgrade Assistant to upgrade from Windows 7. We have a guide for that here.
Create a bootable USB drive from ISO, for a clean installation
If you are not upgrading from an older Windows operating system and want a fresh Windows 10 installation.
Then you should create a bootable USB flash drive from the Windows 10 ISO file. It enables you to perform a clean Windows 10 installation on any PC.
Windows 10 Installation / Media Creation Tool
To create a Bootable USB or Windows 10 Installation media, you need to download Media creation tool. Follow the complete tutorial on How To Create Windows 10 Installation Media with the Media Creation tool.
Create bootable USB with Rufus for Windows 10
Creating a bootable USB with Rufus tool is one of the best, simple, and most recommended methods to create a bootable USB from an ISO Image file.
Rufus is a simple tool for creating bootable USB from an ISO image file. Read the complete guide about How To Create Bootable USB Using Rufus.
(re)Install Windows 10 From USB Flash Drive
To install Windows 10 on a fresh PC, you need a Windows 10 Installation media, usually in the form of a bootable USB flash drive – that you created earlier in this guide.
Change the Boot Order in BIOS to Boot From USB flash drive. TO change the boot sequence (order)…
Restart your computer.
Press F2 from your keyboard while restarting to change your system boot order.
From the boot options, you need to bring USB Flash Drive on top of the list.
Press F10 to save the setting and exit.
After changing the boot sequence, plug in your bootable USB drive into your computer (which you have just created).
Wait for your computer to restart.
On the restart, system will ask you to press any key.
Press any key from your computer keyboard.
You will see the Installation windows.
You are now ready to set up your windows installation.
Follow the steps in the dialog box to complete the installation.
How To Update Windows 10 To The Latest Version
If you are using an outdated version of Windows 10, you can install Windows 10 updates, either by downloading and installing the latest Windows 10 updates or you can simply update your Windows 10 from your Windows settings.
To Install Windows 10 latest updates visit Microsoft and download the windows 10 updates for your PC.
Search for "Check for Updates" in the Windows 10 search bar and click to open.
Click on the "Windows Updates" Button from the setting to install the updates on your PC. (see pic below)…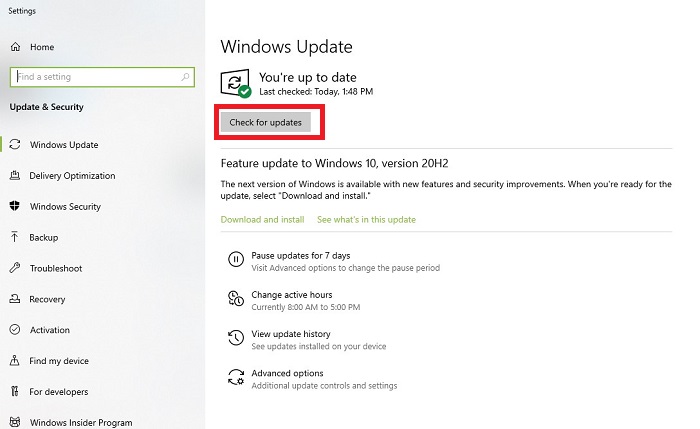 How To Uninstall Windows 10 Update
Sometimes Windows update might cause an error or some programs might not run on your Window 10 PC. In this situation you might need to uninstall Windows 10 latest updates from your system, to uninstall Windows updates follow the steps below…
From the search bar, search for "Updates".
From the setting choose the latest updates.
Click the uninstall Windows Updates.
Click OK to uninstall.
Thats it!
---
| Name / Description | Version | Build Number | Public Release | RTM Release |
| --- | --- | --- | --- | --- |
| Windows 10, Version 1507 | 10.0 | 10240 | 2015-07-29 | 2015-07-15 |
| Windows 10, Version 1511 | 10.0 | 10586 | 2015-11-10 | |
| Windows 10, Version 1607 | 10.0 | 14393 | 2016-08-02 | |
| Windows 10, Version 1703 | 10.0 | 15063 | 2017-04-05 | |
| Windows 10, Version 1709 | 10.0 | 16299 | 2017-10-17 | |
| Windows 10, Version 1803 | 10.0 | 17134 | 2018-04-30 | |
| Windows 10, Version 1809 | 10.0 | 17763 | 2018-11-13 | |
| Windows 10, Version 1903 | 10.0 | 18362 | 2019-05-21 | |
| Windows 10, Version 1909 | 10.0 | 18363 | 2019-11-12 | |
| Windows 10, Version 2004 | 10.0 | 19041 | 2020-05-27 | |
| Windows 10, Version 20H2 | 10.0 | 19042 | 2020-10-20 | |
Q.01: How To Download Windows 10 ISO for free and Burn to USB?
Ans: Whether you've bought Windows 10 already or not, Microsoft lets anyone download a Windows 10 ISO file and burn it to a USB drive to create installation media for free. During the installation process, you will be asked for an activation key.
Q.02: How Much it will take to Download Windows 10?
Ans: Well the download time depends on your internet speed and how you download it. Windows 10 Install time can take anywhere from 15minutes to three hours based on your device configuration.
Q.03: What size is the Windows 10 download?
Ans: Windows 10 x64 and x86 OS versions bundled as a single download is about 5GB. But an x64-only package is about 2.6GB in size, saving customers about 2.4GB download size.
Q.04: How to activate Windows 10 Free?
Ans: You can activate your Windows 10 by purchasing the official package from Microsoft's website. But in case you want to do that you can use the official Windows 10 Activator.
Q.05: How do I know if my USB is UEFI bootable?
Ans: The key to finding out if the installation USB drive is UEFI bootable is to check whether the disk's partition style is GPT, as it's required for booting Windows systems in UEFI mode. Check If a USB Drive Is Bootable or Not in Windows 10.