Are you looking for an all-in-one picture collage maker so that you can create aesthetic pictures with pretty backgrounds? Look no further, just use FotoJet an easy-to-use online photo editor and collage maker. No need to download Fotojet or go through the registration process. You can instantly edit pictures of you or your friends and share them using social networks. Apart from its online version, you can also download FotoJet for Windows and Mac OS.
Now let your imagination go wild with hundreds of photo collage frames and collage templates. Its free version is available for all, however, they have also offered its paid version.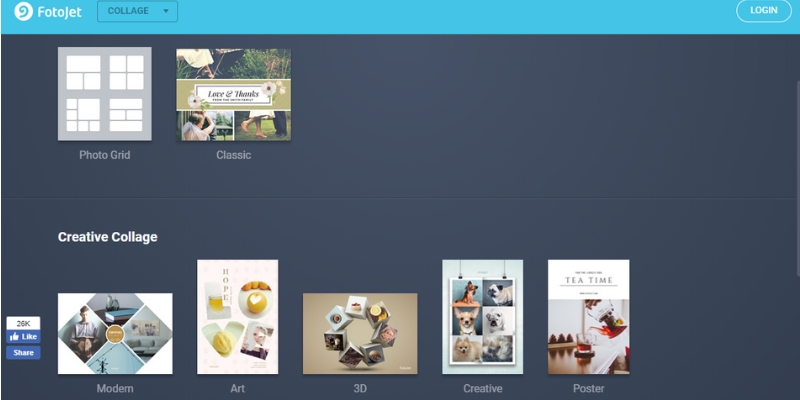 Fair Deal As Compare to Costly Photoshop
When it comes to editing photo, make a collage or create amazing designs, everybody wants free online Photoshop software. Most of these online image editors are paid apps or they are so much complex that new users can't understand them. Rest assure FotoJet collage maker app lets you create aesthetic and funny pictures with few mouse strokes.
PearlMountain has developed this amazing image editor online app. It allows you to make free photo collages for your graphics needs. Along with the online collage maker, the developer has also made its windows version.
Its download version is for those who do not go online and want to can make photo collages even when they are offline. As a profile picture maker, you can start from hundreds of collage templates, or you can start from scratch.
100+ Templates to Start With
This picture collage maker has thousands of built-in templates. These templates include Instagram post template, Facebook post template, Pinterest wallpaper.
Once you download the FotoJet picture maker and upon launching the software. You will see the main user interface which is very simple straightforward and clear. FotoJet collage maker interface doesn't confuse its users.
What's the Difference in FotoJet Download Version
The online and Windows version almost have the same features. There interface is similar. They have the same options such as Classic collage, creative collage, and misc.
Here all you have to do is select a template and start making Facebook Cover, Facebook Post, Twitter Header, or YouTube Cover.
Upon clicking on any template you will enter in the image editor online portal, which is divided into 2 main sections. The left section contains the menus while the right section is the main canvas area. Here you can edit your chosen template.
FotoJet Collage maker has a wide variety of templates and resources. With over 700+ photo grids and collage picture frames, you make collages in different styles. Such as classic, modern, 3D, creative, or art.
Enjoy Resourceful Library
If you want to further improve your collages, a complete library of resources with over 100+ text fonts & styles, 800+ preset clipart images, 80+ background makers,s and 80+ lines & shapes can be added and edited freely.
Free Vs Paid Version
This online collage maker is available in free and paid versions. In its free version, users can use all standard and basic features. But those who want a professional look of their collage or edited photos can upgrade to FotoJet Plus and use all premium features & resources. Its pro version will costs you annually or monthly depending upon your needs.
Its paid version offers more online photo storage, templates, fonts, photo effects, clipart images, shapes, overlays, frames. No ads will appear and you will also get priority support services.
Final Thoughts
In our experience, FotoJet collage maker proved to be a reliable online designing app. It download version has a huge file but it's compatible with Windows and Mac.
While creating designs this app didn't make our system slow. This image collage maker is best for those who don't want to learn graphic techniques.
You create easily HD wallpapers for windows and stunning backgrounds within a minute. Whether you are a novice or expert, the FotoJet collage maker is easily accessible and is definitely worth a try.
FotoJet Collage Maker
Online for PC
🛡️ Safe & Secure
Company Information
Pricing: Trail
Platform: Windows OS
LinkedIn: Profile
By: FotoJet