Pixelied, a tough competitor to Canva and DesignWizard is a graphic design tool that makes it possible to create stunning designs, illustrations, eCommerce product images, brand designs, logos, blog posts, and other super amazing content in just a few clicks. It is a comprehensive design suite with a growing library of stunning templates, post graphics, high-quality thumbnails, header images, and more that makes it super easy to market channels, social media, and brands.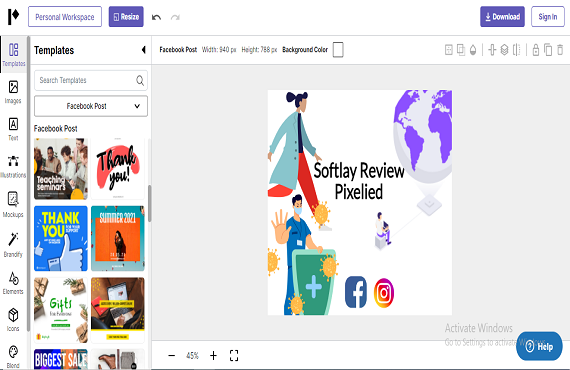 Pixelied Ease of Use
The online logo maker is extremely beginner-friendly. You might be taking time to figure out what each icon means on the main menu. The web-based app also has an instructional video to help with your design process. Also, if you hover on the left sidebar, there's this tooltip, instruction boxes that guide you on that.
Create Awesome Graphics
Pixelied is an advanced design tool with an advanced editor where you can compose beautiful designs from 4+ million royalty-free stock photos, a massive library of thousands of icons, 700+ library of hand-drawn illustrations, 900+ Google fonts, stock images, manipulation tools including eye-dropper, opacity, layers, borders, object grouping, shadows, flip, and duplicate, filters and effects, and alignments.
Pixelied also allows you to create powerful product mockups for your apps and websites. Also, there's a workspace for each brand or project that comes with its own colors, designs, and settings. In the same way, you can invite team members and other skilled workmen to collaborate with.
The templates in Pixelied are attractive and are of high resolution. They have also added E-commerce templates with lots of interesting product designs. You can select one and edit them in just a few clicks. This feature is great for designers, bloggers, and freelancers.
It has become very easy to create crisp logos and icons. Pixelied has a library of colorful icons and premium logo designs that for sure would catch everyone's eyeballs. Not only this, you can use these icons, logos, and illustrations for your landing pages, software's and applications and bring your designs back to life.
You also have a great advantage of using Pixelied. You can now easily remove background from images or use it as a standalone tool. Note also that you can create multi-channel campaigns in seconds and save a great amount of time. With awesome media designs you can tremendously gain traction on image-centric channels like Instagram or Pinterest.
You can import different vector graphics from programs like Photoshop and Illustrator. As a result, you can use these graphics in your design and edit it likewise.
There are six different categories of elements where you can find lines, arrows, shapes, dialogue boxes, doodles, and more. However, the elements are short of collection and there is no search bar feature available.
Empowering the online entrepreneur
Pixelied is a graphics design platform for almost all types of content creators such as bloggers, digital marketers, drop shippers, influencers, copywriters, and startups. They all can use this web app to create designs for their social media campaigns, blogs, and other related stuff. For these designers and idea curators, there's a range of editing tools and kits you can use to help reshape the design to exactly match the brand's needs.
These include image filters to add grayscale, Polaroid, sepia, vintage, and many more filters to give slight brush and beauty to your images. Similarly, images can be cropped in this way and text shadows and borders can be added to your designs.
Robust & Easy-to-Use Editor
Pixelied has a design editor that is light and fast. It is great at manipulating and downloading multiple file formats such as JPG, PNG or PNG transparent. It includes an extensive library of video tutorials to help you kick start your graphic design process. They are also supportive to their audience and customers, and timely give responses to any related issues.
Pixelied Lacks on a few things
There are a few things we would like to raise about this SaaS tool. They haven't added in a lot of backgrounds and mockups. Also, the border thing to work with the illustrations, I couldn't get that. Pixelied also lacks the Search function for the illustration library.
There's one thing more: the elements are quite limited. I was expecting more shapes from the library but probably they'll add in more in the future. Also, the background removal tool when works on the hardest images can sometimes fail and has no settings to fine-tune the results.
Often you get to see few lags when editing, but this won't be a show stopper. There a huge addition they need to make and that is they need to provide support for teams so they can collaborate in accordance.
Pixelied has a moderate amount of templates available for all social media platforms. I would want them to add more E-commerce templates and element design, and also include separate folder options for uploads.
There are currently jpg, png, and png transparent export options only. We expect them to expand their option ranges to avoid any kind of potential export problems. Apart from everything, there's are no animations and we can also not see them in their roadmap.
Pixelied VS Canva
Canva is an overall polished design tool that is used to create almost any type of visual content. It is also quickly becoming industry standard. With pre-made templates and a user-friendly interface, even a rookie can get the hang of it. However, it seriously misses features like mockup designer tool, background removal, and even drop shadows on icons which Pixelied is proud of.
Pixelied VS Crello
Crello again is another of this type. It is an excellent platform for making and sharing videos for social media. But, Canva is a lot easier to work with. Again, Crello does not include Mockup features which for some reason I like.
Pixelied VS Glorify
Glorify is great cloud-based design software that helps businesses create stunning visuals to mesmerize their audience – and not just images – (but) high converting product images. You can also create marketing materials, eBooks, logos, social media graphics and much more, without any design skills or learning curve.
However, I feel a little back away from using it. Their recent user interface update has made me use Pixelied more because they are mostly focusing to grow the features and not fixing bugs which is something Glorify is doing.
Pixelied Alternatives
I just compared Pixelied to Canva, Crello, and Glorify. These are some serious contenders to Pixelied and they are market leaders in this segment. Apart from these, there are a few others that make good choices over Pixelied.
DesignWizard is an online graphic design tool that is much like Canva and Pixelied, and is great for designing high-quality illustrations, social media graphics, premium logos/icons, and videos. But, DesignWizard is completely not free and you'll have to pay before you download the design.
A while ago, I used Stencil for designing a logo for one of my clients based in UAE. To my surprise that turned out to be super successful. In-fact he was extremely obliged to my work and yeah because he is my client the satisfaction means a lot to me. Anyways, Stencil is more than this.
It helps you to create engaging visuals for small business owners, bloggers, social media marketers, and more. It level-ups the quality of social media graphics and gives you the courage to create social media graphics, compelling ads, stunning blog headers & much more!
My Thoughts on Pixelied
Pixelied is becoming one of my go-to web apps and there's a reason for it. In-fact reasons! The workspace, editor, and pre-made templates are a time saver. There's no need for you to hire a designer or swipe cards paying freelancers or graphic designers.
All you do is sit back comfortably on a chair and start playing with it. You only need to manipulate the elements and adjust them to your design. If so for example, you find trouble figuring out things, there's the official video for you to help start off with the design.
Pixelied
Free Graphic Design Tool
🛡️ Safe & Secure
Company Information
Pricing: Free
Platform: Web
LinkedIn: Profile
By: Pixelied