If you enjoy investing your time in building, organizing, and managing a virtual city, then Cities: Skylines, developed by Colossal Order and Paradox Interactive, is the perfect simulation game for you. This game also includes built-in cheat codes such as a money cheat, reminiscent of old-school gaming.
In this guide, not only will we list the cheat codes, but we'll also show you how to activate and use them with ease.
City Skylines Cheats
Here are all the cities skylines console commands & cheats that you can use on PC, PS4, and Xbox One. The most important cheat among all Cities Skylines cheats codes is the unlimited money cheat. Moreover, there's an option of unlocking all and enabling the developer UI. You can use these with the help of mods.
Let's take a look at the City Skylines money cheat.
Cities Skylines Unlimited Money Cheat
Open up the game's main menu.
Click on Content Manager.
Click on Mods from the options on the left side.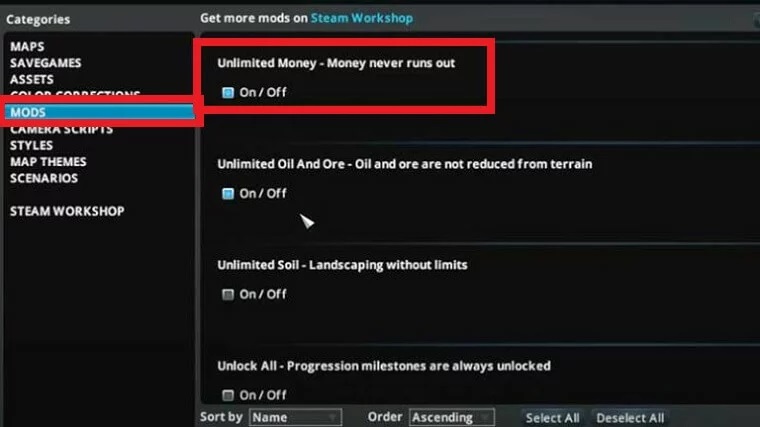 Now, you can select the Unlimited money option after which your money will never run out.
When you want to challenge yourself again, turn off the cheats by following the same steps and unticking the option.
Cities Skylines Developer UI Menu
If you'd like to see the Developer UI, you need to launch the game with one tweak. After this, just follow the below steps.
First, load up Steam.
Find Cities: Skylines and right-click on it.
Click on Properties.
Click on General > Launch Options.
Type –enable-dev-u
This will activate the Developer UI when you launch the game after these changes. With it, you can enjoy the game as you wish because of the level of control you get.
Cities Skylines Unlimited Oil, Ore, Soil, and Unlocked All
To unlock unlimited oil, ore, soil, and much more, you have to do certain tasks. After this, you will be able to unlock all these items given above.
Steam achievements will be disabled when your in-game mods are active.
If you don't want unlimited money, but instead want unlimited oil and ore then click on the check box on that option. When it is activated, oil and ore will not reduce from the terrain.
Similarly, when you choose unlimited soil, you can landscape without any limitations.
Lastly, with Unlock All, progression milestones will stay unlocked always.