Are you seeing the Windows Blue screen of death? While it appears you might have noticed a windows 10 system service exception. Well, the issue of BSOD is still on the rise in Windows 10 PC. It's the most frustrating issue that a Windows user can encounter.
Microsoft is still trying to solve these quirks and annoyance. Now when BSOD appears it also displays useful information regarding why your system crashed?
Each time BSOD appears you see a Windows stop code system service exception on Windows 10. Most users don't understand what this system service exception windows 7/10 is telling you. But don't be worried when system_service_exception stop code occurs. Because you are not alone and are not stuck with this stop code error forever. The BSOD error is quite easy to fix.
What Is a System Service Exception Error?
The Windows 10 system service exception error happens due to these reasons: graphic user interface errors, corrupt files in the system, and issues of the outdated driver and cldflt service.
Apart from these causes, there is a wide range of potential system service exception errors. Along with that, there are several super easy methods to fix BSOD system service exceptions.
Fix System Service Exception Error In Windows
If you need quick windows 10 blue screen fix or need windows to stop code error then you should work through the list below until the SYSTEM_SERVICE_EXCEPTION disappears for good.
1.Update Windows 10
Outdated system files in Win 10 also system service exception error. So you must first check that your Windows 10 is fully updated. You can also check if there is any pending Windows update for that;
Press Windows key + I to open the Settings panel. Now, here find Update & Security, the new window will appear. Click on the first option Windows Update for any pending updates. If there is a Windows update, get them and then press Restart now. Your system will reboot during the process. On the other hand, if your system is doesn't require an update you will see the "You're up to date" sign.
2. Update System Drivers
There is a built-in driver updater tool in Windows that automatically updates drivers. So that you do not fall behind from the latest version. Sometimes Windows 10 doesn't use a driver updater version that might become the base for system service exception stop code problem.
So if you want to check whether the Windows driver updater is latest again head to Update & Security > Windows Update > View update history. Recent driver updates appear here.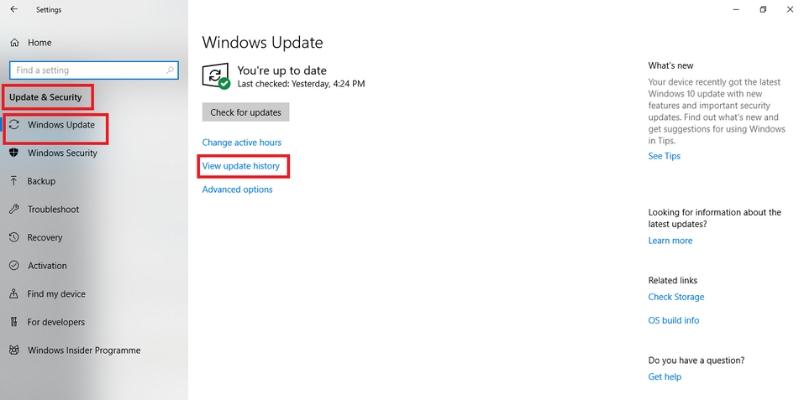 Now, head to the Start menu and type device manager. Head down the list and check for an error symbol to appear on listed items. If there is nothing, your driver status is likely not the source of the issue.
If you find a yellow "alert" symbol, then open the listed item using the drop-down arrow, then right-click on the driver causing the problem. Select Update Driver. Select Search automatically for updated driver software to let Windows automate the update process for you.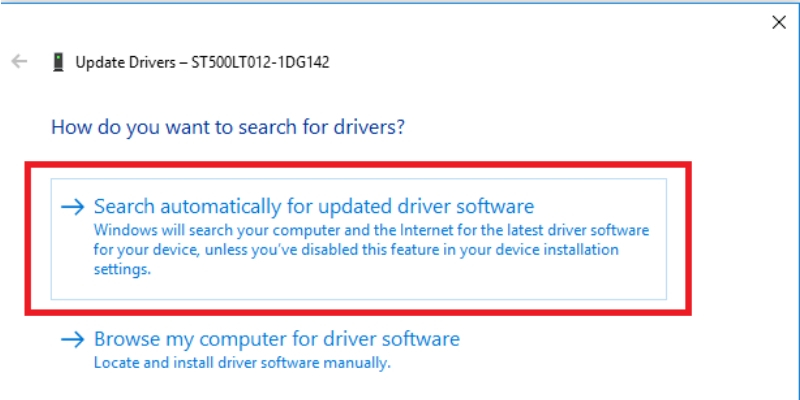 For more ease, you can use a third-party Windows driver updater tool to update outdated drivers. These free driver updater update all system drivers on go. Check out this list of best free driver updater software 2018. The most famous software to updater device drivers IOBit's Driver Booster and Snappy Driver Installer.
3. Run CHKDSK
The next step to fix the system service exception windows 10 is to run Windows Check Disk. You can run CHKDSK through the command prompt. This Windows 10 tool verifies whole system files fixes an issue if found.
For that; type command prompt in your Start menu search bar, then right-click the best match and select Run as administrator. You can also run command prompt through Windows key + X, then select Command Prompt (Admin)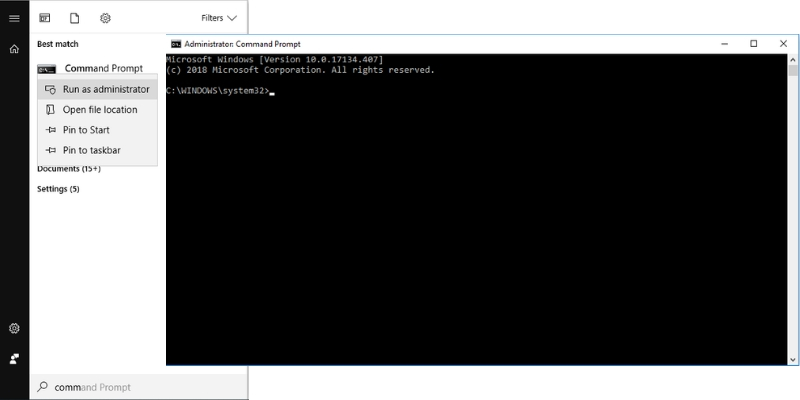 Next, type chkdsk /r and press Enter. The command will scan your system for errors and fix any issues along the way.
4. Install the Official Windows Hotfix
Windows has officially built a hotfix meaning a program to counter system service exception errors. However, this Windows hotfix stop code only defines specific SYSTEM_SERVICE_EXCEPTION issues.
To download Windows Hotfix head to the Microsoft hotfix page and then click on the Hotfix Download Available link (showing in blue color).
After complying with the instructions hotfix is sent to your email account. Open your email account and download hotfix on your system.
Then auto-extract its file but we suggest giving a proper path such as C:/hotfix. It makes it easier to find the unpacked hotfix file later on. Now open that extracted file, right-click and select Run as Administrator to complete the process.
5. Reset Windows 10
If the above methods don't work and the Windows 10 system service exception stop code error persists. Then there remains only one way that is to reset Windows 10 completely.
The Windows 10 Reset replaces all system files including junk files with a completely fresh set of files.  When all system files are new then the issues relating to the SYSTEM_SERVICE_EXCEPTION error also resolve.
To Reset Windows 10 head to Update and Security Setting > Recovery, then click on Reset this PC, select Get started. Windows 10 will restart as soon as you hit the button. But make sure you have created a backup folder of important files.
6. Uninstall Third Party Antivirus Remover Software or Recently Installed Program
If the above or any fix is resolving your system service exception error then you can start by removing any spyware remover app. If you have installed free virus remover such as Smadav Antivirus, AVG Antivirus, Avast Premier Antivirus or Avira Antivirus Pro then uninstall them.
O you can also remove recently installed programs, uninstall programs until the SYSTEM_SERVICE_EXCEPTION issue resolves. Some programs have an unwelcome habit of causing certain system processes to crash.
These are the 6 tested methods to fix the SYSTEM_SERVICE_EXCEPTION error. You don't have to apply these methods all at once but any one or a combination of these fixes will solve system service exception error in windows.