People love to create PowerPoint presentations for their business and academic needs. Mostly they create PowerPoint presentations with Images, Music, Text, Web content, and Pictures. PowerPoint is still a popular tool to add a graphical element to speeches, business projects, and thesis presentations.
But the PPT format requires that the viewer has a Windows PC with PowerPoint installed, which is not always convenient. And if you don't have access to a PC with PowerPoint, things can get pretty complicated. A tiny application that converts PPT to Video.
Simply add your PowerPoint Presentation to the software and save the presentation as a video file in one of a number of widely used multimedia formats. Movavi PowerPoint to Video converter converts PPT presentations to popular video formats such as WMV, MKV, AVI, MP4 for PCs mobile devices. 3GP for viewing cell phones, MOV for Mac computers, FLV, WebM, and OGV for uploading to the web, MPEG for burning to DVD.
In this article, I will show you how to convert PowerPoint presentations to videos using Movavi PowerPoint to video converter. You can Download Movavi PowerPoint to Video Converter.
Making a video presentation is easier than you think – just follow the simple instructions below!
Install PowerPoint to Video Converter
Click the downloaded .exe file, see the installation wizard and complete the installation process.
2>Add a Presentation to the Program
You can click the browse button and locate the PowerPoint Presentation file want to convert, You can also change the destination folder if you want to save your output videos to a different location.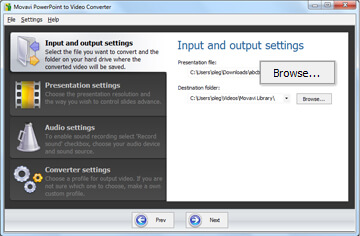 Specify the Presentation Settings
Set Presentation settings to choose the resolution of output, speed slide transition from the advance slides menu below. Configure the settings manually, specify automatic transition every few seconds, or keep the original timing set in the PowerPoint file itself.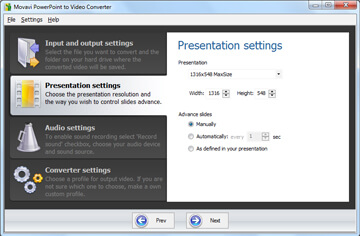 Record an Audio Track
Add a soundtrack to your PowerPoint presentation video. Switch to the Audio Settings tab, and choose the audio source that you want to use. If you choose your computer's speakers, the program will capture the sounds that play on your PC while recording the PowerPoint file to video. If you choose the microphone, you can record your own voice giving a commentary to the presentation.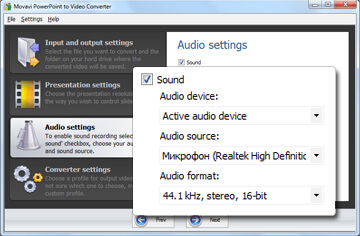 5>Convert the Presentation to the Chosen Format
In the lower Converter settings tab, select your desired video format. If you want to watch the output video on a mobile device, click More presets for devices and selects your device's brand and model from the list.
Click Convert! below to record your PowerPoint presentation as a video. Note that the conversion is done slide by slide in real-time, so the presentation should be played from the beginning to the end to retain the logic and sequencing of the original.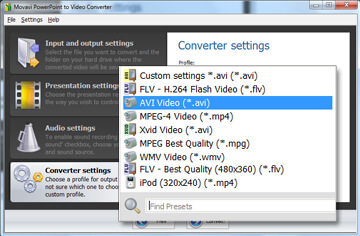 This is a small guide about how to convert PowerPoint to video using Movavi PowerPoint to video converter.