If you want to watermark your photos without losing any quality, WonderFox Photo Watermark is the best choice to make. This software is extremely useful due to its productivity.
Watermarking has become necessary in this age as a way to protect your documents and to show the originality of your work. It is important in business meetings and conferences.
WonderFox Photo Watermark is not an ordinary Watermark software, but a complete solution with premium features and a simple interface that helps you add a watermark in a few clicks. So, let's get started on our user guide add/remove watermark from photo.
WonderFox Photo Watermark Features
There are a ton of features packed in this software. It not only supports text or image but also frame watermarks. You can make custom watermarks on your own wills such as a signature or your company's logo. You are offered 150+ Watermark Materials that are free.
Besides only watermarking, this software is a mini editor as well that can help you rename. crop and resize your images as well. Apart from Editor, it helps you convert the format of images as well. The supported image formats are jpg, GIF, BMP, PNG, TGA, TIF, ICO, PCX, etc. They are supported for both ways import/export.
Related: Why Should I upgrade to Windows 10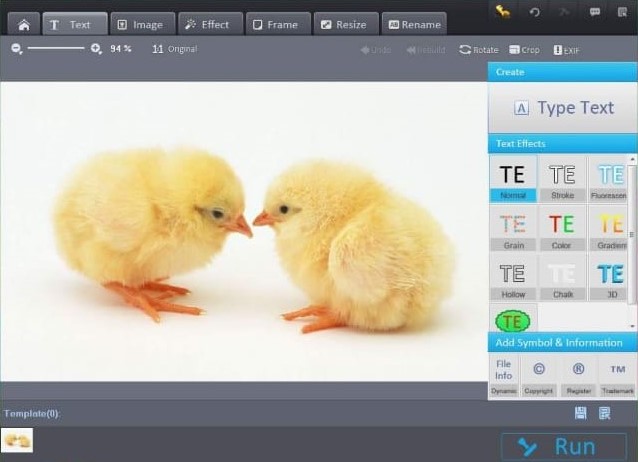 You can add words to your image with three clicks. After launching the software, add picture/pictures. Click Add files, and then Add text. Write your text, and click Apply to add/remove watermark from photo. The watermarked image will be presented once you click on Run.
Pricing
All these features can be enjoyed and tested in the trial version. You can have it for $29.90 (discounted) with a 30 Day Money Back Guarantee. Purchase it by clicking here. You will get updates for free too once you buy it along with the customer support that WonderFox claims to reciprocate within 24 hours.
Softlay's Verdict
The software due to the features offered, a simple, clean, and modern design along with an economical price too is a good choice to buy. In case you don't buy it, the trial version will have a Demo watermark will be placed as well. The software is supported on Windows as well.
Now it's Your Turn!
Which method helped you? Do let us know in the comments section!
Don't forget to ask questions or any further advice you require on how to add/remove watermark from photo/photos.