NTFS (New Technology File System) is the default file system for Windows, offering enhanced performance, security features, and support for large file sizes. Kingshiper NTFS for Mac is an advanced software tool designed to allow Mac users full access to NTFS drives.
Instead of merely reading the content, you can now edit, copy, move, or delete those files just like any native Mac file system. Without specific software like Kingshiper NTFS, Macs can read but not write to NTFS drives.
In this post, you will have a better understanding of Kingshiper NTFS for Mac and the benefits it brings to your data management.
Part 1: What should we know about Kingshiper NTFS for Mac before using it?
Kingshiper NTFS for Mac is a software application designed to bridge the compatibility gap between Mac OS and NTFS-formatted drives. It empowers Mac users with the ability to interact with NTFS-formatted drives without hindrance, thereby amplifying productivity and simplifying data management.
Moreover, its automated mounting process accelerates access, the intuitive ejection ensures data is handled safely, and the secure unmounting protects your valuable information.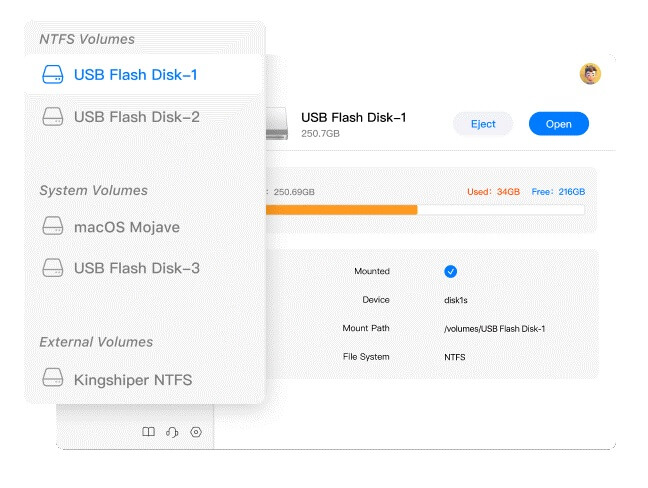 Supported System
macOS 12 (Monterey)、macOS 11 (Big Sur)、macOS 10.15 (Catalina)、macOS 10.14 (Mojave)、macOS 10.13 (High Sierra)、macOS 10.12 (Sierra)、OS X EI Capitan 10.11.
Key Features of Kingshiper NTFS for Mac
Enable Writable/Disable Writable
If the NTFS drive is configured without the writable feature, all of the files on the NTFS drive will be read-only. It is recommended that you log into your account first if you wish to add, edit, or delete files from this NTFS drive so that you can grant full access to the NTFS file system.
Copy, Paste, Delete
When you open the drive through Kingshiper NTFS for Mac. Right-click on files to access common actions like copying, pasting, or deleting. By using this method, you can manage files in batches more efficiently.
Mount NTFS Drives
NTFS drives should be automatically detected by the software as soon as it is connected. Once the drive has been mounted, you will be able to access the contents of it by clicking on the drive.
Preferences
If you click on the Preferences menu, there is a list of options that you can select, including Automatic updates, which ensures that your software stays up-to-date seamlessly; Auto-start, which empowers the software to initiate upon system boot, saving you valuable time; and Check for updates, a feature that allows you to manually search for any available updates to keep your software in the best possible state of operation.
Technical Support
If you encounter any difficulties or want to explore the advanced features of Kingshiper NTFS for Mac, refer to the software's user guide or online tutorials. They can provide in-depth guidance and tips on using specific tools and achieving desired editing results. Besides, you can contact [email protected] to get further support.
Part 2: How to use Kingshiper NTFS on Mac?
In this part, you can learn how to appropriately use Kingshiper NTFS on Mac.
Step 1. Download and Install
Visit the official website to download Kingshiper NTFS for Mac on your computer. Then, you can install it according to the product instructions.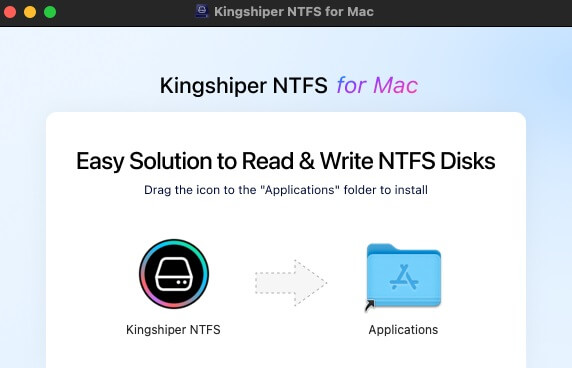 Step 2. Open the NTFS drive
Launch Kingshiper NTFS for Mac on your desktop, select the NTFS disk, and click "Open" in the upper right corner.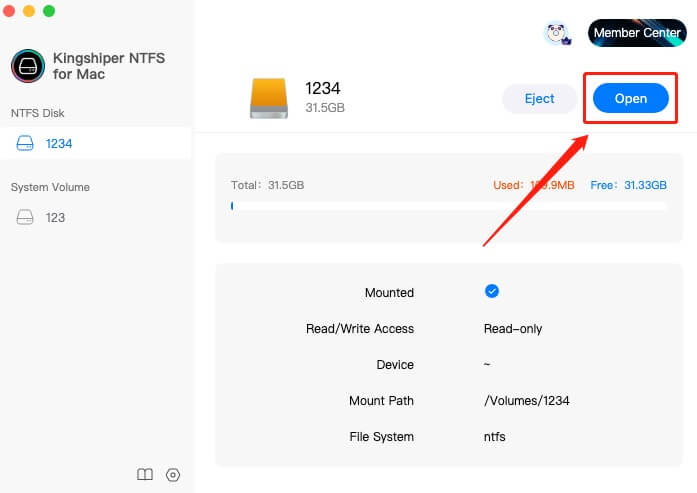 When opening, you need to enter the password to allow this operation and click "Unlock".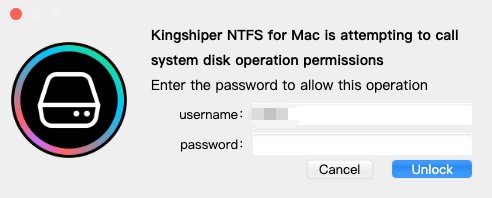 Step 3. Edit files
Click "Open" again. It will pop up a window where you can check, write, and modify the data on this drive.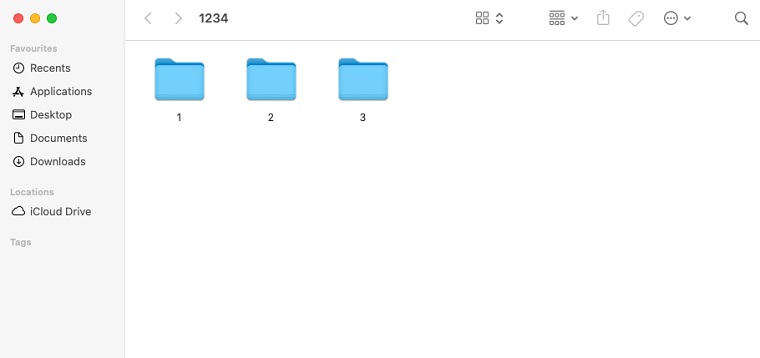 Part 3: FAQs about Kingshiper NTFS for Mac
Q1: How does Kingshiper NTFS for Mac compare to other similar software?
Kingshiper NTFS allows you to free trail all the features in one day and it is praised for its seamless integration, low costs, and user-friendly interface. Moreover, Kingshiper NTFS packs a suite of advanced features. From data security enhancements to optimization tools, it caters to both basic users and power users.
Q2: Can I transfer large files using Kingshiper NTFS?
Yes, Kingshiper NTFS for Mac is well-equipped to handle the transfer of large files. One of the advantages of using this software is its efficient data transfer capabilities, which make it suitable for transferring files of various sizes, including large ones.
Q3: Is it safe to both read and write on NTFS drives using Kingshiper?
Absolutely. Kingshiper NTFS for Mac ensures that your data remains intact and safe from corruption when you're writing or reading from an NTFS drive.
Should I Download Kingshiper NTFS
Kingshiper NTFS for Mac is a game-changer for individuals and businesses that operate in heterogeneous environments where both Windows and macOS devices are used. Its ability to provide full read and write access to NTFS drives enhances cross-platform productivity.
By understanding the basics of mounting, transferring files, and unmounting purposes, users can make the most of this software's capabilities. With its user-friendly interface, data protection features, and high-performance capabilities, Kingshiper NTFS for Mac opens up new possibilities for seamless cross-platform collaboration and data management.