Are you looking for the simplest way to download YouTube Videos on your mobile and android device? There are many ways through which you can download videos from YouTube. You can install a YouTube downloader software like Viddly, YTD, or ByClick Downloader or you can simply visit Y2mate, Yt1s, Y2mateguru, or SaveFrom.Net online YouTube downloaders site to grab the YouTube videos.
Today we will let you know about the easiest way to download YouTube videos while staying on YouTube without installing any third-party software or visiting any online YouTube downloader site.
SS YouTube is a tool designed by Savefrom.net which enables you to download unlimited videos from YouTube by just inserting the "SS" before any YouTube video URL. In the article below we will detail the step-by-step process of How you can Download YouTube Videos via ssyoutube.com with images and videos tutorials.
How To Download Youtube Videos With SS Youtube
The following steps will teach you how to use the SS prefix to download YouTube videos:
Go to your browser and search for the video you want to download from YouTube.
Click a video to play it, then pause it.
Navigate to the video URL in the URL bar, add "ss" before "YouTube.com …" and press Enter.
You will be redirected to another page where you can save the video.
This will redirect you to the parent site of ssyoutube.com known as savefrom.net.
You will find the download link along with video information like duration, the title of the video, and video quality.
To the right of the green download button, you will see a drop-down menu. Click on it and select the format (mp4, or mp3) in which you want to download the video (with or without sound). See the picture below…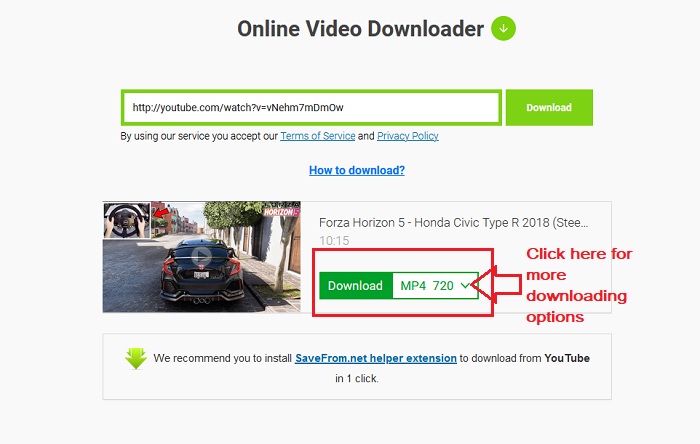 How to use SSYoutube.com to download Videos? Video Tutorial
Watch the video tutorial below about how to download videos via SS-Youtube downloader code.
SS Youtube Downloading Features
SS Youtube Video Downloader by SaveFrom Net is an excellent service that helps to download YouTube videos online into Mp4 and Mp3 quickly for free. You don't need to install other software or look for an online service that works for downloading online videos anymore.
SS-Youtube also helps to download online videos, TV shows, sports, and gaming videos from YouTube, by just entering the SS before any YouTube video URL.
SS YouTube downloader and converter support various audio and video file formats. Easily convert YouTube videos to Audio(M4A, MP3, WAV, AAC, OGG, WMA, FLAC)or video (AVI, MP4, MPG, MOV, WMV, MKV, M4V, WEBM, FLV, 3GP)
This web-based YouTube converter is fully compatible with all devices (AVI, MP4, MPG, MOV, WMV, MKV, M4V, WEBM, FLV, 3GP) files and downloads them for free.
Advantages of SSYoutube.com Downloader
SSYoutube.com is an easy method of downloading videos from YouTube using the "ss" prefix does not require installing any software or applications on the device. All you have to do is add just "ss" to the URL of the YouTube video you want to download.
You can use this "ss" YouTube video downloading method to download videos to almost any device e.g Android, iPhone, or Windows PC. You can use this simple method on your laptops and desktops computers with any browser. You can also directly convert YouTube videos to MP4, Mp3, or WebM format.