Are you dealing with generic PNP monitor issue in Windows 10/7, or you are seeing a message which says "failed to load hardware monitor driver"? Then don't worry, with the right troubleshooting tips you can easily fix generic PNP monitor drivers problem.
Windows 10 is the latest and evolving OS, that's why it has more bugs and error. No doubt, Microsoft is also doing well to counter these errors. The generic PNP monitor driver in windows 10 is another error which most of the users are dealing with.
The most probable reason for the generic PNP monitor is the outdated driver or insufficient hardware capacity after doing the upgrade. So those users have recently upgraded windows are most prone to see generic PNP monitor driver error.
If your system didn't detect another display monitor or you are also facing generic non-PNP monitor issues, then don't worry. This article will help you fix this problem, so if you have these questions in your mind then stick with this post.
What is meant by a generic PNP monitor?
How do you fix a generic PNP monitor?
Can I uninstall a generic PNP monitor?
What is Generic PNP Monitor Windows 10?
Related: What To Do If Nvidia Control Panel Missing on Windows PC- Simple Fixes
What is the Generic PNP Monitor driver issue?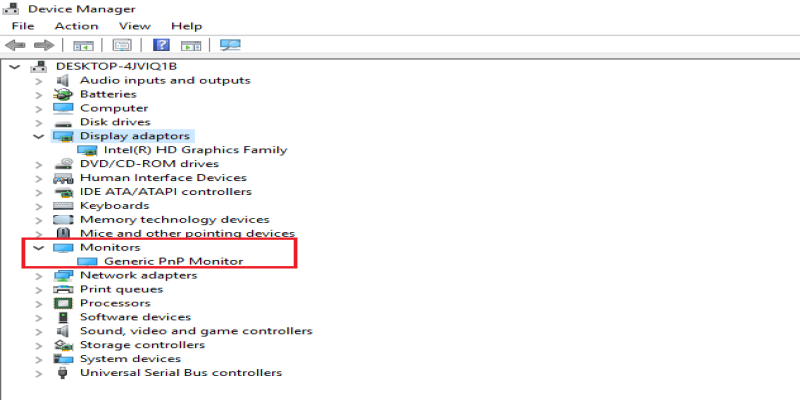 PNP stands for "plug and play". The PNP term is commonly associated with external PC hardware. The PNP hardware doesn't need to install the driver. But when you see generic PNP monitor (yellow triangle error) in device manager, it means that Windows is unable to recognize the proper device.
In this case, Windows installs generic monitor drivers for such hardware. But again this solution doesn't always work as the driver may not be fully compatible with the hardware. This leads to generic PNP monitor drivers in Windows 10/7.
How to Fix Generic PnP Monitor In Windows 10/7
Apply these fixes one by one, until you find the best solution.
1. Uninstall Generic PnP Monitor Driver
You can start with uninstalling PNP driver because sometimes rolling back solves monitor issue. Once you uninstall generic PNP monitors, your PC will automatically search and install the required driver. To uninstall follow these steps.
Open Device Manager for that Right-click on the Windows + R keys. Type "devmgmt.msc" and press enter.
When the Device Manager window appears, look for Monitors option and click on it to expand.
Here you will see Generic PnP monitor option, right-click on, and select Uninstall device option.
Confirmation of the command if asked, now select Uninstall.
Now click on Scan for hardware changes.
Here Windows will recognize and install the monitor as the real monitor and not the generic PnP monitor. If this simple fix doesn't solve windows 10 monitor driver then follow the next method.
Related: What Happens if You Delete System 32 Folder on Windows?
2. Update Generic PNP Monitor Driver and Display card Driver
Most of the time its the old driver or old graphics card driver that causes this problem. If you update these drivers there's a good chance that Windows 10 ghost monitor problem will vanish. In this step, you need to first update the driver monitor and then the graphics card driver. Follow these steps;
Open Device Manager, for that Right-click on the Windows + R keys. Type "devmgmt.msc" and press enter.
Once the Device Manager window appears, click on Monitors' option to expand it. Now right-click on Generic PnP Monitor to Update Driver.
When you click on the updated driver a new box will appear. Here select Search automatically for updated driver software. You Windows will search online for that driver and update it.
In case Windows is unable to find and update driver then again right click on Generic PnP monitor and update it. But this time instead of selecting search automatically choose to Browse my computer for driver software.
Now select Let me pick from a list of device drivers on my computer.
Tik the box written as "Show compatible hardware" so that compatible driver appears. Here select the driver and install it.
Once again click on Display Adapters option. Expand it and then right-click on your graphics card to Update it.
Again select the first option, Search automatically for updated driver software to download and install the driver automatically
Once the drivers are installed, restart your computer.
3. Run the System File Checker
If the problem still persists then you need to run system file checker. It's a built-in Windows 10 utility which scan and fix corrupted drivers. Follow these steps to run SFC.
Related: Can't Find Microsoft Print to PDF? Here is How To Add Microsoft PDF Printer
Open Command prompt. To do that press Windows + R keys and type "cmd". Alternatively, search Command Prompt from results and right-click on it to Run as administrator.
Once a new window opens, type the following command and press Enter. sfc /scannow
The SFC scan will start and fix the issues. Be patient during the scan because it takes time sometime around 15 minutes.
Once the process completes it will fix your problem with PNP devices.
4. Check for Latest Windows Updates
As already said PNP monitor problems occurs due to the old drivers. So regularly update your Windows as well because it solves bugs and error. Beside Microsoft also release monthly updates to there really no excuse to let your PC take risks.
Open Windows 10 settings, press Windows + I keys and then click on Update & security option. Now check if there is any update. Download and install all Win updates.
5. Reconnect Monitor Cables
If the problem of generic PnP monitor appearing on desktop PCs. Then you can try this easy tip.
Turn off your computer and the monitor.
Remove the power cable of the monitor and wait for at least 10 minutes.
Unplug the video cable from the CPU and wait for 5 minutes.
Now, plug in the video cable to the CPU and power cable of the monitor.
Restart the computer.
With these troubleshooting steps, you can easily solve LG monitor drivers, Samsung monitor drivers, dell monitor drivers, and generic PNP monitor Asus problems. Hope you will find this article helpful.