Are you facing Windows update error code 0x8024a105 especially on Windows 10 PCs?
In this post we'll share the workable solutions to get rid of Windows error code 0x8024a105.
Microsoft is continually evolving Windows OS via regular updates. Almost every month your Windows update itself automatically. Sometimes when Windows 10 is updating itself you might see and stop code error saying;
"There were some problems installing updates, but we'll try again later. If you keep seeing this, try searching the web or contacting support for help. This error code might help: (0x8024a105)"
This Windows update error 0x8024a105 often arises when you download KB4020102 But it's not restricted to that. There are many reasons why you are seeing (0x8024a105) Windows 10 update error.
But rest assure this Windows 10 update fix can be easily cured.
Fix Windows 10 Update Error 0x8024a105
Well if you are receiving windows update 0x8024a105 error code and want to fix it. Here are 4 guaranteed solutions for you.

1. Run Windows Update Troubleshooter
You can run a Windows update troubleshooter to fix the 0x8024a105 windows 10 update error. This troubleshooter can resolve many Windows 10 fixes. But first;
Download Windows 10 troubleshooter Microsoft's site.
Follow the instructions during installation.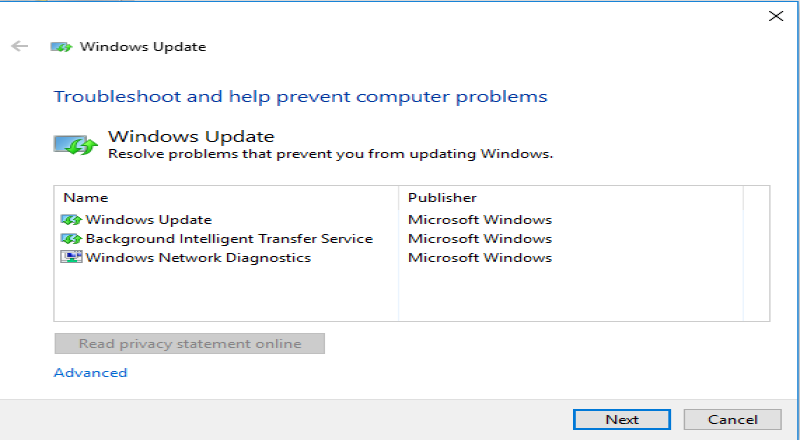 Run the Windows Update Troubleshooter.
Once this process is complete, run Windows Update
2. Reboot Your PC
If the troubleshooting process doesn't fix the windows 10 update error. Then it's probably best for you to reboot your PC. Most of the time it resolves Windows update error. But this process takes time so be patient.
3. Change Your Internet Connection
In some cases rebooting your PC doesn't (0x8024a105). So in this scenario try to change your internet connection. For example, if you are using a wired internet connection then swap it with a WiFi connection. and if you are already wireless then connect with Cat5 cable.
Hopefully, it will fix the Windows update problem for you.
4. Manually reset Windows Updates Components
This solution takes a little time and your focus as well. So if the above 3 methods didn't work then try to manually reset the Windows update and restart the process once you are done.
To fix windows 10 update error code 0x8024a105 follow the below steps.
You will require a command prompt in this process. To run it Press Windows + R key simultaneously and type "cmd" press "Enter". Now command prompt window will open.
Now you need to stop BITS, Cryptographic, MSI Installer, and the Windows Update Services in order to fix the 0x8024a105 error. To do this type these commands in the command prompt and press "enter" each time.
net stop wuauserv
net stop cryptSvc
net stop bits
net stop msiserver
Now flush the Software Distribution folder and rename the Cartoon2 folder. To do this again type these commands and press "Enter".
ren C:\Windows\SoftwareDistribution SoftwareDistribution.old
ren C:\Windows\System32\catroot2 Catroot2.old
Once you have renamed these folders it's time to restart BITS, Cryptographic, MSI Installer, and the Windows Update Services
To do this type the following commands in the Command Prompt. Press the "Enter" key after you type each command.
net start wuauserv
net start cryptSvc
net start bits
net start msiserver
Once you are done type Exit and press "Enter" then close Command Prompt. Now restart your computer. It will surely solve the 0x8024a105 Windows update.
Now it's your turn tell us what solution worked for you.