Revo Uninstaller works the same as the in-built Windows Add or Remove program option (control panel) does. Revo is a free application remover software that completely uninstalls any windows app, removes browser plugins, cleans remnants of already uninstalled/ broken programs on Windows PC.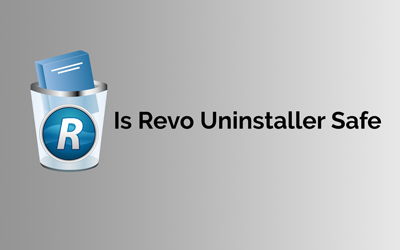 Is Revo Uninstaller Safe?
Revo Uninstaller is 100% safe to use. We have reviewed the latest version of Revo Uninstaller Free and found it to be safe to install on windows 11, Windows 10, Windows 7 (32bit-64bit). According to Virus Total, the RevoUninstaller.exe setup file is not a virus and is also clean from malware.
In addition, Revo creates a system restore point before uninstalling every software from your windows PC. In the event, something went wrong, system restore point comes in handy and restores the previous settings on your computer.
So, we can surely say that Revo Uninstaller is safe to use and worth installing on your Windows PC.
Should I use the Uninstaller software?
Normally, you don't need to download & install third-party software to uninstall Windows apps. The in-built Windows Add/Remove Program (control panel) option is good enough.
User's over the web forums like Reddit & Quora have mixed reviews and opinions about Windows Uninstaller and registry cleaner software. Some consider them as "Snake Oils" and these 3rd party uninstallers create more problems than they solve, while others recommend them as legit and effective software. Revo truly handle the removal of all leftover files, and best for broken uninstallers.
What is the best free uninstaller software for Windows 10?
Best free software uninstallers alternatives for windows 10 in 2023
How do I uninstall Revo Uninstaller Free?
Uninstall Revo Uninstaller Free Or you can uninstall it from My Computer->Control Panel -> Programs and Features (or "Add or Remove Programs" on Windows XP).
There in the list of installed programs, select "Revo Uninstaller Free" and click the "Uninstall" or "Remove" button to uninstall it.