The Montserrat font family is a contemporary sans-serif typeface designed by Julieta Ulanovsky. It is characterized by its geometric shapes, clean lines, and versatility. Originally inspired by street signs and signage in his neighborhood of Montserrat in Buenos Aires, Ulanovsky developed the font to be readable and adaptable in a variety of design contexts.
Released in 2011, the Montserrat font offers several weights and styles from thin to black, making it suitable for a wide range of design applications. Its simplicity and modern aesthetic make it a popular choice for both print and digital media, from branding to web design.
Montserrat Font Generator
There are tools online, like Montserrat Font generator, that can help you make words in the same style as the montserrat Font, where you can change the colors of the text and background. You can also copy and paste the font to use it in your own stuff.
Montserrat's readability and timeless design have contributed to its widespread use among designers looking for a clean and functional typeface. The Montserrat Font free download is available in a zip only for personal use only. You can use this font in Word, CSS, Adobe, HTML, and in Canva.
Montserrat Font Pairing
Julieta Ulanovsky made a font called Montserrat in 2010. She got the idea from a place in Buenos Aires. At that time, she was learning about making fonts. Montserrat looks good with other fonts like Source Sans Pro, Fira Sans, Karla, Hind, Cabin, and Inconsolata. You can also get the file of these font pairing.
Montserrat Font Styles
The Montserrat font download offers a variety of styles and weights, allowing designers to choose the most suitable variations for their projects. Some of the common styles available in the Montserrat font family are:
Montserrat Thin
Montserrat ExtraLight
Montserrat Light
Montserrat Regular
Montserrat Medium
Montserrat SemiBold
Montserrat Bold
Montserrat ExtraBold
Montserrat Black
Montserrat Italic
Montserrat Font Family View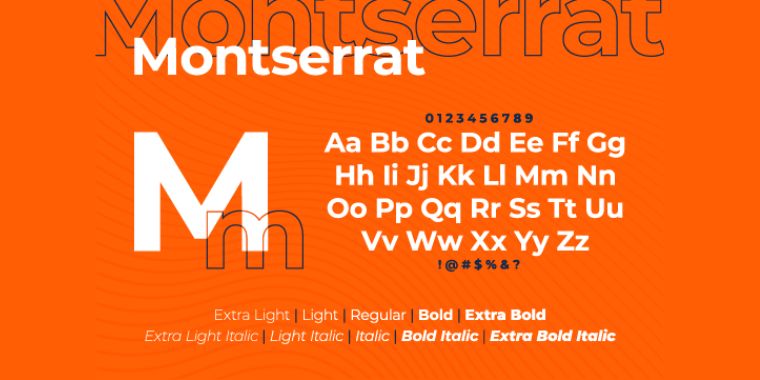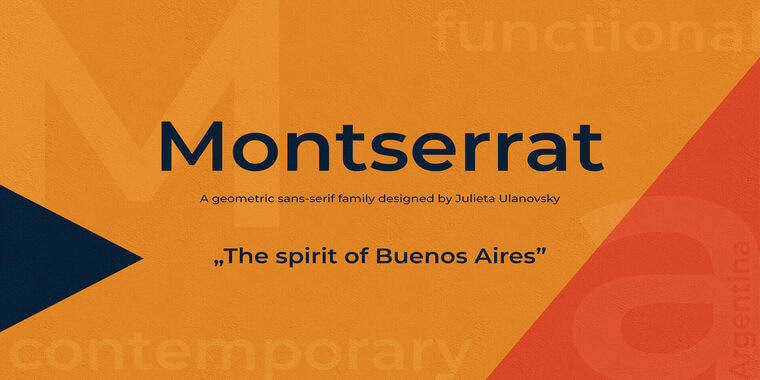 How to Download and Install Montserrat Font on Windows PC
To download Montserrat Font and install it on your Windows 10/11, you can follow the following method:
First, click the download button. The Montserrat Font will be downloaded in a zipped archive, unzip the file using WinRar or WinZip.
Right-click on the font file and select the "Install" option from the context menu. This process will automatically install the Montserrat font by copying it to the "Windows\Fonts" folder and registering it in the Windows Registry.
How to Uninstall Montserrat Font From PC
Follow the instructions below to delete the Montserrat font from your system:
First, open the RUN Window by clicking Window + R.
Search "Regedit" and Click the ok button.
Now select HKEY_CURRENT_USER > SOFTWARE > Microsoft > Windows NT > Current Version > Fonts.
Now Right Click on the Font you wanted to delete.
Click the "Yes" button and your Font will be uninstalled from your Windows.
Montserrat Font Alternatives
Here are some fonts that are similar to the Montserrat font typeface:
Raleway Font
Roboto Font
Open Sans Font
Lato Font
Poppins Font
Nunito Font
Source Sans Pro Font
Work Sans Font
Hind Font
Quicksand Font
FAQs! (Frequently Asked Questions)
What is the Montserrat font?
Montserrat is a sans-serif typeface designed by Julieta Ulanovsky. It is known for its geometric shapes, clean lines, and versatility.
Is the Montserrat font free to use?
Yes, the Montserrat font is available for free and can be used for personal and commercial projects without any licensing fees.
Is Montserrat Font a Google font?
Yes, Montserrat is indeed a Google font. It is available for free through the Google Fonts platform, making it easily accessible to web designers and developers.
What font goes with Montserrat?
Source Sans Pro, Fira Sans, Karla, Hind, Cabin and Inconsolata are the fonts that goes well with montserrat.
What font is similar to Montserrat in adobe?
Herz is a Montserrat classic font similar to montserrat in adobe.
How do i get montserrat font in word?
Open Word.
Create or open a document.
Select text for Montserrat font.
Go to "Font" in Home tab.
Scroll to "Montserrat" font.
Click to apply.