StreamFab all-in-one downloader is a born streaming video downloader suite targeted for all the major on-demand streaming services, including but not limited to Netflix, Amazon Prime Video, Disney+, Hulu, Max, and more.

Hence, as long as those streaming services are available in your country, and you're a paid subscriber of a specific service, then you can download videos from it with this streaming downloader.
Choose your preferred video and audio quality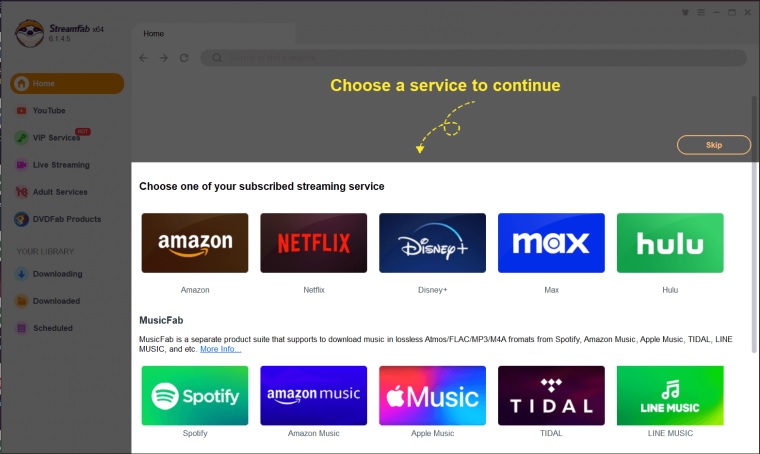 Quality-wise, StreamFab all-in-one downloader gives you multiple choices to choose from. So you can decide on your own what video resolution and audio quality you prefer.

To be specific, you have two options regarding video quality, 720p HD or 1080p Full HD. In terms of audio quality, EAC3 5.1, AC3 5.1, and AAC 2.0 are available. So, be your own boss.
Save the downloaded VOD videos in MP4 format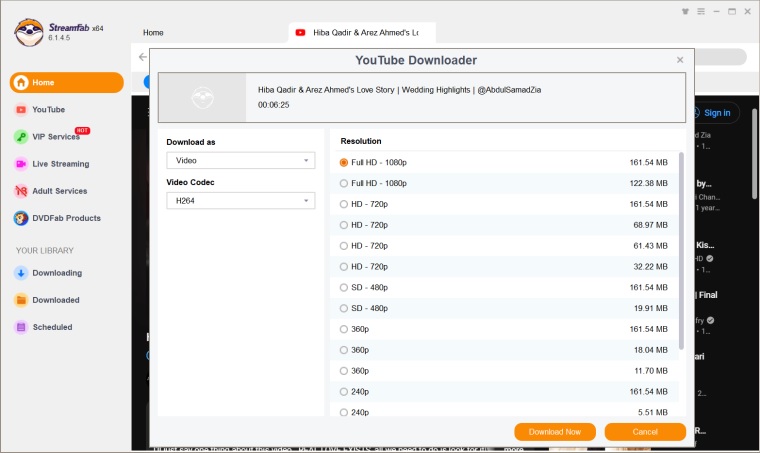 If you're concerned about the playback compatibility issue of the downloaded videos, then you don't have to. The downloaded streaming videos are saved as a common MP4 file.

The biggest advantage of the MP4 format is that it is compatible with almost all operating systems, smartphones, tablets, digital media players, and game consoles out there.

That said, you still have an extra option to save the output as MKV files if necessary.
The inbuilt browser features a better download experience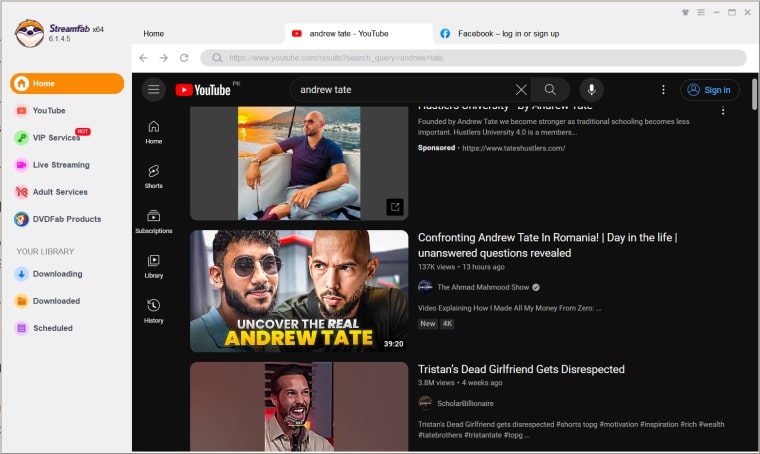 While other video downloaders ask you to paste the video URL copied from your desktop web browser, StreamFab all-in-one features its inbuilt web browser that saves you trouble copying video URLs.

That's to say, from browsing the target video-sharing website or streaming service to downloading your target videos, you can do all things inside the StreamFab all-in-one downloader software.
Auto-Login to Steaming Services
In previous versions, manually logging in to a streaming service was a must before video download became possible.

Since ver. 6, the login is automatic, if you have already done that in your desktop browsers, like Chrome, Edge, or Firefox. Launch, browse, and download. Fingers crossed!
Remove annoying ads while downloading videos
Movies are meant to be savored with your eyes, ears, and mind, but if you're bombarded with a jumble of ads, a pleasant viewing experience can get totally ruined.

With StreamFab all-in-one downloader, however, your downloaded streaming videos contain no ads as they are cut out automatically during the download process. So, pure enjoyment! No ads!
Download audio & subtitles in your mother tongue
Audios and subtitles are the basic means to understand the movie content. Movies and TV shows nowadays usually contain multiple audio tracks and subtitle streams of different languages.

So, when it comes to your specific needs, you can either choose to download only the audio and subtitles of your native language or, you can also download them in other languages.
Remux subtitles into videos or save them as SRT files
When it comes to how the subtitles are handled, StreamFab's streaming video downloaders offer two options for you to choose according to your own needs under different circumstances.

You can either remix the subtitles directly into the videos or, output the downloaded subtitles separately as SRT files. The choice is yours! So, choose freely.
Automatically download new releases at an appointed time
If you watch TV shows often, you must know that new episodes are regularly broadcast at a scheduled time. And it will be great if you can download future episodes as soon as they are available.

That is possible using this streaming video downloader. Simply add all of your favorite TV shows to the Scheduled queue, and it will automatically download new episodes based on your weekly or daily schedules.
Download multiple videos concurrently and fast
Downloading performance matters a lot when you plan to download a TV show or, a movie series, such as the Avenger series. With StreamFab StreamFab all-in-one, there is no need to panic.

You can add multiple movies or even all the episodes of a TV show season to download in one go. On top of that, super-fast download speed is ensured, too. Just 10-20 minutes per movie.
Download media server friendly Meta information
Managing a myriad of media libraries can be tough with your media server. However, this streaming video downloader can download all the metadata info, such as movie, season and episode title, cast, synopsis, poster, etc.

All such information can make it extremely easy for media servers like DVDFab Player 6, Plex, Kodi, and others alike to sort and organize your downloaded movies and shows in a better way.

More so, if you are using DVDFab Player 6 as your media managing and playback software, StreamFab all-in-one can also import your downloads directly to your media library.
Grab music & videos from YouTube and 1000+ sites
Aside from the paid streaming services, as a streaming downloader, StreamFab also has you covered if you want to download free online music and videos from YouTube, Facebook, Vimeo, and 1,000 other websites.

Compared to paid streaming videos, the download quality from those free websites can be up to 8K for videos in MP4 and 320 kbps for audio in MP3. Download speed is also blazing-fast.
System Requirements
– Windows 11/10/8.1/8/7 (32/64 bit)
– Intel i3 or above
– 4GB of RAM or above
– 40GB of free hard disk space or above
– Live Internet connection required
Frequently Asked Questions
What does a streaming video downloader do?
A streaming video downloader can help you download streaming videos to your computer hard drives so that you can watch your favorite streaming videos offline without live internet connections.
StreamFab is the most inclusive and comprehensive streaming video download solution package to date. It now supports all the major premium streaming services and other 1000+ video-sharing websites
StreamFab All-In-One now contains 41 separate downloader modules, of which, the Olympic Games Downloader module is totally free.
Considering that all 41 modules are meant for different countries, it is not practical for everyone to buy the all-in-one suite. However, you can customize your own package to buy the modules you want.
Sure, all the shareware modules offer a 30-day free trial period for you to test its usability, and during the evaluation period, you can try three downloads with each module.
Can this streaming downloader remove ads while downloading streaming videos online?
Yes, all the videos downloaded by this downloader are ad-free, you won't get any interruptions when watching them offline on your devices.