Glary Disk Cleaner for Windows
Protect privacy, optimize system performance and free disk space
Glary disk cleaner is a free utility that scans PC and removes the temporary file and junk folders. These unwanted files accumulate in PC if you have unfinished uninstalled programs. These leftovers cover huge disk space and make your PC slow. To clean these files you need a dedicated PC cleaner tool. If you download Glary Disk Cleaner in your PC it will do this whole process in one click. Its latest version is also available in a portable version that is compatible with Windows 7, Windows 8, Windows 10 and all other previous versions both 32-bit and 64-bit OS.... view full description
Protect privacy, optimize system performance and free disk space
Glary disk cleaner is a free utility that scans PC and removes the temporary file and junk folders. These unwanted files accumulate in PC if you have unfinished uninstalled programs. These leftovers cover huge disk space and make your PC slow. To clean these files you need a dedicated PC cleaner tool. If you download Glary Disk Cleaner in your PC it will do this whole process in one click. Its latest version is also available in a portable version that is compatible with Windows 7, Windows 8, Windows 10 and all other previous versions both 32-bit and 64-bit OS.... view full description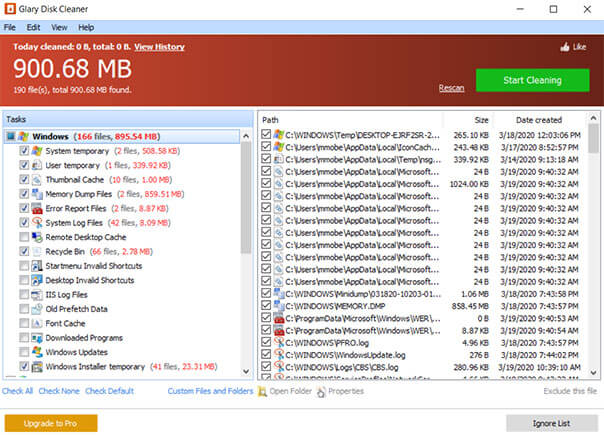 App Specification
Release Date
March 16, 2020
4.5 Softlay Review
Glary disk cleaner is a free utility that scans PC and removes the temporary file and junk folders. These unwanted files accumulate in PC if you have unfinished uninstalled programs. These leftovers cover huge disk space and make your PC slow. To clean these files you need a dedicated PC cleaner tool. If you download Glary Disk Cleaner in your PC it will do this whole process in one click. Its latest version is also available in a portable version that is compatible with Windows 7, Windows 8, Windows 10 and all other previous versions both 32-bit and 64-bit OS.
What's More About It?
Glarysoft is not a new name in the software industry. They have developed many popular tools i.e. uninstaller programs, software updater, disk speed up and registry repair tool. Most of these utilities are free, safe and secure to use.
You can also buy the Glary Disk Cleaner pro version to use it you will need to buy it's key. Enter its license key and use all of its advance features with a couple of mouse clicks. Although you Will find many crack sites offering you its crack key but honestly don't visit them. Mostly they offer malware in the shape of the crack file. Just buy its pro key from its official site.
Remove Temporary or Unwanted files
Unlike the Windows cleanup utility, this tool shows a complete list of files that you want to remove. You can also choose which file or folder you want to delete of you can opt to ignore the list.
Its comprehensive list shows much more details consisting of system and user temporary files, thumbnail cache, error reports, log files, memory dump, recycle bin data, invalid shortcuts.
Clear Browser To Protect Privacy
Web browser contains our data and stores our daily activity for many days. Glary Utility supports most of the popular web browsers such as Microsoft Edge, Chrome, Opera, Safari, Firefox and many more.
Use this tool to delete all the browser history, cookies, cache with the customized settings. It makes your PC more secure.
Clear Interface
It has a friendly user interface the interaction with the various function is very easy. Three main sections give most of the hints and information. First, it shows how many junk files are found and allows you to re-scan junk files. It uses red and green color to shows how serious your PC health is?
On the left side, it allows you to select the folder that you want to clean and on its right side it will show you a summary of all junk files. Simply check those boxes that you want to remove from the PC. The overall interface is simple and very easy to use. You don't need to be a pro at handling this Windows cleaning software.
Our Thoughts
Glary Disk Cleaner has a powerful scanning engine that quickly scans junk files and programs on your disk drivers. Ignore list is a unique function that you won't find in other junk cleaners. It allows user to exclude some files which they do not want to delete.
Before it cleans PC this tool creates a system restore point. After the cleanup, you can see the history and review it. This is a free disk cleanup software that is easy to operate and remove system junk. This application is safe from Viruses, Spyware, Malware & Adware. It takes fewer resources of computer while scanning junk files on a hard drive.