Steam users may come across an error while updating i.e steam content file locked. This error prevents steam from updating itself or games. When users update steam games the latest version doesn't install on the hard drive. If you are facing a content file locked steam error while playing games then you came to the right place.
Here we have explained the 4 best solutions for steam content file locked fix. Try any one of these troubleshooting steps and get rid of a file locked error on steam permanently.
What Does Content File Locked Mean on Steam?

This means that Steam can't write updated files to the hard disk. From time to time steam update itself, but often steam users complain that the "steam download paused content file locked" error occurs.
Users also complain that they encounter content file locked errors while updating CSGO, PubG, Space Engineers, Dota 2, Paladins, Smite, Miscreated, Payday 2, Ark, Cypherpunk.
The content file locked error isn't restricted to these above-mentioned games. It may pop up in any game only when you tried to update it. Luckily, here we will teach you how to fix content file locked steam, aka steam update paused issue.
Read Also: How To Access Steam Screenshot Folder in Windows 10 and Change It
How to Fix Steam Content File Locked Issue?
Now without wasting more time let's proceed towards content file locked steam solutions.
Fix 1- Find and repair Corrupt Files
The first step is to find the disease and cure it. To quickly fix the content locked error you should try to locate missing, corrupt, or faulty files. Then you must re-download entire files again. It's an evergreen tactic to diagnose and resolve any problem.
Read Also: Fixwin 10 Free Download – Best repairing Tool
Quit steam and navigate to your Steam directory. You can locate it on the default path (C:/Program Files (x86)/Steam). Or if you have chosen a custom location for the installation, navigate there.
Move to the folder 'logs' and open 'txt'.
Scroll extreme down the text file and search for recent errors.
Navigate to the root folder of the mod, you may like total war Warhammer mods, civilization 5 mods.
Restart steam and move to the downloads folder. Here you will notice that Steam will be asking for an update for the game. Update the necessary files and you'll be good to go.
Fix 2- Reset Winsok
The content file locked error pops up due to update failure. If you reset the Winsock catalog and roll it back to default settings, it will solve the problem. To reset Winsock;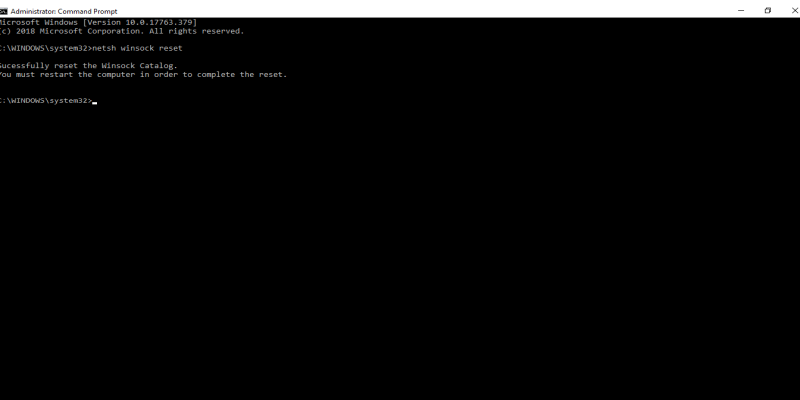 Run command prompt as an administrator for that press Windows + R and type cmd.
Once the black screen appears enter this command netsh winsock reset and hit enter.
Now restart your computer
Read Also: Fix: NVIDIA Control Panel Missing in Windows 10
Fix 3- Relocate Steam Installation and Game Files
If the above two fixes don't fix the content file locked error on the steam client. Then relocating steam and game installation files will surely help you. This fix consists of 2 major parts, firstly we will relocate steam. During this process, if any error occurred then we will have to reinstall steam.
Browse to your Steam client and click settings.
Select 'Downloads' and click on 'Steam Library Folders.
Click on 'Add Library Folder' and select a new path where you want Steam to be located.
Here give a future path for the installations to take place. Now move existing Steam files to the path you selected.

Exit the Steam client.
Again browse to your current default Steam directory, it's usually in C: \Program Files \Steam)
Delete all the files and folders except SteamApps and UserData folders. Also don't delete .exe.
Cut all the folders and paste them to the new directory you decided above.
Launch Steam and re-login.
If any error occurs while fixing content locked error then you have to follow these steps.
Close your Steam.
Browse to the location where you relocated Steam.
Relocate the 'SteamApps' folder from that directory to your desktop.
Uninstall Steam.
Install Steam again to the initial location that you selected.
Move the SteamApps folder in the new Steam directory. This will copy all of your game content i.e. saved games and settings.
Launch Steam and enter your credentials.
Verify the integrity of Steam game files and you will be able to play.
Fix 4- Disable Antivirus Software
Many antivirus software mark steam files as virus threats and immediately try to remove them. This causes necessary update failure hence you see steam content file locked issue. To counter steam content file locked error you need to disable antivirus before updating steam files.
Related: How to Disable (Turn Off, Stop) Avast Antivirus Completely, Temporarily
If you are running McAfee antivirus then open it and select "Virus and Spyware Protection". Find the option "Real-Time Scanning". Click that option and turn it off.
Now follow these steps to verify integrity of game files.
Restart your PC and relaunch Steam.
Head over to the library section and right-click on the game which is giving you problems.
Click on its properties and select the local files tab.
Click the verify integrity of game files button.
Within a few minutes, steam will verify that game and you will not see the steam content file locked error again.
If you are using Kaspersky security then head over to 'threads and exclusions'. Browse 'trusted zone' and add Steam.exe as a trusted application. Before leaving change settings "Do not restrict application activity" and "Do not scan opened files."
This is how we solve the steam content file locked problem. If an error occurred while updating Garry's mod (content file locked) you can also apply these fixes.