Black Bird Cleaner is a free PC cleaning & optimization utility that removes unnecessary temporary files, Speedup your system performance, and recovers valuable hard disk space on your computer. Finds and sorts installers and archives of various types, to help remove the trash.
Download Black bird cleaner free latest version for windows XP/Vista/7/8.1/10. Get offline installer setup direct high-speed download link for Black Bird Cleaner for windows 32 – 64bit PC.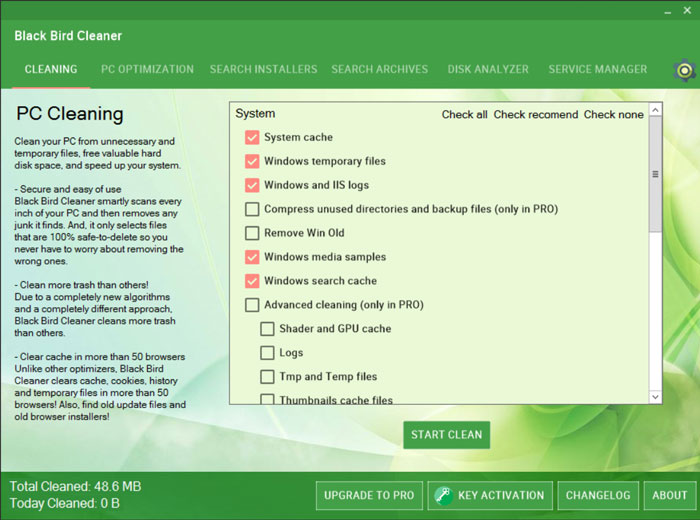 Download Black bird cleaner for Windows 10 & 7 PC 2022
Black bird cleaner is a shareware application that lets you optimize your PC with mouse clicks. It's a simple lightweight program that takes fewer resources and speeds up PC performance. Download black bird cleaner from the above link to begin with. The installation process is easy, It has a user-friendly interface. Black Bird Cleaner also offers in Pro version with more options.
This application is reviewed on a free version. The first tab is for cleaning temporary files or unnecessary items, cleaning the system cache. The pro version allows you to deep clean your PC using this program.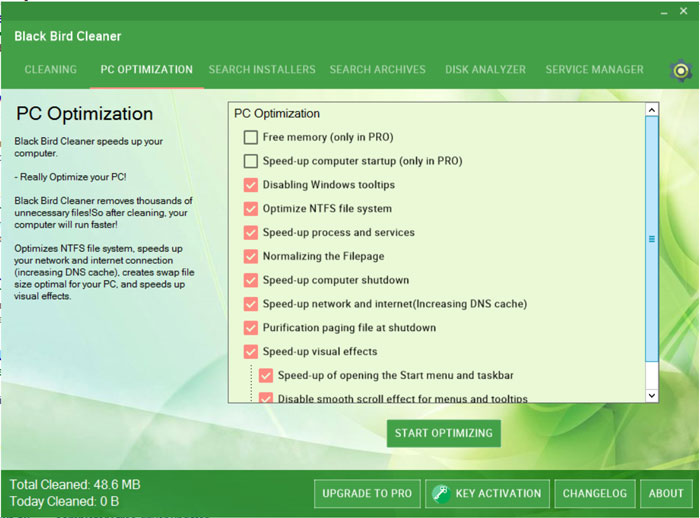 Nex tab is PC optimization, Free memory and speed up computer start up is offered in Pro version. Optimizing NTFS file system speeds up your network and internet connection  (increasing DNS cache), Creates swap file size optimal for PC, and speeds up visual effects. This program also offered you to search for installers and archives that are taking up a lot of disk space for no reason.
It is worth noting that you do not have the option of sending files to the recycle bin, so you should be careful not to delete important items by accident.
Key Features
Below are the minimum system requirements to run this application.
Easy to use.
Remove all junk files free valuable disk space.
Speed up computer.
Takes less system resources
Easy to use
A simple and light-weight program that installs quickly on user computers.
You'll experience that it has a user-friendly interface. The program main features are displayed on the top navigation menu.
You can select between the options and hit the scan button to let the program do the rest of the work for you.
PC Cleaner
Black Bird Cleaner smartly scans every inch of your PC and then removes any junk it finds. It only selects the files that are 100% safe to delete so you never have to worry about removing the wrong ones.
Cleaning your PC from the unnecessary temporary files, Internet Cache, Windows Logs, results in free valuable disk space and speed up your system.
Thanks to the completely new algorithms, and different approach, the app cleans more trash than others.
One-Click PC Optimizer
The program removes thousands of unnecessary files from your computer, so after cleaning your PC will run faster. PC optimizer speeds up your PC startup and shutdown, optimizes the NTFS file system. Creates swap file size for your system speed up and visual effects. Protects you from dangerous and unnecessary processes and services. Prevent forced Windows restart.
Additional tools to diagnose and clean your PC
Disk Analyzer displays the information about the files on your computer occupies the most space. Service Manager which shows you all services on your PC so you can remove services that are not needed.
Black Bird Cleaner Free vs Pro
The free version offers users with some program limitations. More advanced features come with a price tag. If you want to enjoy the benefits that it offers in the full version you need to upgrade it to pro. The one-time Pro version license key offers at $29.00 for 1 computer.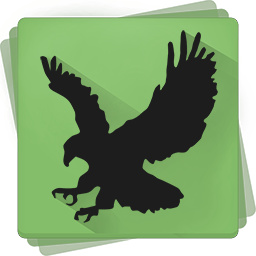 Black Bird Cleaner
V1.0.3.9 For PC
🛡️ Safe & Secure
Download Specs
License: Free
Platform: Windows OS
Language: English
File Size: 976 KB
Downloads: 1,455
Developer: Jorgen Radkevych