Sideloadly is a sideload utility for iOS. It is a minimalistic Cydia Impactor alternative that comes with a clean user interface and powerful new features. Sideloadly is safe and a free-to-download application available for Windows & macOS that allows users to sideload their favorite games and apps to their iOS device, Apple Silicon Mac, or Apple TV
Sideloadly can sideload apps on the following platforms iPhone (iOS 7.0 – 17.0), iPad & Apple TV (tvOS). Apple Silicon sideloading support also allows users to install unsupported iOS apps to their M1/M2 Pro/Max/Ultra Mac devices.
What is Sideloading?
Sideloading is the process of installing apps via their IPA (iOS apps file format) files that are not available in the official App Store. This can be useful for installing apps that are not available in your region or have been removed from the App Store. Sideloadly itself is completely safe to use, however, be careful of the apps you're installing as they may contain malware.
How to Download & Install Sideloadly
You can download Sideloadly for free and install it by following the steps below.
Step 1: Scroll to the top of the page to start the download.
Step 2: Launch the downloaded Sideloadly installer and follow the installer's instructions to complete the setup.
How to Use Sideloadly on Windows & Mac
Before we proceed with using Sideloadly, we need to have iTunes & iCloud installed and set up.
Follow the instructions below to sideload any app with Sideloadly.
Setting Up iTunes
Step 1: Connect both Windows PC/Mac and iOS devices to the same WiFi network.
Step 2: Install iTunes (iTunes For Windows) if you don't have it already.
Step 3: Launch iTunes, log into your Apple account, and select the following option Account > Authorizations > Authorize This Computer (this will authorize that device to be able to install apps into the iOS device).
Step 4: Ensure that "Automatically sync when this iPad is connected" & "Sync with this iPad over WiFi" are checked in the Options menu for the connected device. (This step can be skipped if you don't wish to wirelessly sideload apps)
Setting Up iCloud
Step 1: Install iCloud. Upon installation completion, click on Yes when iCloud asks you to reboot the PC.
Step 2: After rebooting has completed, start the iCloud app and log in with the same Apple ID you used to log into iTunes.
Sideloading Apps with Sideloadly
Step 1: In the iDevice drop-down menu, select your connected iOS device signified with (@USB or @Wi-Fi). In the Apple ID section, use the same ID that was used in iTunes & iCloud.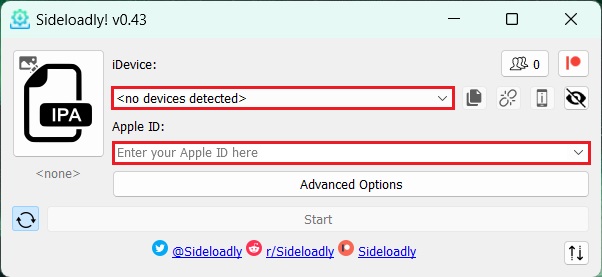 Step 2: Click on the IPA pic on the left and select the IPA file of the app you wish to install. Finally, click on Start, it'll prompt you to enter the password for your Apple ID.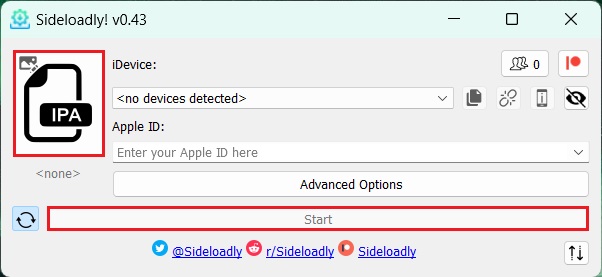 How to Uninstall Sideloadly
Sideloadly cannot be uninstalled via the Add or Remove Programs menu instead you'll need to go to the installation folder and uninstall it from there. Follow the steps below to uninstall Sideloadly:
Step 1: Navigate to the path Local Disk (C:) > Users > (Your PC Name) > AppData > Local > Sideloadly and click on uninstall.exe.
Step 2: Follow the uninstaller's instructions to uninstall Sideloadly successfully.
What is Sideloadly?
Sideloadly is a free software that allows its users to sideload their favorite apps and games into iOS & Apple TV devices and sign them. This can come in handy if the app you're looking for is unavailable on the App Store. Apps that are sideloaded with a free developer account are only available for seven days, Sideloadly has a built-in Automatic App Refreshing that reinstalls the app to circumnavigate this problem.
Sideloadly Alternative
Sideloadly vs Altstore
Altstore is the only alternative to Sideloadly for sideloading apps into iOS devices. However, Altstore does not offer the same features as Sideloadly does. Sideloadly offers more app installations on the free Apple dev account.
Sideloadly FAQs
Is Sideloadly safe?
Yes, Sideloadly is completely safe to use, although be careful of the apps you install as they're not officially vetted by Apple's App Store so they might contain viruses.
How long does Sideloadly last?
An app installed by Sideloadly with a free Apple Developer account can last up to 7 days before needing a refresh. An app sideloaded with a premium Apple Developer account can last up to a year.
Why is Sideloadly not working?
There's a detailed list of problems and solutions that users might face on Sideloadly's website. Go ahead and see if the problem you're facing is among the listed issues. Alternatively, you can also visit Sideloadly's Reddit to see possible solutions to your problem.
How do I set up automatic app refreshing?
When sideloading your app, you now have an option to automatically refresh said app. When the automatic refreshing is enabled, Sideloadly will automatically enroll the app for automatic refreshing which is then handled by the Sideloadly Daemon.
For this to work, a computer is currently needed with Wi-Fi sideloading set up or your device is connected via USB. Sideloadly Daemon will automatically attempt to refresh apps that are near expiry when the device is detected via Wi-Fi or USB.
How do I enable Wi-Fi sideloading via Sideloadly?
To enable Wi-Fi sideloading your iDevice, please make sure your computer & iOS device are connected to the same network. Then you will need to initially connect your device via USB and follow these instructions depending on your OS:

Windows: Open iTunes > Connected Device > Summary > Options > Enable "Sync with this iDevice over Wi-Fi" option > Sync & Done.
Latest macOS: Finder > Select your iDevice under 'Locations' > General > Enable "Show this iDevice when on Wi-Fi" option > Sync & Done.
Older macOS: Open iTunes > Connected Device > Summary > Options > Enable "Sync with this iDevice over Wi-Fi" option > Sync & Done.
In some cases, if Sideloadly is not detecting your device wirelessly, you may need to open iTunes. You also need to have your iDevice screen on for it to be detected.
How do I update an app enrolled for automatic refreshing in the daemon?
Simply open Sideloadly and add the new IPA while using the same Apple/bundle ID and make sure the automatic refresh option is enabled & proceed to sideload. Sideloadly will automatically overwrite the previous IPA & files with the newly sideloaded version.
How do I enable the Sideloadly Mail Plug-in on macOS?
Please open the macOS Mail App and then open Settings/Preferences. If you need to login to an email account, you can simply click on the Other option and provide some random information to be able to gain access to Mail's preferences. Once on the General Preferences window, at the bottom you will see the option to "Manage Plug-ins", click on it and tick/enable the SideloadlyPlugin.mailbundle and then click on Apply and Restart Mail.
Developer Mode Required. How do I enable developer mode on my iOS device to sideload apps?
Since iOS 16+, Apple now requires users to enable "Developer Mode" on their devices in order to allow the sideloading & installation of apps outside of the iOS App Store. To enable Developer Mode go to Settings > Privacy & Security on the iOS device. Scroll down to the Developer Mode list item and navigate into it and enable the developer mode switch.
How can I save or load my in-game progress?
You need to make sure your game progress is being synced over Game Center, Facebook, Twitter or Google+. If the game saves its progress locally, you will need to install the IPA overwriting the one you already have installed. In order to overwrite, the modified IPA must have the same bundle ID and you must use the same Apple ID when sideloading. See below for more information.
Can I overwrite my current app without removing it?
Yes, it is possible. In order to accomplish this, you need to sideload the IPA with the same Apple ID that your previously sideloaded app is with. If you previously manually set a custom bundle ID, you need to use the same ID again.
How many apps can I sideload?
In iOS 7, 8, and 9 you can sideload as many apps as you like on your device. However, your free developer account has limitations but you can easily bypass those limitations by creating a new Apple ID. On iOS 10, 11, 12, 13, 14, 15, 16, and higher, you can only have 3 sideloaded apps installed on your device at the same time. Apple has limited this and will not allow any more free Apple Developer accounts.
How can I connect Sideloadly to my Apple TV?
If you have an Apple TV with a USB port, simply plug it into your computer and Sideloadly will detect it. If you have a portless Apple TV then sideloading will only work on macOS. A virtual macOS should also work as long as you are using the same network.
For macOS to see your Apple TV, open Settings > Remotes & Devices > Remote App & Devices and keep it on that screen so Sideloadly will detect your Apple TV.
Why can't I restore my Game Center game progress after sideloading?
A: With the latest iOS versions, Apple has prevented users on free Apple accounts from sideloading apps that have the same bundle ID as an App Store app. In order to sideload on the latest iOS versions, we are forced to set a unique bundle ID and in doing so, Game Center does not recognize the app therefore will not prompt you to restore your save.
How to fix Sideloadly does not show my device.
If this happens, reinstall the web version of iTunes & iCloud linked above & reboot your PC. Then open up iTunes while your device is connected & make sure you tap on 'Trust' from the popup on your iDevice and your device should show up in Sideloadly. Trying a different USB cable or port may also help.
How do I fix "Untrusted Developer"?
To trust the app after sideloading, you will need to go to Settings -> General -> Profiles/VPN & Device Management, and once there, tap on the email you used to sideload then trust it.
Does Sideloadly support iOS 7, 8, 9, 10, 11, 12, 13, 14, 15, 16?
Sideloadly should support iOS 7 up to iOS 16 (and other iOS versions in the future). If you experience any iOS-specific issues, do let us know so we can investigate!
What kind of .dylibs or .debs can I add to my IPA? App crashes on launch after injecting dylib/deb/framework.
All dylib/deb/framework files are supported by Sideloadly, however, some of these files are specifically made for Jailbroken and will cause crashes when sideloaded on non-jailbroken devices. Sideloadly will automatically attempt to update the injected files to support non-jailbroken devices, but it won't always 100% work due to how they are made.
Where is the Sideloadly auto-refresh cache folder located?
Windows: C:\Users\YOURNAME\AppData\Local\cache\sideloadly
macOS: /Users/YOURNAME/Library/Caches
Why am I receiving no permission error when opening my sideloaded M1/M2 iOS App?
This issue happens if the IPA you have sideloaded was encrypted (downloaded through iTunes or straight from your device). In order to fix this, you need to sideload the decrypted version of the IPA.
Which Windows version does Sideloadly download support?
Sideloadly download should work on Windows 7, 8, 10 & 11. For the best results, Windows 10 or higher is recommended.
How do I fix "Installation failed: 0 InstallProhibited"?
This message means that the device you are trying to install the app to is supervised and does not have permission to install new applications. To fix this, go to Settings > Screen Time > Content & Privacy Restrictions > iTunes & App Store Purchases > Installing Apps > Allow.
How do I fix "Your maximum App ID limit has been reached? You may create up to 10 App IDs every 7 days."?
This is a limitation set by Apple on free developer accounts. To fix this, you can either wait a few days and try again, or use another Apple ID to sideload.
How do I fix "This device has reached the maximum number of installed apps using a free developer profile"?
This is a limitation set by Apple on free developer accounts. If you are using a free Apple Developer account, you can only have 3 sideloaded apps installed on your device simultaneously.