The best VPNs route all your web traffic through an encrypted connection to a remote server and fend off any cyber threats that latch on every time you go online. CyberGhost, a Romania-based VPN service follows up on this and often ranks behind competitors like ExpressVPN and Surfshark VPN provider. Quite surprising to us, we tested its one 1-day free trial on our Windows PC to find out if CyberGhost download is really worth the $12.99 per month.
Turned out, CyberGhost app download is famously the biggest VPN service provider that supports torrenting and unblocks the majority of popular online streaming services like Netflix and BBC iPlayer and can connect up to 7 devices on a single CyberGhost subscription. Equipped with WireGuard protocol, specialized servers, a dedicated IP option, and a 45-day money-back guarantee, the service is expensive but its no logging policy and independent audits with Deloitte makes this the most likely choice for users to setup and login to VPN on Windows.
Unlike NordVPN, we do not see certain advanced features like access to Tor via VPN as well as a multi-hop connections in this premium VPN service. But, when you download CyberGhost for Windows 11 or 10, you'll come across its tokenized system for dispensing dedicated IP addresses without maintaining records of who uses which IP. As of now, we are convinced with its privacy features, no logging policy and the inclusion of WireGuard protocol.
| | |
| --- | --- |
| 💵 Price: | from $2.19/month |
| 📖 No logs policy: | Independently-audited |
| 🖥️ Servers: | 9700+ servers in 91 countries |
| 🍿 Streaming services: | Netflix, Hulu, BBC iPlayer, Disney+ |
| 🏆 Protocols | WireGuard, IKEv2, OpenVPN |
Does CyberGhost have a free trial?
If you choose CyberGhost VPN download for Windows 11, Windows 10, Windows 8 and Windows 7, you get a 24-hour free trial for their paid service, which gives you full access to all of their premium features. The CyberGhost free trial is 24 hours for desktop users and 48 hours for mobile users. iOS or Android users, however need to provide payment details to access CyberGhost free trial.
To take advantage of the VPN's free trial, you'll need to sign up for one of their paid plans, either monthly or annually, and then cancel before the end of the 24-hour period. You can request a full refund within that period if you decide not to continue anymore.
How Much Does CyberGhost VPN Cost?
Compared to the average price of $9.90 per month, CyberGhost VPN's subscription costs $12.95 per month. This puts it on the pricier spectrum, followed by ExpressVPN, that also asks for $12.95/mo. These two best VPNs are also the most expensive VPN we've yet reviewed.
While Mozilla VPN sticks to an average of $9.99 per month, Mullvad VPN confines to $5.50 per month, winning the title of the most affordable VPN service of 2023. Like most VPN services, you get discounts for longer subscriptions. The 27-month plan costs $56.97, and renews annually at the same price.
While the annual subscription model seems tempting, you should be careful that their two-year plan effectively becomes an annual plan. Although, the $56.97 for 27 months is still less than the $67.73 average for the VPNs, we advise starting with the shortest possible subscription and see if the VPN really works for you.
For $3 extra, you can get access to CyberGhost's high-security NoSpy servers. An additional $59.88 per year promises you ultimate privacy, security, and performance. If you choose to sign up for any plan that's longer than a month, you get NoSpy servers for free.
If CyberGhostVPN is too rich for your blood, there are numerous cheap VPNs and even a few worthy free VPNs to consider. TunnelBear VPN is free but restricts the amount of data to 500MB per month. However, you can access all of its global server network albeit to Proton VPN that does not impose a data limit on user traffic.
A single subscription of $12.95 per month lets you use seven devices simultaneously, making it a good value for a household with lots of devices. Compared to the industry average of 5 devices, many considerable VPNs like Atlas VPN, Avira Phantom VPN, IPVanish VPN, Surfshark VPN, and TunnelBear VPN place no limit on the number of devices you can connect at the same time.
Features
Without NoSpy
With NoSpy
Anonymous browsing
✔
✔
Block online tracking
✔
✔
Dedicated torrenting servers
✔
✔
Bigger bandwidth
✘
✔
Better speeds
✘
✔
Pricing
$4.15/MO
Billed yearly
$4.99/MO
Billed yearly
What Do You Get for Your Money?
We love to highlight CyberGhosts impenetrable NoSpy Servers. Put simply, these are specially tuned servers in a high-security data center inside Romanian headquarters. According to the firm, these servers feature top-of-the-line hardware that promise you the ultimate privacy, security, and performance.
Similar to Proton VPN's Secure Core servers to increase physical security, they use it for multi-hop connections a feature which is not available in CyberGhost. On top of the VPN protection, they have also gone to extraordinary lengths to protect against malware and ads. As a rule of thumb, we don't recommend using a VPN in accordance with antivirus software because it can hinder VPNs efficacy.
Unlike Proton VPN and NordVPN, CyberGhost VPN download for PC cannot route your traffic through the Tor anonymization network. Well, not a necessary feature, it's just convenient to have a kind of push-button access. The Romania-based VPN company offers split tunneling and lets you exempt specific URLs from traveling through the VPN connection.
When you sign up to CyberGhost premium and download the VPN app on Windows PC, you'll get a dedicated IP address that's exclusively yours. It's unique and stays the same every time you connect to the internet and looks a little less like a VPN traffic. The company trumpets its tokenized system for dispensing dedicated IP addresses. Without ever maintaining records of who uses which IP, you can access IP-restricted networks without exposing your online identity or internet activities. At the time, you can get a Canada, France, Germany, UK, and the US for $5 per month on top of CyberGhost VPN's subscription fee.
CyberGhost is also bundling a license for the cloud storage file encryption service Boxcryptor with subscriptions of one year or longer. Like CyberGhost download for PC, NordVPN also offers a password manager and encrypted file locker along with integrated antivirus protection.
Coupled with its best VPN service, CyberGhost Security Suite for Windows asks an additional $5.99 per month on top of the VPN subscription. Under the hood, Security Suite for Windows includes antivirus protection provided by Intego, a Privacy Guard tool designed to protect your information from Microsoft, and Security Updater, which keeps tabs on your apps that need updating.
What VPN Protocols Does CyberGhost Offer?
CyberGhost download for Windows PC uses the new WireGuard protocol that promises better speeds. It's also open-source, meaning it can be picked over for potential vulnerabilities. CyberGhost VPN for Windows supports WireGuard across all its platforms like Fire Stick TV, Android, Android TV, iOS, Linux, macOS, Windows, and various routers. CyberGhost VPN for PC does not support OpenVPN on macOS. IKEv2, another favorite VPN protocol, is available on Amazon Fire TV Stick, Android, Android TV, iOS, macOS, and Windows.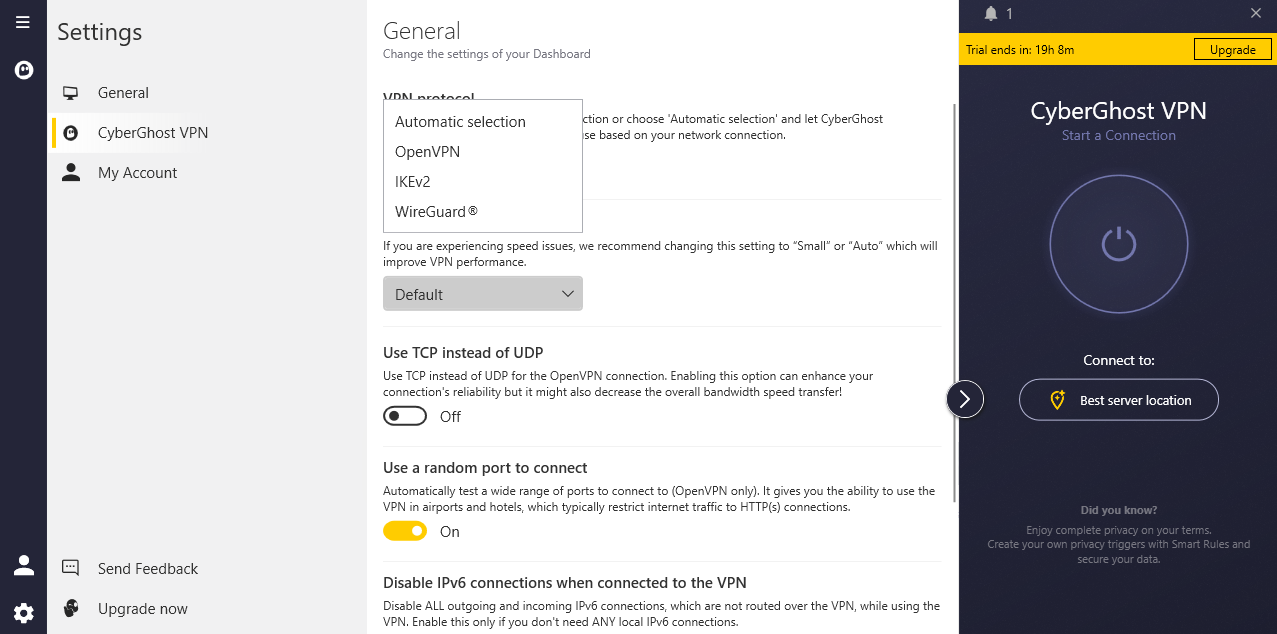 | | | | |
| --- | --- | --- | --- |
| Protocol | Speed | Security | Connection stability |
| WireGuard | Medium | High | Medium |
| IKEv2 | Highest 🏆 | Medium | High |
| OpenVPN | Low | High | High |
CyberGhost's Servers and Server Locations
It offers colossal server coverage that has about 9,200 servers across 91 countries. Large server networks can also mean better odds of finding a server close to wherever you happen to be. That's easily the most servers by countries contrary to HMA VPN and Express VPN that has servers in 190 and 94 countries.
You'll likely find most of the servers in the UK and US as well as a good global mix with a few showing in Africa and South America, two zones often ignored by VPN companies. CyberGhost download does offer servers in regions with repressive internet policies, such as China, Hong Kong, Russia, Turkey, and Vietnam. CyberGhost VPN's servers are encrypted and run in RAM only, which means no data is stored on a hard drive. Even if an attacker physically removed the server, there would be no data to examine.
How Does CyberGhost VPN Protect Your Privacy?
Your VPN could have as much insight as your Internet Service Provider into your online activities. Therefore, a VPN is designed specifically to protect those activities. In general, CyberGhost download for Windows appears to do a good job of protecting user privacy.
Cyber Ghost download for PC does not store user IP addresses, DNS queries, browsing history, connection/disconnection timestamps, session duration, bandwidth, or the VPN server with which you connect. It does, however collect information regarding connection attempts and successes but does not log user activity. CyberGhost company had completed an independent audit with Deloitte. This audit was intended to look at whether the company's privacy policy is actually supported by its infrastructure.
Hands On With CyberGhost VPN on ChromeOS
When you choose CyberGhost VPN download on ChromeOS, you'll be able to use split tunneling and a content blocker while browsing. You can also set up a dedicated IP address. If you're wondering "How do I add CyberGhost VPN to Chrome?", then Go to the Chrome web store. Search for CyberGhost VPN Chrome. Then click 'add to Chrome'.
CyberGhost vs Nord: Which One Wins?
| | | |
| --- | --- | --- |
| Features | NordVPN | CyberGhost |
| Speed | ✅ | ❌ |
| Features | ✅ | ❌ |
| Protection | ✅ | ❌ |
| Streaming | ✅ | ✅ |
| Torrenting | ✅ | ✅ |
| Servers | ❌ | ✅ |
| Price | ✅ | ❌ |
| Ease of use | ✅ | ❌ |
| Customer support | ✅ | ✅ |
NordVPN is significantly faster than CyberGhost download for PC. You can find the best cyberghost server for torrenting by filtering the list of servers that are P2P-optimized. Although both services have great privacy measures, NordVPN has more of them.
Which is better: CyberGhost or ExpressVPN?
| | | |
| --- | --- | --- |
| Category | ExpressVPN | CyberGhost |
| Speed | ✅ | ❌ |
| Features | ✅ | ✅ |
| Privacy | ✅ | ❌ |
| Streaming | ✅ | ❌ |
| Torrenting | ✅ | ✅ |
| Price | ✅ | ✅ |
| Server locations | ❌ | ✅ |
| Ease of use | ✅ | ✅ |
| Customer support | ✅ | ✅ |
Expressvpn vs Private Internet Access
| | | |
| --- | --- | --- |
| | ExpressVPN | Private Internet Access |
| 🖥️ Servers: | 3000+ servers in 94 countries | 30000+ servers in 83 countries |
| 📖 No logs policy: | No logs | No logs |
| 💵 Pricing: | From $6.67/month | From $2.19/month |
| 🔒 VPN protocols: | Lightway, OpenVPN, IKEv2, L2TP/IPsec | Wireguard, OpenVPN, IKEv2/IPsec |
| 🍿 Streaming services: | Netflix, Hulu, BBC iPlayer, Disney+ | Netflix, YouTube, Hulu |
| 🖥️ Platforms: | Windows, macOS, Linux, Android, iOS | Windows, Mac, Linux, Android, iOS, Chrome, Firefox, Brave, Edge, Opera |
| 📥 Simultaneous connections: | 5 | Unlimited |
| Dedicated IP Addresses | No | Yes |