NordVPN is the best-known premium VPN service that beefs up your online security. Although, not a free VPN provider, its high cost is justified with its unique feature called Meshnet that lets other users of your choice access the internet using your device's IP address— just like if you were a VPN server. Coupled with NordVPN's Threat Protection feature, the $11.99 per month subscription will fend off these cyber threats.
In addition to protecting your web traffic, NordVPN for Windows PC allows P2P, access to Tor via VPN server, multi-hop connections, strict no-logging policy and offers up to 6 simultaneous connections with multi-platform support. Lots of server locations dotted around the globe are backed up with a kill switch, making NordVPN one of the best VPN providers.
How To Try NordVPN For Free?
NordVPN for PC does not offer a free trial. It isn't currently possible to get a NordVPN account completely free forever. Moreover, the company claims it doesn't even offer a free VPN trial. But, they do offer a 30-day money-back guarantee policy on Windows, macOS, iOS and all other platforms.
You can choose to get unlimited free trial if and only if you install the app from the Google Play Store. This way you get NordVPN 7 day free trail to all new Android subscribers. Once you download the VPN app, you can set it up and start the NordVPN login process.
Once you choose NordVPN download for Windows and choose monthly payment plan, you'll enjoy free access to one of the best VPNs, unblock Netflix and many other streaming services, without data caps or feature limitations. After that, within the free trial period, choose to cancel your NordVPN subscription and get a full refund.
How Much Does NordVPN Cost?
For the standard monthly plan, you get to pay $11.99 per month, $12.99 for plus tier and $14.49 per month for complete tier. NordVPN download for PC also offers two-year subscriptions for $83.76, $107.76, and $143.76 for the Standard, Plus, and Complete tiers.
Complete
($14.49/mo)
Plus
($12.99/mo)
Standard
($11.99/mo)
Basic VPN protection
Yes
Yes
Yes
Data breach scanner
Yes
Yes
No
NordPass password manager
Yes
Yes
No
1TB of encrypted cloud storage
Yes
No
No
NordLocker
Yes
No
No
Get your online security package
The average cost of the VPN we've reviewed is about $9.80 per month and $66.30 per year. This puts NordVPN cost on the higher end of the scale, irrespective of the length your subscription. CyberGhost, on the other end asks for $56.97 for two years including three months of free service. This makes CyberGhost a better option if price is your main concern.
Mullvad VPN likewise plays on the other end of the spectrum and asks just $5.50 (at the time of writing). ProtonVPN offers nearly all the same features like multi-hop, Kill-switch, and access to Tor as well as double the simultaneous connection for just $9.99 per month. Opera VPN Pro gets the number one spot for the lowest annual fee ($47.88 every year) we've tested.
If you are looking for completely free VPN service, TunnelBear VPN is a great option to start with. But, it limits you to 2GB of seure browsing per month. Proton VPN, on the other hand, offers unlimited secure browsing with its free subscription.
What Do You Get for Your Money With NordVPN? (Offers Exclusive Features!)
NordVPN offers 6 device limit for a single subscription model. We've seen ExpressVPN giving up to five such connections even when other best VPNs like Surfshark, IPVanish, and Avira Phaton VPN allowing an unlimited number of devices to connect at once.
We get a static IP address for $8.99 per month and a 1-year subscription breaks down to just $5.89/month. You get static dedicated IP addresses in United States, Canada, Australia, Japan, United Kingdom, Netherlands, France, Italy, Sweden, and Germany.
Well, a dedicated IP has its own benefits. It helps you prevent your VPN connection from being blocked, especially if you connect to the same region consistently. This address won't be shared with anyone else and exclusively belongs to you. For example, ExpressVPN does not yet has this branded feature in this $12.99 subscription.
We love boasting about the fact that NordVPN and Proton VPN provide push-button access to the Tor anonymization network. Though, not a necessity, an option makes it a lot convenient. This has its own advantages. For example, it makes it even harder to trace your online communication and lets you communicate over multiple layers of encryption. The only caveat of using a VPN for Tor is its reduced speeds which makes you use Tor browser instead.
A second to important feature is the multi-hop connection which Nord often call Double VPN. It basically routes your internet connection through a second VPN server instead of one. This way you internet requests hide behind two servers, which is technically known as VPN server chaining.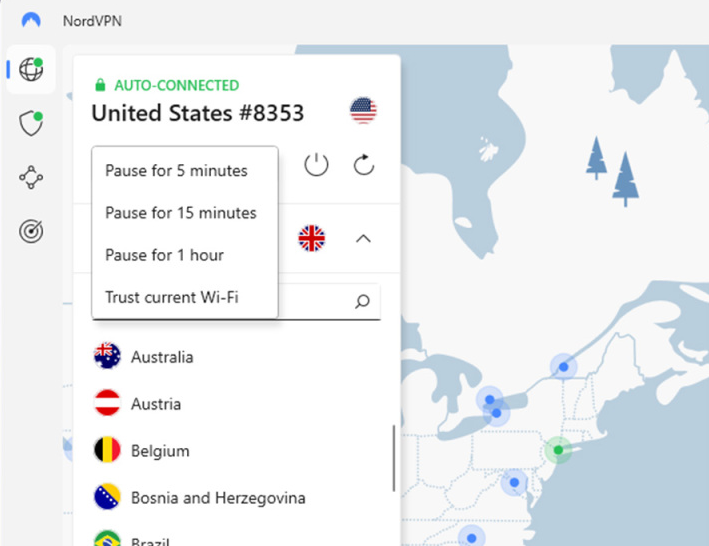 NordVPN offers Split tunneling. This feature lets you choose which traffic to route through the VPN connection and which travel in the clear. You won't find split tunneling in its iOS or macOS apps.
Earlier termed as CyberSec, Threat Protection feature blocks malicious websites, online threats, intrusive ads and trackers and blocks them before they can harm your device. This is kind of an Antivirus. As a standalone feature, Threat Protection costs $4.99 per month but it comes with all NordVPN subscriptions.
Meshnet, a unique offering from NordVPN allows you to connect to one of your own devices via VPN. Basically, you can use your NordVPN Pro subscription and share access to your device with other NordVPN members you approve. Quite useful in LAN gaming, the most practical application is accessing files on your home PC, laptop phone or tablet while you're traveling abroad.
Well, NordVPN caters for Linux users as well. You may choose to configure some routers to connect via Nord so that all your devices on the network, including smart devices, take full advantage of the best VPN service of 2023.
What VPN Protocols Does NordVPN Offer?
Nord VPN uses NordLynx. Built around a popular VPN protocol called WireGuard, NordLynx provides users with lighting-fast internet connection speeds, without compromising on encryption security. This protocol is by default in its Android, iOS, macOS, and Windows app. OpenVPN is also available on these platforms as well as IKEv2 for iOS and macOS apps only.
ExpressVPN on the other hand has not fully seeped in to embrace WireGuard, an open-source heir apparent to OpenVPN that offers better speeds and utilizes newer encryption technology. Instead it focuses on OpenVPN and its own protocol called Lightway that uses lightweight cryptographic libraries to make your connection faster. In this comparison, both protocols provide greater speeds, stability, and security of a VPN.
Where Are NordVPN's Servers Located?
NordVPN's servers span across the globe, boasting servers in 60 countries, mostly based in the US and the U.K. The diverse mix of servers in Africa and South America can not be ignored which showcases a good geographic diversity. ExpressVPN, for example, covers 94 countries, Surfshark 100 and HMA VPN about 190.
A good chunk of servers is also available in Hong Kong, Turkey, and Vietnam, all of which have restrictive internet policies. Does not offer servers in Russia, but provides some in Ukraine. All their servers are dedicated, not virtual, and none are virtual locations, claims Nord Security. That means the servers are physically located where they claim to be. All their servers are RAM only which means that they write no information to disk and immediately wipe if they were shut down. ExpressVPN and a few other companies also employ this technique.
Based on the speed tests conducted with the Lightway protocol, NordVPN download for Windows PC is significantly faster than ExpressVPN in the major server locations we tested. It beats ExpressVPN with both the WireGuard and OpenVPN protocols with a few server locations. Here is a recap of ExpressVPN vs NordVPN speed test results:
| | | |
| --- | --- | --- |
| Location | NordVPN (NordLynx) | ExpressVPN (Lightway) |
| USA – Seattle | 445 Mbps | 136 Mbps |
| USA – Los Angeles | 304 Mbps | 209 Mbps |
| USA – New York | 280 Mbps | 214 Mbps |
| United Kingdom | 295 Mbps | 235 Mbps |
NordVPN vs ExpressVPN speed tests in 2023
Your Privacy With NordVPN
Does not log browsing history, traffic or IP addresses. It retains the username and time of the last session, but only for 15 minutes after you disconnect from the VPN. That's generous of them. PriceWaterhouseCooper has completed two audits of NordVPN in 2018 and 2020 and VerSprite released penetration testing reports about NordVPN's apps in 2021. In January 2023, NordVPN released an audit from Deloitte that verified the company was complying with its commitment to not log user activity. But, we'd like to see them make the same public commitment to annual audits TunnelBear VPN has made.
NordVPN vs ExpressVPN: Reliability and Features Compared
| | | |
| --- | --- | --- |
| | ExpressVPN reliability | NordVPN reliability |
| Applications | The apps work great without any bugs or crashes. | No crashes, bugs, or issues. |
| Servers | The servers were reliable and fast with no issues to report. | More variability in speed with ExpressVPN, especially if you are using the OpenVPN protocol. |
| Connections | Connections were stable and fast to connect. | Stable VPN connections, although OpenVPN takes a while to connect. |
Reliability: Is NordVPN or ExpressVPN better?
ExpressVPN is more expensive, but it also offers more server locations. NordVPN is more affordable and comes with the option for a dedicated IP at an additional cost, while ExpressVPN does not. Both NordVPN and ExpressVPN are great options for streaming VPNs. They unblock a variety of streaming sites, have the Smart DNS feature for devices that don't support VPN apps, and provide HD video quality.
| | | |
| --- | --- | --- |
| | Nord VPN Features | Express VPN Features |
| Split Tunneling | NordVPN supports Windows and Android only | ExpressVPN offers more compatibility. |
| Smart DNS | Ensures better streaming access on all servers. | didn't work on Xbox, so you may want to install it on your router instead. |
| RAM-only servers | Supports RAM-only servers. Nothing is stored locally and your information is wiped out automatically, keeping it entirely safe | Supports RAM-only servers |
feature-to-feature showdown
NordVPN Download for Windows key features
| | |
| --- | --- |
| Threat Protection | Meshnet |
| Dark Web Monitor | Dedicated IP |
| No activity or connection logs | Double VPN |
| VPN split tunnelling | SmartDNS |
Security features you can trust
Download NordVPN for PC to get the best online VPN service for speed and security
We were convinced that NordVPN for PC is a great VPN app for Windows PC that can stream, game, work, and browse online without interruption with the fastest VPN for Windows PC. When you choose NordVPN download for Windows 7, Windows 8, Windows 10, and Windows 11, you'll come across the blue-tinged map with features all set to one place for easy access.
The elements are larger, fonts are better and easier to read and the whole thing just looks more polished. Still TunnelBear VPN has the most friendliest VPN on the market.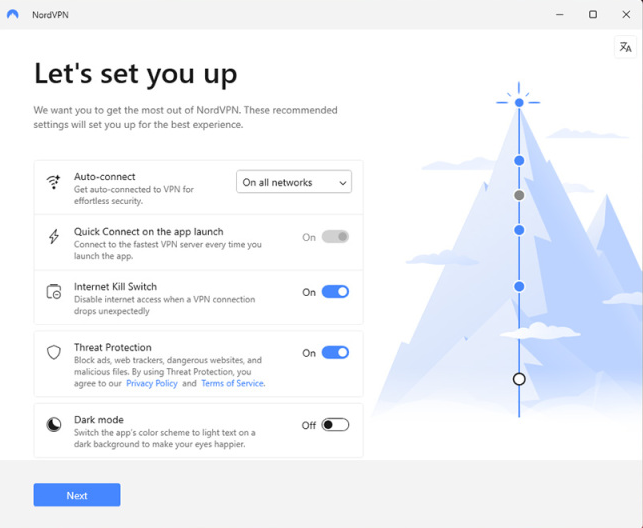 The VPN app doesn't leave you onboard alone wondering what to do. As soon as you download NordVPN for PC, it will walk you through the features of the VPN as well as give you the chance to customize certain settings before you begin.
For example, you can configure settings like when should NordVPN for PC connect, how the Kill switch will function as well as prompt you to install NordVPN Chrome extension. At the top of the app, you'll find the buttons that quickly connect you to the VPN. You'll also see a list of available server locations.
One of the best things after you download NordVPN for Windows is its pause button that deactivates the VPN but reconnects you automatically after five minutes, 15 minutes, or an hour. Hitting the power button pulls up a warning that it will shut the VPN off, but once the app starts again it will resume its default automatic connection settings.
NordVPN's new Meshnet feature is easy to set up. On the Windows app, you can enable Meshnet that will assign you a unique ID. Your device is now ready to act as a VPN exit point. You may now take your mobile, and install NordVPN Android app. Soon, you'll see your Windows machine appearing as an option under traffic routing. Select it. You'll see that your device will connect in the Windows app. You'll see that your phone now has the same IP address as your Windows machine. You can now explore it and invite different NordVPN user to use the connection.
NordVPN was successful in unblocking Netflix while connected to a US server. Still, there is an unsettled debate between Netflix and VPNs. Anyways, NordVPN successfully changed our IP address and hid our ISP information.
NordVPN vs. Generic free VPNs
A free VPN can change your IP, but can it promise complete security and privacy. Let's find out:
| VPN features | NordVPN | Free VPN |
| --- | --- | --- |
| Servers in 60 countries | Yes | No |
| Strong encryption | Yes | No |
| Fast and stable connection | Yes | No |
| No bandwidth limits | Yes | No |
| Replace /Hide your IP address | Yes | Yes |
| No activity logs or connection logs | Yes | No |
| 24/7 live chat support | Yes | No |
Get Nord VPN for Windows and play a safe bet!
When should I download Nord VPN on my Windows PC?
| | |
| --- | --- |
| While Traveling | While having fun |
| While on Public Wi-Fi | While gaming |
| While file-sharing | While shopping |
Make sure your online identity is safe and anonymous