Moana's Font is a particular type of writing that brings the spirit of the Disney movie Moana to your words. It's like having a mini tropical vacation in every letter! These letters are designed to look like they're part of Moana's world, with a touch of adventure and a splash of Polynesian fun.
Reasons to Use Moana Font
You can use Moana's Font to create cool invitations for your Moana-themed parties, make colorful posters, or even write fun stories with a tropical twist.
It's a font that's great for kids and grown-ups who love the magic of Disney's Moana. So, let your imagination set sail with Moana's Font and explore the wonders of the Pacific Islands!
Moana Font Generator
The Moana Font Generator creates personalized text with the charming Moana font style, ideal for invitations and creative visuals, adding enchantment to your content.
View Moana Font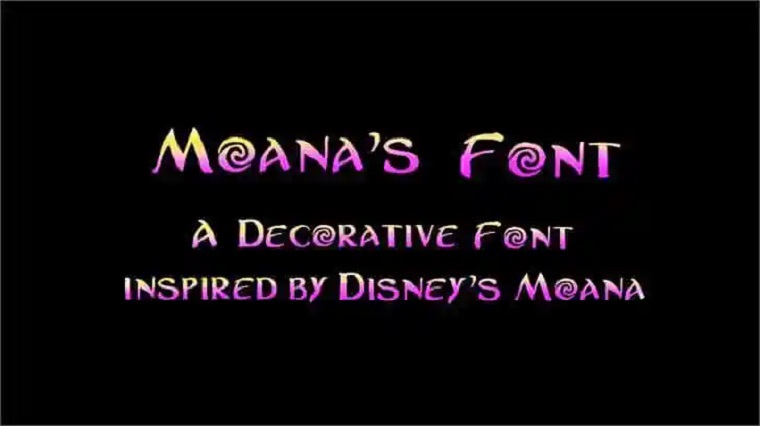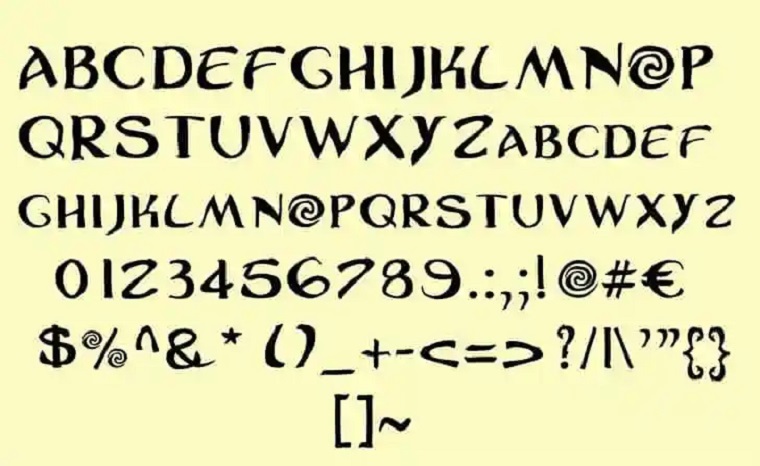 How to Download and Install Moana Font on a Windows PC
To download the Moana Font, install it on your Windows 10/11. After downloading & installing, follow the below steps;
Step 1: First, click the download button above so the Moana font starts downloading. The Moana Font will be downloaded in a zipped archive; unzip the file using Winrar or WinZip.
Step 2: Right-click on the font file and select the "Install" option from the context menu. This process will automatically install the Moana Font by copying it to the "Windows\Fonts" folder and registering it in the Windows Registry.
How to Uninstall Moana Font From a PC
Follow the instructions below to delete the Moana Font from your system:
Step 1: Open the RUN Window by clicking Window + R.
Step 2: Search "Regedit" and Click the OK button.
Step 3: Select HKEY_CURRENT_USER > SOFTWARE > Microsoft > Windows NT > Current Version > Fonts.
Step 4: Right-click on the Font you wanted to delete.
Step 5: Click the "Yes" button, and your Font will be uninstalled from your Windows.
Similar Fonts to Moana Font
Caribbean
Snell Roundhand
Aladdin Font
Avengers Font
Alice in Wonderland font
Beauty and the Beast Font
FAQs – Moana Font
What Type of Font Is Moana Font?
It is a sans-serif typeface that came into being by JoannaVu in 2016. The font was created after being inspired by one of Disney's animated characters, Moana. Since then, the font has been used by many beginners and professional designers in their projects.
Is Moana Font Free for Commercial Use?
It is a free font but only limited to personal projects. If you want to use the font for profitable projects, i.e., commercial and Digital, go for its paid version, which can only be obtained after buying the license.
Who Created Moana Font?
JoannaVu created this typeface many years ago.
What Font Is Used for Moana?
Vaiana font is used for this purpose. That is a sans-serif typeface and has been originated many years ago.
What Is Moana Font Generator?
It is an online tool that is used for different purposes. The main reason for using this typeface is to generate different font Banners, Logos, and Posters free of cost. It is also used to make the downloaded font web-safe to be used anywhere.
Where Moana Font Can Be Used?
Moana font can be applied in many places. You can use the font in Logos, Posters, Banners, websites, Headings, Titles, texts, office work, Educational work, and many other such places. Or, instead of this font, you can also use the Alice in Wonderland Font.
Is Moana Font Worth Using?
Moana is a worth-considering typeface that is mostly the first choice of designers. You can use this font excessively in your projects based on every level. Hence, it is undoubtedly one of the worth using typefaces.