CE-34878-0 PS4 error game you are currently playing has crashed?
OR
An error has occurred in the following application (CE-34878-0)
The PS4 error CE-34878-0 is not specific to any particular game. However, users on reddit have complained that they face CE-34878-0 PS4 error while playing apex legends, outriders, black ops 4, borderland 3, call of duty (modern warfare), battlefield 4 & 5, bloodborne, Destiny 2, Fortnite, Injustice2, FIFA 21, and GTA V.
The CE-34878-0 error is commonly caused by the PS4 corrupted data or system software issue. Luckily, PS4 error CE-34878-0 can be fixed easily.
Fix PS4 Error CE-34878-0 (Games Keel Crashing)
Below are the effective methods to fix CE 34878 0.
Fix 1 – Restart PS4 Console and Controller
Usually, a simple restart is enough to fix error CE-34878-0 on the PS4 console and controller. Restart not only fix games crashing issues but also enhances overall PS4 performance. If the hardware failure is the cause then this fix will surely help you.
Follow these steps:
First, turn off the PS4 console and controller.
Then reboot your PS4 console and then the controller.
Once the console restart, try to open the game that was displaying "an error has occurred CE-34878-0" and check whether the issue is resolved or not.
Fix 2 – Update Game Software and PS4 System Software
The PS4 software update error can also be the cause of the crashing issue. If you update PS4 system software and the game then it can fix the error CE-34878-0
To update the game and system. Follow these steps:
To update the latest game software:
Go to the PlayStation home screen.
Highlight the game that is showing an error and needs to update. Press the "Options" button.
Select "Check for Update" to download and install the most recent game update.
When the process finishes, restart your PS4 to check if the error CE-34878-0 has been fixed.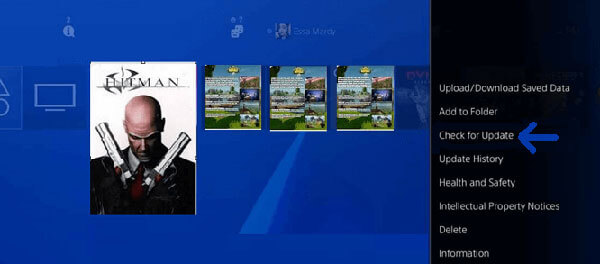 To update the latest PS4 system software:
Now you need to update PS4 software, first, make sure you have an internet connection.
Go to the PlayStation home screen, select Settings > System Software Update.

If the system detects any update, click on "Downloads" to install.
Now restart your console to see if the ps4 error code CE-34878-0 is fixed.

Fix 3 – Clear PS4's Cache to fix CE-34878-0
Clearing cache memory does resolve the PS4 error code problem, but the PlayStation 4 doesn't have a cache to clear. In that case, if you just power off your console for a few minutes it will fix performance issues. To do that:
Press and hold the PlayStation button on your controller.
Select "Turn Off PS4".
Let the PlayStation 4 to fully power down and wait for 10 to 20 seconds.
Restart the PlayStation 4.
Fix 4 – Reinstall Game
Still having PlayStation4 error code CE-34878-0 problem. Try to uninstall the game that is causing the PS4 error and reinstall it. Before applying this fix save game progress data in USB or to the cloud. You won't lose your game progress and once the game is reinstalled copy this data in your console.
Fix 5 – Re-Install PS4 Hard Drive
As the official fix suggests that "If you have upgraded the Hard Disk Drive ("HDD") in your system, please re-install the original HDD."
To apply this fix you should create a backup of data currently saved in your PS4 with its built-in backup and restore feature.
Get a USB storage device and connect it to your PS4.
Go to Settings > System > Back Up and Restore > Back Up PS4 and wait to finish the process.

Fix 6 – Back up Saved Data and Initialize PS4
After applying all the above fixes if the PS4 error CE-34878-0 won't go away then you need to try PS4 initialize. The PS4 initialization process will 100% fix PlayStation error CE 34878-0.
During this process, all system settings, games, and applications will be removed. So you should create a backup in an external storage device. Follow these steps:
Go to PS4 Settings > Initialization > Initialize PS4 > Full.
Follow the on-screen instruction to finish the initialization.
Restore all the backup data.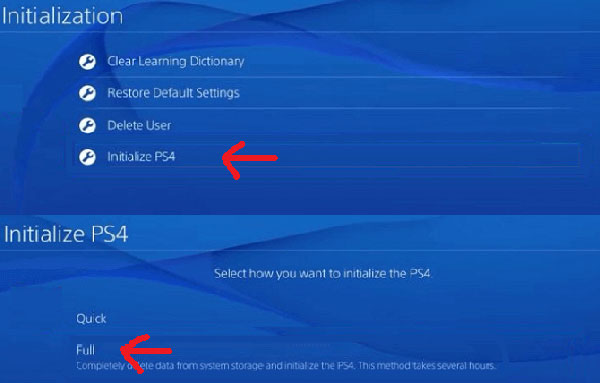 Fix 7 – Contact PlayStation Support for Help
If the above solutions don't fix the ps4 error code CE-34878-0 then you should contact PlayStation Support to solve the problem.
Read Also: