We were looking for a simple and easy-to-use image viewing tool and a small footprint application that could do the basics like slight touch-ups, perhaps altering the colors, adding effects, changing the image size, cropping, combining, and adding filters and watermarks. Above all, creating slideshows of our unforgettable events can be easily shared with other people who can enjoy it as a standalone.
We scrolled through many graphic viewers, like FastStone image viewer, but, most of them are often a little difficult to fully understand and not all Window photo viewers are free to use. Therefore, a simple and easy-to-use photo viewer is IrfanView Image Editor for Windows PC.
Download IrfanView Image Editor's latest version 4.6 for Windows 7, Windows 8.1, Windows 10, Windows XP, & Windows Vista PC. This is an offline installer setup file of IrfanView and will work for both 32-bit & 64-bit operating systems.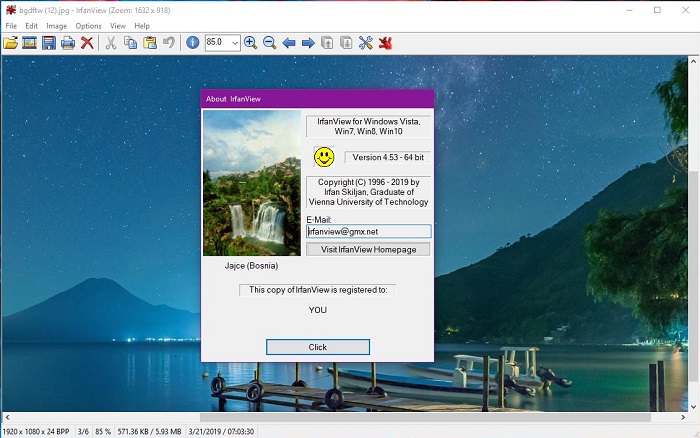 Irfan View Free Download for Windows 10
We used the software on multiple photos and images. On some, we applied filters and effects. While doing so, it was remarkably easy to get good results really quickly. The quick menu selection allows us to easily play with image colours. With no more than a couple of clicks, you can apply a wide range of filters and effects.
IrfanView makes it easy to combine multiple images into a slideshow. You can then share the executable file with your loved ones who can enjoy it as a standalone. Similarly, you can add a watermark to an image to identify a picture as yours in order to stop others from stealing your photos.
Adding the watermark is easy. All you have to do is define the watermark. Then you can select the image of your choice and it will add a watermark to it. When we talk about editing images, we can use IrfanView to create new images such as splitting one into tiles whose dimensions you set and then combining images to create panoramas.
You can also write and draw onto images and pictures using a simple set of paint tools such as brush, line, shape, and fill tools to make personalize it to your liking. IrfanView will also scan images directly from your scanner. This way you do not need to go through a separate scanning application.
One of the features we liked was the option to go to other editors. For example, if you find your creativity limited using IrfanView, you can open an image into another image editor from within IrfanView.
We could add plugins to allow for specialized features. The plugins provide additional features, such as reading filenames with Unicode characters, burning files to CD/DVD/BD, reading original camera files, etc. Add in skinnable toolbars and support for plugins and you've got the Swiss Army Knife of images. It's brilliant.
IrfanView can open and read almost any exciting graphic format: JPG, PNG, GIF, TIF, BMP, RAW, PDF, B3D, CAM, ICO, JP2, JLS, HDR, PMB, etc. For opening some formats, you may require to install the plugin pack.
As to the output, the software can save files in BMP, DIP, ECW, EMF, EXR, GIF, ICO, JP2, JPG/JPEG, JLS, JPM, PBM, PCX, PDF, PGM, PNG, PPM, TGA, TIF, WebP.
Besides images, IrfanView can open audio and video files: MP3, OGG, WAV, AVI, MKV, MOV, MP4, WEBM, TS, MTS, WMV, WMA, MPEG. The video player looks very plain. Besides the timeline, there are only Play/Pause and Previous buttons. Editing options for video and audio aren't available.
The Interface is Plain & Utilitarian
It seems that it was not updated since the first release of the software. The simple user interface is relatively easy for newcomers to be productive really quickly, and there are no distracting visual aspects to the general look and feel of IrfanView. But on the other hand, some will think the look is very old-fashioned and unlit.
MORE OPTIONS
IrfanView offers more editing and other types of features:
Slideshow creation (with the possibility to save a slideshow as EXE/SCR or burn it to CD);
Batch image conversion (with advanced image processing);
Screen capturing;
Effects overlay (Sharpen, Blur, Adobe 8BF, Filter Factory, Filters Unlimited, etc.);
Changing of colours depth;
Print, scan, and email support;
Lossless JPG rotation and much more
– IPTC edition
– Icon extraction for EXE/DLL/ICL files
– Unicode support
Is IrfanView a Photo Editor?
IrfanView is a superbly simple photo editing tool. You can instantly resize, rotate, resample, re-color, and modify your image through the Image Menu or use keyboard commands ('L' for Left Rotate, 'V' for Vertical Flip, Ctrl + R for Resize)
IrfanView Portable. Is there any IrfanView Portable for Windows?
You can free download the IrfanView Portable from Portableapps.com. IrfanView Portable can run from a cloud folder, external drive, or local folder without installing it into Windows. It's even better with the PortableApps.com Platform for easy installs and automatic updates.
Why is IrfanView free?
IrfanView is free for educational use (schools, universities, museums, and libraries) and for use in charity or humanitarian organizations. If you intend to use IrfanView at your place of business or for commercial purposes, you need to register and purchase it.
What can you do with IrfanView?
IrfanView is an image viewer, editor, organizer, and converter program for Microsoft Windows. You can use it to play video and audio files and do some basic image creation and paintings.
Display of EXIF/IPTC/text comments on slides
Support for Adobe Photoshop Filters
Quick directory view (that moves through the directory)
Batch conversion (with image processing)
Multimedia player
Support for colour profiles embedded in JPG/TIF
Change the colour depth
Batch scanning
IrfanView For Mac?
Is IrfanView available for Mac? IrfanView is not available for Mac but there are plenty of alternatives that run on macOS with similar functionality. The best Mac alternative is XnView MP. It's not free, so if you're looking for a free alternative, you could try nomacs or View.
Is IrfanView safe?
IrfanView is not a virus, it is a complete and secure software. We have installed IrfanView and used it for some 8 months without the slightest problem. If you think of it as spyware, then download IrfanView from its official homepage to make sure it poses no harm to your PC.
Download
IrfanView
V4.6 For PC
🛡️ Safe & Secure
Download Specs
License: Free
Platform: Windows OS
Language: English
File Size: 15.4 MB
Downloads: 2,300
Developer: IrfanView