Sometimes iOS updates come with bugs and issues that might affect the smooth working of your device. You might want to downgrade to the previous iOS version for any valid reason. Even if your iPhone gets stuck for no reason or you want to enter or exit recovery mode to resolve the freezing issue, iToolab FixGo can help you to sort out all of these issues without any additional assistance
There are several other major benefits of the tool that make it a perfect iOS system recovery tool that works with all available versions of iOS. There is a lot more to explore about this tool, and we are going to break down the complete workings and features of this iOS recovery tool for you.
Who Will Need iToolab FixGo?
If your iPhone got stuck or you want to enter or exit recovery mode without any problems, then this tool is for you. The features of the tool do exactly what the name suggests – fix all issues related to getting stuck or freezing without any need for a technician or professional, for that matter. Here are some possible situations where you may need the help of iToolab FixGo:
A frozen iPhone screen or screen gets stuck at any specific point during use.
Your iPhone or iPad is stuck on recovery mode, DFU mode, or stuck at any other step.
Removing bugs that appeared after the latest iOS update, the Apple logo getting stuck, and general functionality issues
Update or downgrade the iOS version without jailbreaking or losing your important data
What Are Its Features and Functions?
This professional iOS system recovery tool is developed to offer all types of solutions in a single product. From fixing iOS system issues and iPhone performance issues, here are some other important features of the iToolab FixGo that are loved by Apple users:
1-Click to Enter/Exit Recovery Mode for Free
Fix all iOS System Stuck/Freezing Issues
Reset iOS Devices without a Passcode
Fix iPad/iPhone Errors without Data Loss
Downgrade iOS 16 to Any Supported Versions without Jailbreak
Support all iOS Devices and Versions
How to Use iToolab FixGo?
The use of the tool is made simple enough so that users from all fields can easily benefit from the true potential of this iOS system recovery tool. There are four different major operations that you can perform with iToolab FixGo:
Fix all iOS System Issues
Here are some simple steps that you need to follow if you want to fix common issues with your iPhone or iPad. You will also get clear instructions on the screen about every step.
Install iToolab FixGo
You need to download and install the tool on an accessible computer. After launching, you will get different options, and you need to choose Standard Mode to fix the iPhone issues.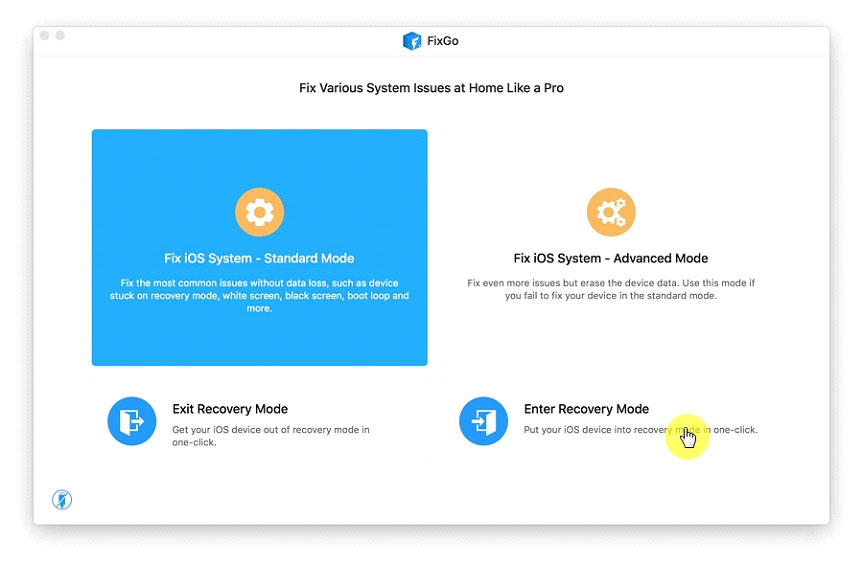 Connect your iPhone to your laptop
Upon connecting your iPhone to the computer, FixGo-iOS System Repair will automatically detect the tool, but it does not do so; you can manually put the iPhone in DFU mode.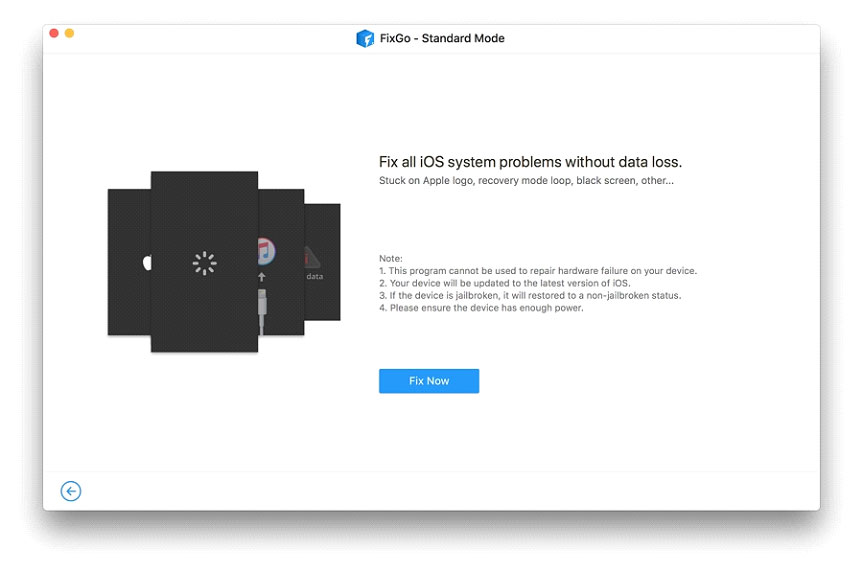 Download Additional Firmware Files
Some additional files may be required for the specific model of your device, and the tool will automatically detect the model and the required downloads. You can even upload the already downloaded files too.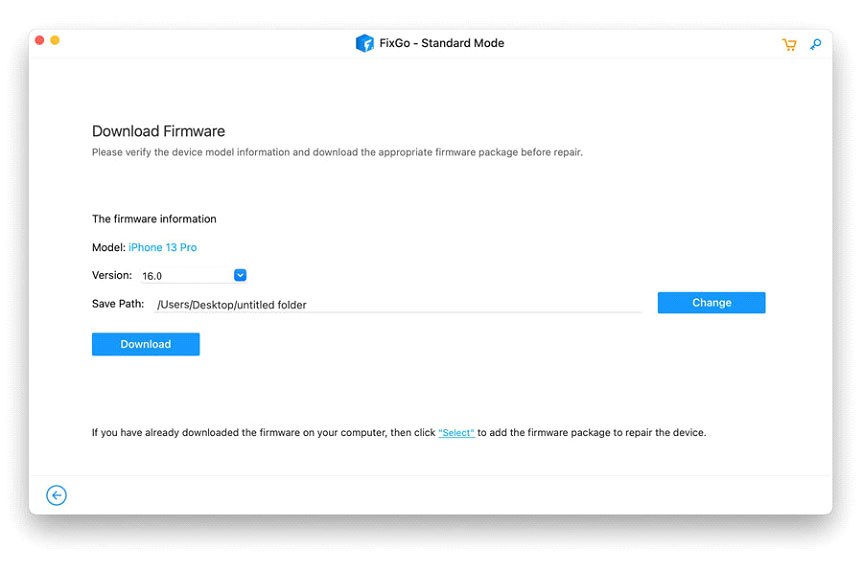 Fix Common iPhone Issues
Now, FixGo-iOS System Repair will run the process, and it will take a few minutes. Now, disconnect your iPhone after the process and check if the problem is resolved.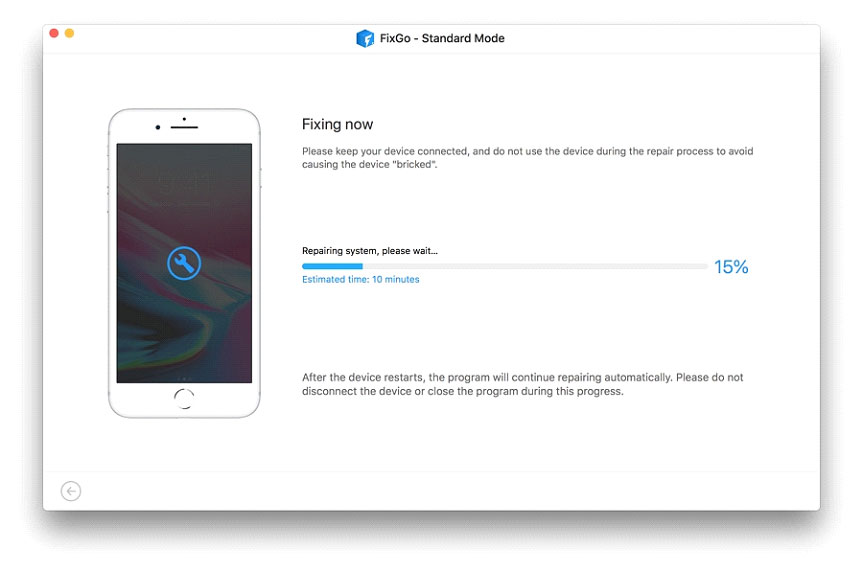 Advance Mood in FixGo
If the problem is not resolved in Standard Mode, you can opt for Advanced Mode by following the same steps, and the problem will be resolved after the deep scan.
Enter or Exit Recovery Mode
If the home button of your iPhone is not working properly, iToolab FixGo can be quite helpful in entering or exiting recovery mode. Here is how to enter or exit recovery mode:
Connect your iPhone to Computer
After installation of iToolab FixGo, launch the tool and connect your iPhone to the computer and choose Enter or Exit Recovery Mode as per your need. You may see a warning message, and you need to choose Trust for that message.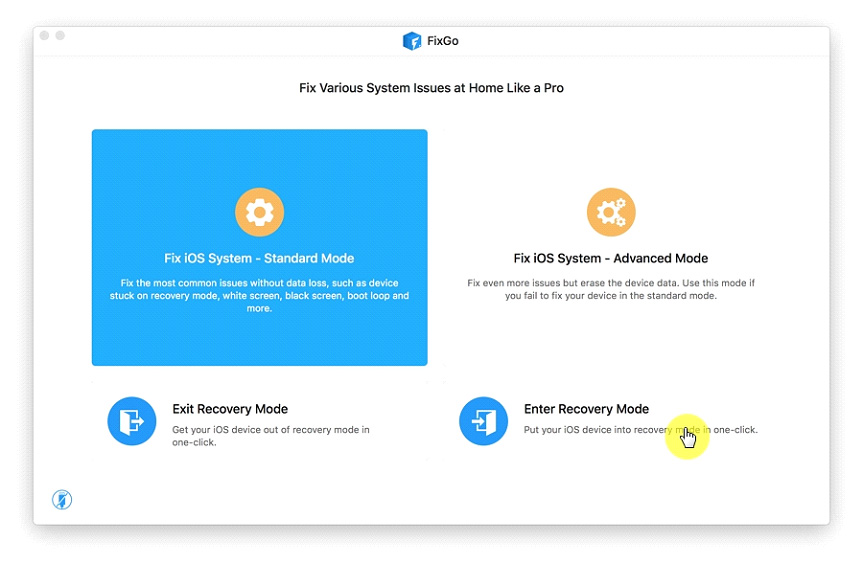 Successfully Enter or Exit Recovery Mode
Now, the tool will take a few moments, and once done; you will receive the message that you have successfully entered or exited the recovery mode.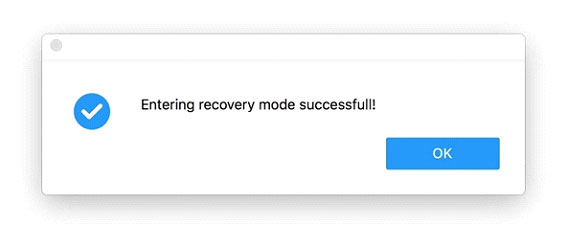 Why iToolab FixGo Wins Your Heart?
This tool is developed to offer a solid and true solution for all those devices running on all iOS versions, including iOS 16. This tool works with all kinds of devices, including iPhone 6S, iPhone 6S Plus, iPhone 7, iPhone 7 Plus, iPhone 8/8 Plus/X, new iPad (2018), and all other models, including iPhone 13 and iPhone 14. This iOS system recovery software is compatible with Windows OS as well, so you do not need to worry about installing it on your Windows platform or Mac, as it requires no technical expertise. The best thing is that you don't even have to worry about losing data, as it is a perfectly safe tool that works without jailbreak.
Conclusion
In conclusion, we can say that iToolab FixGo is the best option to fix all issues related to iPhone and iPad, including rapid battery drainage, iOS stuck at the Apple logo screen, etc. The tool also helps you to make the most of your iPhone by getting it ready for use before you start working on it.
All in all, this is the best way to fix iPhone/iPad issues after an iOS update or downgrade. You may find some flexible solutions on the internet, but you shouldn't go for them because a tool like FixGo – iOS System Repair offers true value for your investment and money.