Monke Mod Manager for Gorilla Tag is a free mod manager and installer. It is only available on Windows PCs. However, there are alternate ways to make it work on Linux, Mac, and Chromebook devices.
Deadly Kitten's Monke Mod Manager for PC allows you to easily download, install, and manage mods for the game. Mods can add new maps, skins, items, and features to the game, making it more fun and challenging. You can find these mods on Monkey Mod Manager's Discord or from modding websites.
How to Download & Install Monke Mod Manager
Monke Mod Manager download and Installation can be a little difficult for someone new to modding but that's why we're here to help out. Take a look at the instructions below for further details on the Monkey Mod Manager tutorial.
Step 1: Scroll to the top to download its the latest version 1.3.1. (Monke Mod Manager 1.3.0 and all its features are included in the latest version).
Step 2: Once the download is complete, double-click the "monkemodmanager.exe" to run it.
Step 3: The mod manager will automatically find your Gorilla Tag game installation folder. If it is unable to do that, then it will ask you to select Gorilla Tag.exe from your installation folder. Go to the folder where you installed it and select the game's executable.
Step 4: Now select any mods that are listed. BepInEx is the default mod loader for Gorilla Tag so it cannot be unchecked.
Step 5: After you select the mods that you want to install/update, go ahead and click on the Install/Update button to begin the process. When in the bottom left you see a msg saying "Install complete!" then follow this last step to be done with it.
Step 6: Launch Gorilla Tag once and close it without playing to initialize BepInEx. You will see that no mods load the first time you launch Gorilla Tag after modding, this is normal. Re-launch Gorilla Tag and your mods should now load into the game.
How to Use Monke Mod Manager
All the basic stuff you need to know about how to use DeadlyKitten's Monkey Mod Manager can be seen in the short 1-minute video below.
Updating Mods with Monke Mod Manager
To update mods with Monkey Mod Manager simply select any installed mods in the Plugins menu, and click the Install/Update button to begin the process. When the status monitor in the bottom left says "Install complete!", that means it's done.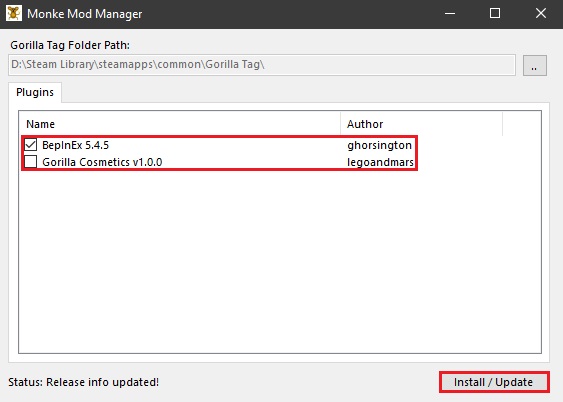 How to Get Gorilla Tag & Monke Mod Manager On Chromebook
You can't get Gorilla Tag on Chromebook officially. Chromebooks run on ChromeOS because Gorilla Tag and Monkey Mod Manager are only available on Windows. Plus the game is only available on Steam and it won't let you run the game on an unsupported OS.
An unofficial way to get Gorilla Tag and Monkey Mod Manager working on Chromebooks would be to install Linux on the Chromebook. Then you'll need to find out how to run Windows apps on Linux and you'll be set. There still might be compatibility issues because this is an unofficial method and you might face errors also.
Note: Try out the unofficial method given above at your own risk and discretion.
How to Add Mods to Monke Mod Manager
Adding mods to this Mod Manager is a simple drag-and-drop process once you've downloaded the mod file. See the detailed instructions below.
Step 1: Download the mod/mods you want to install, it can be from anywhere GitHub, the GorillaTag Modding Discord from Here, or other sources on the web. Just make sure you also download any dependencies that the mod requires.
Step 2: Simply drag and drop the contents of the archive (.zip or .rar) into the Gorilla Tag install folder, if there's a .dll file, put it into the Plugins folder inside the BepInEx folder. See the pic below for better clarification. Alternatively, you can view the video attached above under the "How to Use Monke Mo Manager" section for a better visual guide.

Monke Mod Manager Not Working
This is a very common problem many users are facing and the solution to this is simple. If you're also facing the Monke Mon Manager not working problem then take a look at the solutions given below.

Solution 1: Simply press OK on this error screen and it will ask you for the Gorilla Tag's exe file location. Navigate to your Gorilla Tag installation folder and select Gorilla Tag.exe and the problem should be fixed.
Solution 2: If the above solution doesn't work for you then uninstall Gorilla Tag and install the latest version from Steam. Make sure you don't set a custom installation path otherwise, this error can happen again. Once it is installed try to launch the manager again and it should detect the game itself.
How to Uninstall Mods from Monke Mod Manager
You can do this by removing the mod's .dll file from the BepInEx > plugins folder, which is located in your Gorilla Tag installation folder.
FAQs
Is Monke Mod Manager safe?
Yes, it is safe to use and free of viruses and malware. Our personal tests and scans reveal that this app is safe and free of viruses. Plenty of other users also use it every day to mod their game so that should also put your mind at ease.
Is Monke Mod Manager free?
Yes, it is free to download and use, but Gorilla Tag, the game it is used for is paid.
Isn't modding the game cheating?
The use of mods that interfere with gameplay inside public lobbies is forbidden by the developers and can result in a ban. Please keep mods contained in private lobbies. Most gameplay-changing mods automatically disable joining public lobbies, but please be careful.
Where can I get mods?

For PC: Open the Mod Manager, select the checkboxes beside the mods you'd like to install and then hit the Install/Update button.
For mods outside of this manager, you can download them from GitHub, the GorillaTag Modding Discord server in the "#pc-mod-releases" channel, or other sources.

For Quest: You can download the mod(s) you wish to install from GitHub, the GorillaTag Modding server in the "#quest-mod-releases" channel, or other sources. Dependencies should auto-download in QuestPatcher, but if they do not, make sure to download them.