Awesome Duplicate Finder is a free tool that is capable to find and remove duplicate photos on your computer. This tool allows you to clean up your photo collection from duplicates or even similar images.
Download & install the latest version 1.1 of Awesome Duplicate Photo Finder for Windows. Works with both 32bit – 64bit versions of Windows 10, Windows 8.1, Windows 7, Windows Vista, and Windows XP.
Download Awesome Duplicate Photo Finder for Windows 7 & 10 PC 2022
Awesome Duplicate Photo Finder is an easy-to-use application that installs quickly on the computer. To start a scan, you simply select the drive or folder you wish to scan. The program then searches the Windows for the dupes images, and you'll get a list of all the files the software found a duplicate of.
How does it work?
Scanning your computer for duplicate photos using this application is very simple. Run the application, click on the Add icon, and select the drive or folders that you want to scan.
Before proceeding to the final step you should leave the search subdirectories checkbox marked checked and hit the start search button to scan for the duplicate images. The program searches the drive or folders and displays the results quickly.
Once the program scans your computer, it'll show you handy information about the scanning results. View the number of files scanned and duplicates found on your computer.
Awesome Duplicate Photo Finder Features
Support search these image file types: JPG, BMP, GIF, PNG, TIFF
Able to compare pictures that were resized or pictures with corrected colors (black and white photos etc.)
Add multiple folders or drives for scanning.
Works well with removable devices USB etc.
Support moving and deleting duplicate photos.
ChangeLog
Option "Minimum picture size" – for those who don't want to scan small pictures
Fix for the bug with multiple deletions (thanks to Dmitry for reporting)
Support for TIFF images
Search only identical pictures (excluding just similar)
Option to exclude scanning of subdirectories
Check for program updates automatically
Option to turn off the annoying confirmation of deleting files
Saving settings
Option to move files to Recycle Bin (instead of permanent deletion)
Option to add multiple directories by dragging them from Windows Explorer.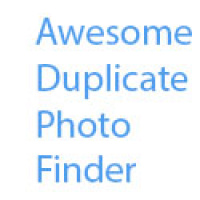 Download
Awesome Duplicate Photo Finder
V1.1 For PC
🛡️ Safe & Secure
Download Specs
License: Free
Platform: Windows OS
Language: English
File Size: 1. MB
Downloads: 1,628
Developer: Duplicate Finder