DirectX 9.0c (DX9) is a collection of APIs (Application Programming Interfaces) developed by Microsoft that helps applications and games interact with hardware like graphics cards, sound cards, CPUs, etc. It was first released on July 22, 2004, and was a part of Windows XP SP2 (32 bit & 64 bit PCs) out of the box. It improves on a lot of features of DX 9.0b which was its predecessor.
DirectX 9.0c download is available as a standalone offline installer and as a web installer (End-User Runtime Web Installer) for Windows XP, Vista, Windows 7, Windows 8.1, Windows 10, and Windows 11. It received its last update on June 7, 2010.
DirectX 9.0c Download for Windows 7/10/11 PCs
The method to download it is the same for Windows 7, 10, 11, & all other versions of Windows, and is given below.
Scroll to the top of this page to download the offline installer for the latest version updated till June 2010. Once it is downloaded take a look at the instructions below on how to install it.
How to Install or Update DirectX 9.0c Latest Version
Step 1: Extract the zip archive you downloaded and launch the "directx_9c_Jun2010_redist.exe" file.
Step 2: Click on Yes and select the location you want the setup to be extracted to, once set click OK.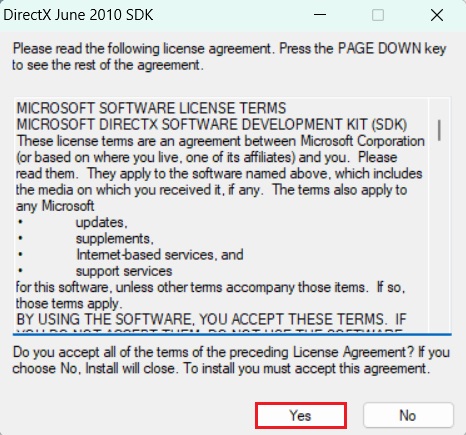 Step 3: Launch the "DXSETUP.exe" from the extracted location, put a check next to "I accept the agreement" and then click on Next.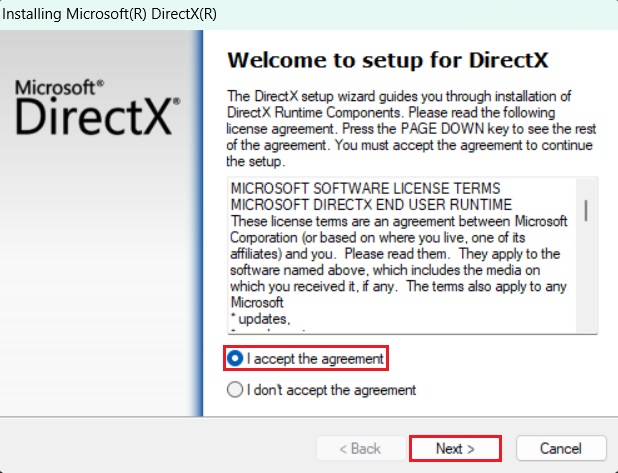 Step 4: Click on Next and let the installation process complete.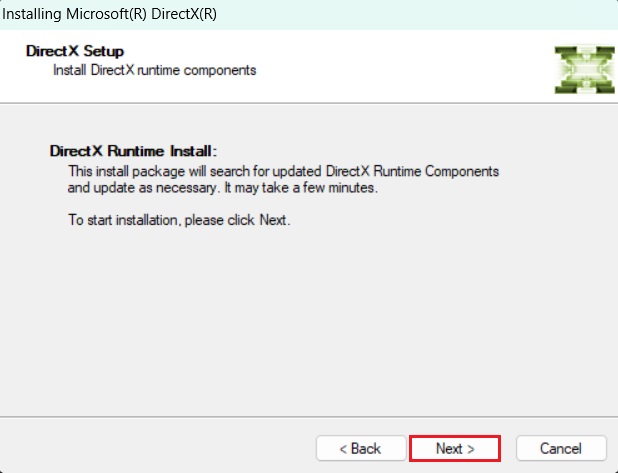 Updating DirectX 9.0c
It can be updated by downloading the latest offline installer from our website, Alternatively, you can also update it manually by downloading the web installer which automatically downloads the latest version.
How to Uninstall DirectX 9.0c
DirectX is a feature of Microsoft Windows XP SP2, Vista, 7, 8.1, 10, & 11 which makes it impossible to be uninstalled officially. There are methods to uninstall it unofficially by deleting its files but we don't recommend doing that as it can be risky and you might end up corrupting your Windows files.
How to Reinstall DirectX 9.0c
Reinstalling this software is simple, just launch the downloaded offline installer or web installer of DX 9.0c and follow steps 3 & 4 from the installation section.
How to Update GPU Drivers
You can update the graphic card drivers using DriverEasy, this software will simplify the entire process. It'll find out the installed graphic card, then find the latest drivers available for the card, and finally install them. We highly recommend this method.
Alternatively, you can visit Nvidia or AMD's respective websites directly to find and download the drivers for your GPU. If you don't know which graphics card is installed on your PC and would like to find out, follow the steps below.
Step 1: Press Windows + R to open Run and type in dxdiag.
Step 2: Navigate to the Display tab and the name of the installed Graphic card will be written under the Device section.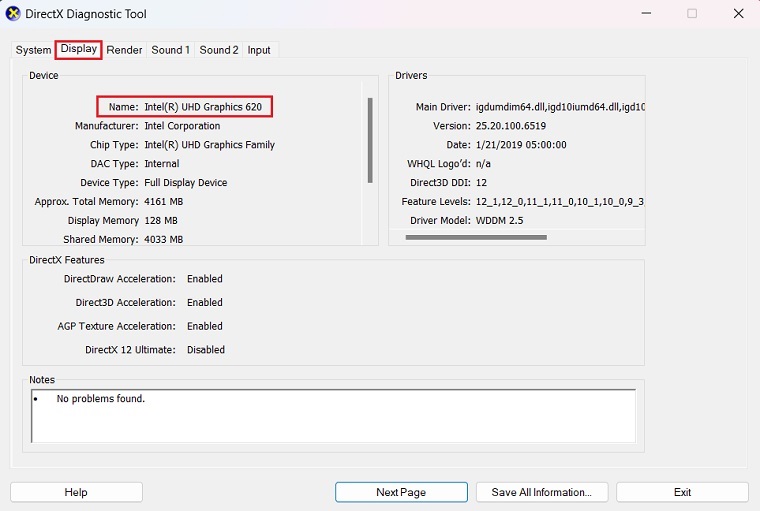 What is DirectX 9.0c?
DX 9.0c is a collection of technologies that help Windows-based tasks and applications like 3D animations & graphics, gaming, and video interact better and more efficiently with PC hardware like the graphics card. This update to DX 9 includes many new features along with security upgrades for Windows PCs that the DirectX APIs can access.
Features of DX 9c
Shader Model 3.0: Introduces more advanced shader capabilities that allow devs to create complex and better visual graphical effects.
High-Level Shader Language (HLSL): HLSL support for further improvement that allows devs to create and manage shaders more efficiently.
Direct3D: Improved & updated Direct3D, the component of DirectX responsible for 3D graphics rendering.
DirectSound & DirectMusic: Brought enhancements to DirectSound & DirectMusic which deal with audio playback & music composition.
DirectInput: Improved DirectInput, the feature of DirectX which handles input from devices like keyboard, mouse, & game controllers.
Performance Optimization: Allows devs lower-level access to hardware which allows them to fine-tune apps. This results in apps being more optimized performance-wise and able to wield the full potential of the PC hardware.
DirectX 9.0c Supported Graphic Cards
Nvidia: Every Nvidia GPU that was released after GeForce FX 5200 is supported by this API. Here's a detailed list:
GeForce FX 5000 series
GeForce FX 6000 series
GeForce FX 7000 & every Nvidia GPU released since then.
AMD: AMD's supported GPU series are:
Radeon 9000 series
Radeon X series & above.
DirectX 9.0c Games
FAQs
How can I check the DirectX version installed on my computer?
To check the installed version of DirectX, press Windows + R to open Run and type in dxdiag. DirectX's installed version will be mentioned in the System tab under the System Information section.
Does Windows 11 have DirectX 9.0c Enabled?
DX 9.0c is enabled by default in Windows 10/11 on the condition that the graphic card installed is among those supported by it. See the list in the Supported Graphics Cards section to find out if your GPU is supported by it.
Is there a standalone package for DirectX 9.0c in Windows 10/11?
Yes, there are standalone packages available for it in Windows 10/11. You can either download the web installer or the offline installer, whichever you think is best.
Does DX 9.0c improve FPS?
In case you're running a DX 9.0c-supported graphics card and the game you're playing is optimized for this API then yes, it will improve FPS in-game. DX 9.0c is the latest version of DX 9 that is designed to improve the visuals and performance but this depends totally on what hardware you running.