Download Ivpn latest version for Windows 11/10 PC. IVPN Client encrypts your internet activity and shields you from hackers, ISP and everyone else who has no business recording what you haven't chosen to share.
IVPN for Windows stops the companies snooping so you can connect to the Internet and browse privately — with no bandwidth restrictions. Your activity is encrypted and protected from censors, spies, and hackers. And It doesn't require any personal identifying information to signup.
Download Ivpn for Windows PC
Download Ivpn VPN software for Windows to access blocked websites, stream foreign content, and resist Online Surveillance. This VPN is compatible with Windows 11, Windows 10, Windows 8, and Windows 7 (32Bit – 64Bit).
When you download to IVPN for Windows, your internet traffic is encrypted and routed through IVPN's servers, which helps protect your online privacy and security.
Why Should I Download IVPN for Windows PC?
IVPN for Windows is known for its commitment to privacy and security, and it offers several features to protect its users' online identities, such as multi-hop VPN connections, a kill switch to protect against connection drops, and support for various security protocols like OpenVPN and WireGuard.
Do I Really Need to Download IVPN for my Windows PC?
A trustworthy VPN can be very effective at:
Achieving anonymity
Preventing Google or Facebook from collecting your private data
Protecting your passwords
Hiding your mobile phone location
Encrypting your data so your ISP or mobile network provider cannot monitor or log your online activity
Download IVPN for Windows because it has a strict no-logs policy. It doesn't log IP addresses, websites you visit, files you download, or even email addresses (IVPN generates a random account ID when you sign up and you use your ID to log in).
Privacy and Security
IVPN is one of the few VPN services that has undergone an independent security audit, which was conducted by Cure53, a well-respected security firm. The audit found IVPN to be a highly secure service, with no major vulnerabilities or security issues.
Speed and Performance
One of the biggest concerns with VPNs is their impact on internet speed. IVPN for Windows is known for its fast speeds, thanks in part to its use of the WireGuard protocol. However, like all VPNs, IVPN can still cause some slowdowns, particularly when connecting to servers in far-flung locations.
IVPN Plans & Pricing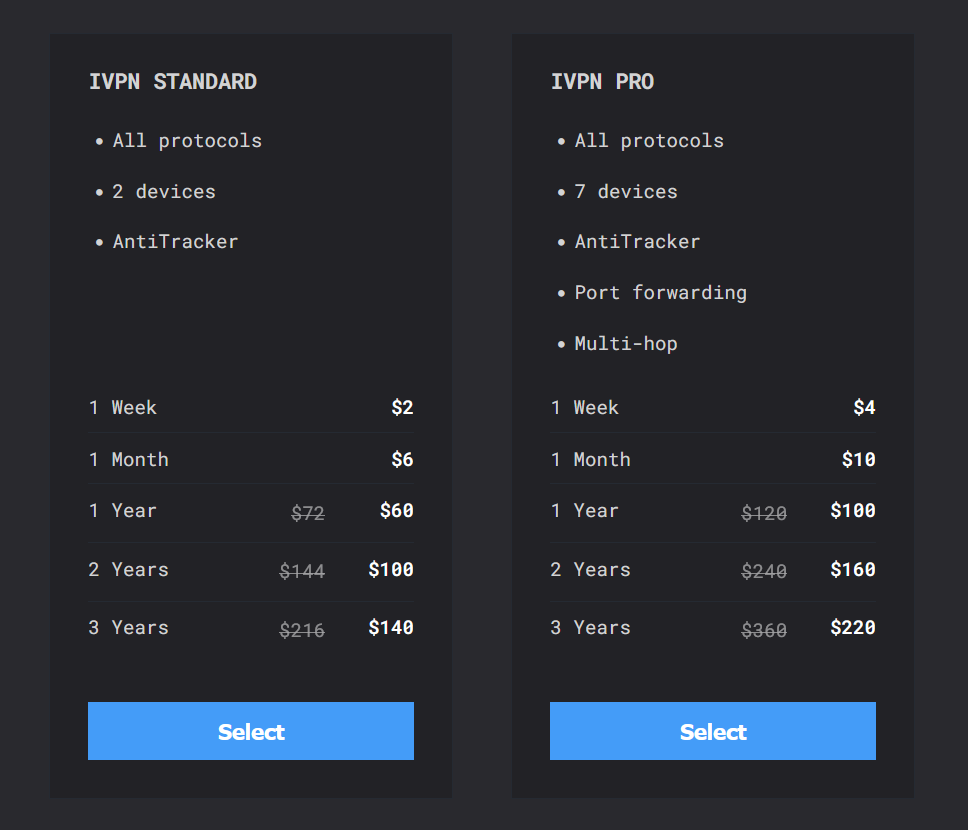 IVPN for Windows has a free and pro version. IVPN Standard starts at $6.00 / month and comes with AntiTracker and allows 2 simultaneous connections. IVPN Pro starts at $10.00 / month and adds Multi-hop and port forwarding and allows 7 simultaneous connections.
Both IVPN subscriptions offer weekly, monthly, and yearly plans. While IVPN is a very good VPN, other top VPNs offer a better value, like ExpressVPN, ProtonVPN, Private Internet Access, and CyberGhost VPN — all 4 of these competitors have a larger server network, faster speeds, and they work with all top streaming services.