Arceus X NEO is the official successor to the popular Arceus X Android Roblox mod. It is a new, powerful mod/exploit for the Android version of Roblox. It's built from the ground up with new and enhanced features like new animation, newer UI, enhanced scripting features, built-in app updater, completely overhauled front and backend workings of the apps, new security features, etc.
It features a quick hacks menu to enable cheats like Aimbot, ESP, Shiftlock, Infinite Yield, FPS Unlocker, Fly, Dex Explorer, etc. It also introduces CloudScripts, a simple way to find and execute scripts that the executor quickly fetches from the web. See the picture below for a better idea of what it is.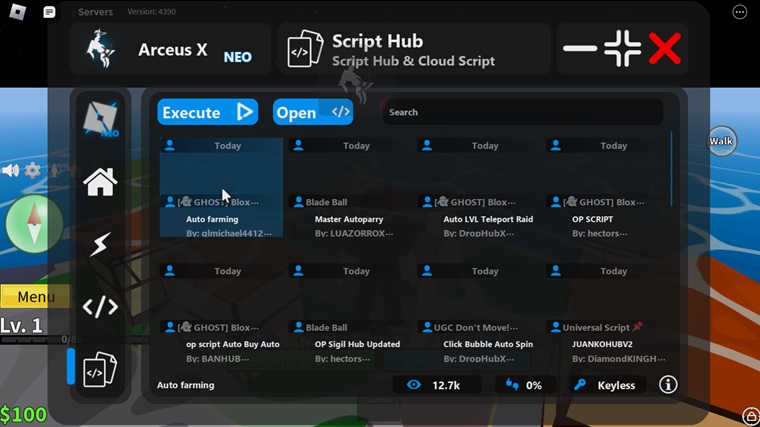 How to Download & Install Arceus X NEO
You can get the latest version of the Arceus X NEO download from the top of this page for your Android device but it is not available on iOS. Once the APK is downloaded follow the steps below:
Step 1: Launch the downloaded APK file and click Install.
Note: If prompted to allow installation from unknown sources then you can do that from Security Settings > Install apps from external sources > (choose the app you're trying to install the APK from) > Allow app installs.
Step 2: Once the app is installed, launch it and log in with your Roblox account, get a key, and start using the mod.
How to Get it on Windows PC
It is possible to run this on a Windows PC via a good Android emulator like BlueStacks. See further information in the steps below:
Step 1: Install the BlueStacks Android emulator.
Step 2: Download the Arceus X NEO APK on your PC and open it with BlueStacks.
Step 3: Wait for it to complete the app installation and run it once installed.
How to Get Arceus X NEO Key
To get the key that'll give you access to the mod for 24 hours, you'll need to pass three linkvertise checkpoints. To begin the process of obtaining the key see the steps below:
Note: This process must be completed on the device with which you wish to play Roblox on.
Step 1: Launch Arceus X NEO, and when prompted click on the"Get Key" button.
Step 2: You'll see a pop-up saying "Copied To Clipboard", at this point minimize the app and go paste the copied link into your browser.
Step 3: After pasting the link you should see this page.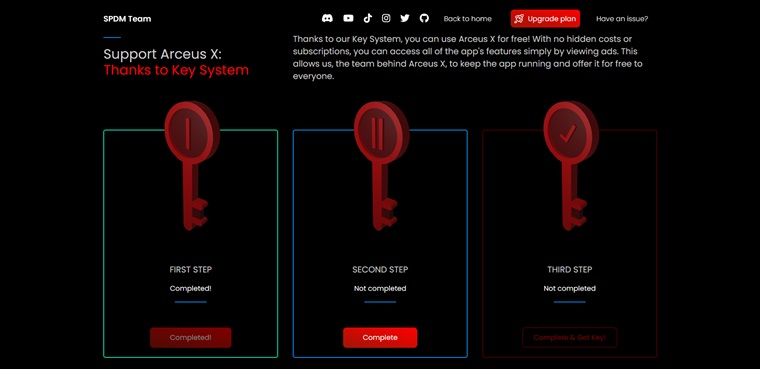 Step 4: Click on Complete under the FIRST STEP and complete the task. (If task completion is not detected automatically then wait for 10-15 seconds and click on I've already completed this step)
Step 5: Once all three steps are done you should see this screen.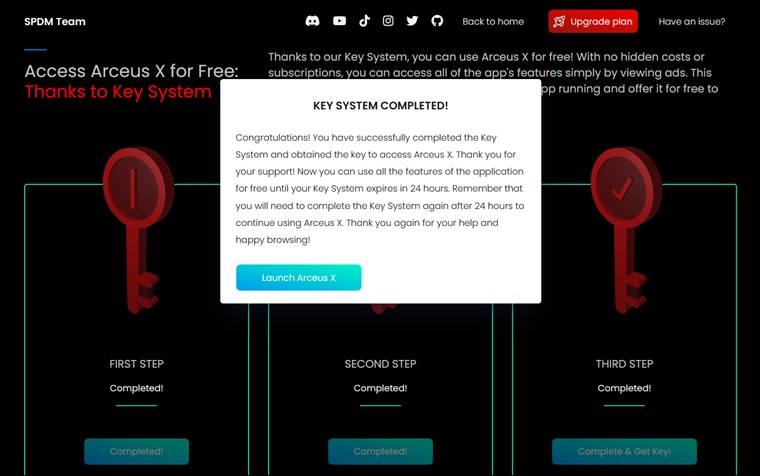 Step 6: You can now either click the Launch button or manually launch the app yourself again and it should grant you access for 24 hours on that device.
Troubleshooting
For any problems or troubleshooting you can contact their support team via their official website or via the Arceus X NEO Discord server.