FoneTool, formerly known as AOMEI MBackupper, is a free iPhone Data Management tool. Compatible with Windows (32-bit/64-bit) and Mac, it covers essential iPhone Data Management needs such as backup and transfer in the most easy and efficient way. If you are looking for the best iPhone Backup & Transfer toolbox, FoneTool download for Windows 11/10/8/7 is a great option.
Free Download the Best Free iPhone Backup Software (A Quick AOMEI FoneTool Review)
No matter how much safe you try to keep your data, it always feels like you've left something that puts your iPhone data at risk. For iOS users, there are many choices apart from Apple's iTunes and iCloud backup. Well, these are great iPhone backup solutions, but we want to create a kind of firewall for our iPhone data.
We have therefore, carefully tested, reviewed and handpicked the best iPhone backup software for your latest iPhone model. Compatible with iOS 16 and iOS 15 this Data Management Tool will enable you to backup and trasfer iPhone without iTunes or iCloud.
If you're worried to back up your iPhone using iCloud or iTunes or feel that iCloud and iTunes can not meet your backup needs then FoneTool offers a completely free iPhone Toolbox that manages photos, storage and personal information on iPhone/iPad/iPod touch.
Best iCloud or iTunes Alternative
If you no longer want to pay for extra iCloud storage space every month and want the best iOS Data Manager as well as a phone transfer tool that transports files from and to the device, FoneTool download is the only iPhone data management tool you need for Windows 11/10. So, if you're questioning "How do I backup my iPhone to my computer for free without iTunes?", then a free version is a good option to start with.
AOMEI Fonetool Free vs. Pro version
| | | | |
| --- | --- | --- | --- |
| Features of AOMEI Backupper | Free | FoneTool Pro yearly | FoneTool Pro Lifetime |
| ($) Price | $0.00 | $24.95 | $24.95 |
| Task Execution Speed | Normal | Faster | Faster |
| iPhone Backup & Restore | Yes | Yes | Yes |
| HEIC Converter | Yes | Yes | Yes |
| Erase iPhone | Yes | Yes | Yes |
| Transfer from computer to iPhone | 30 files / day | Unlimited | Unlimited |
| Transfer from iPhone to computer | 30 files / day | Unlimited | Unlimited |
| Photo Duplication | 30 duplicates / day | Unlimited | Unlimited |
| 1-click iPhone to iPhone transfer | No | Yes | Yes |
| Lifetime Upgrades | No | No | Yes |
Editions Comparison
iPhone Toolbox: A Comprehensive iPhone Backup Tools For Windows PC/Mac in 2023
Fast Backup
You can quickly back up and restore iPhone/iPad/iPod photos, videos, music, contacts, and more. You may choose to back up completely or selectively.
Fast Transfer
FoneTool download for Windows helps you transfer data between iPhone and PC easily and securely. You can select different Transfer Mode to relocate data to save it on a different device.
Free Storage
Exporting iPhone data like photos, music and videos to a PC can free up iPhone storage space.
Remove Duplication
Quickly find and remove duplicate or similar photos to free up iPhone storage.
iPhone Eraser
If you encounter problems such as iPhone freezing, the best solution is to delete your personal data and settings as soon as possible. This way you can avoid privacy leaks.
WhatsApp Manager
This new feature transfers all the WhatApp chats, photos, and videos from your iPhone to iPhone or another device like Windows PC. This is a better way to backup WhatsApp content.
How to Use FoneTool to Backup and Transfer iPhone Data on PC
In this part, you'll learn how to backup iPhone to Windows.
Click Phone Backup > Mouse over to Selective Backup and click Get Started.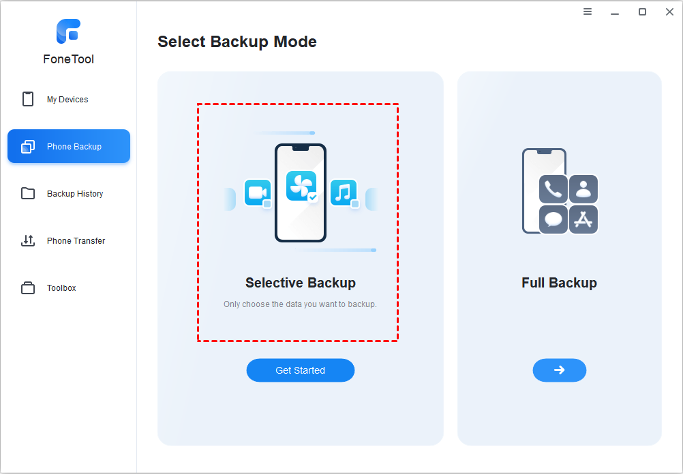 Click each icon to preview and select the files you'd like to back up to the computer. Then, click OK to confirm.
Click Backup Storage Path to choose a destination to save the backup files > Click Start Backup.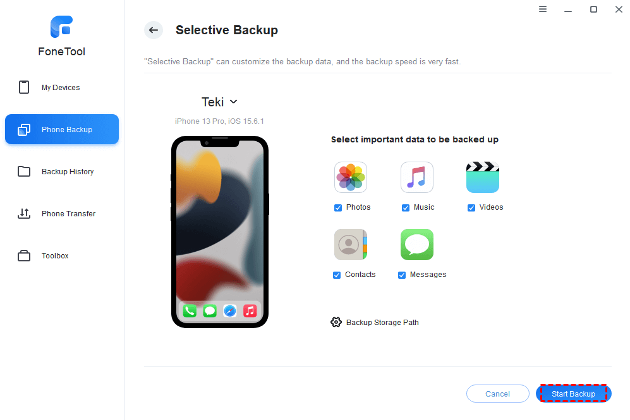 To restore the backup files, you can go to the Backup History page, locate the backup and click the three-dot icon. From there you can restore backup as well as browse and delete it from within the software.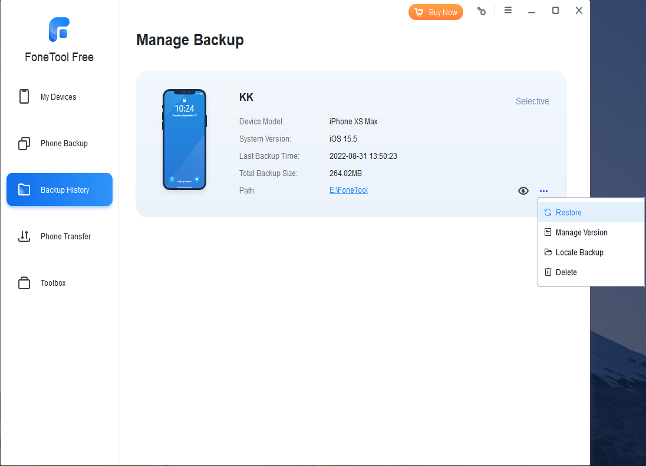 How to use Full Backup to save everything from iPhone to PC
As with iCloud or iTunes, this tool also provides a Full Backup option that allows you to back up everything on your iPhone to your PC and can also encrypt the backup files. Here's how you can do this:
Click Phone Backup > Mouse over to Full Backup and click Get Started.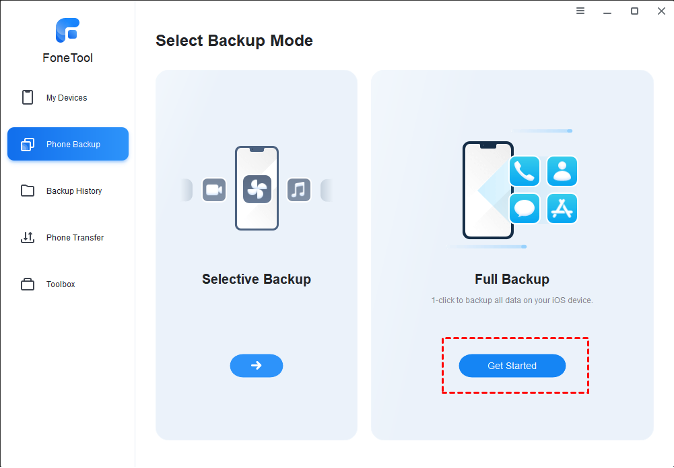 Enable Backup encryption to further make it safe and secure. For example, your data like Fitness records, Key chain, etc. will be password protected.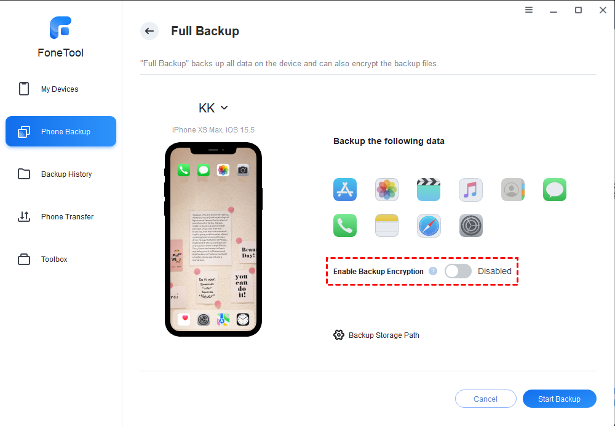 Choose storage to save the backup from Backup Storage Path > Click Start Backup.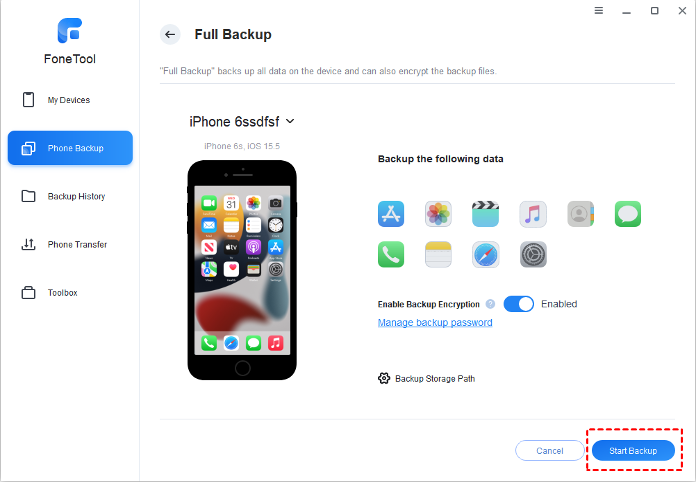 Is FoneTool free to use?
Yes, it is free to use. However, they also have a premium version of their iPhone iPhone backup & transfer software.
Can I trust this software utility?
It is totally safe to use. It uses Apple's official device support components and ensures stability and reliability. Even when your data is stored on the local computer, there is no need to worry about it.
How can I backup my iPhone for free?
The steps above show you exactly how you can backup your iPhone for free.
Does FoneTool work on Mac?
Yes. It requires iOS 10.1 or later. You can use it on macOS 11.0 or later and a Mac with Apple M1 chip or later.
Is AOMEI software safe?
AOMEI does not offer its own cloud backup option. However, we didn't encounter any complaints in other reviews. The software is hence safe to use.
What is best way to backup iPhone?
The best way to backup iPhone is to use the best iPhone backup software. If you want a free iPhone backup tool, FoneTool download for Windows is a better option.
Is FoneTool safe and legit?
Yes, it is a safe, efficient and a legit "Free iPhone Backup Software" by AOMEI.
Alternatives
If you are looking for AOMEI FoneTool competitors and alternatives, here are a few:
EaseUS Todo Backup
Dr.Fone
Smart Transfer
An anonymous user asks Reddit if he can Backup iPhone to NAS. In response, another user exclaims that "FoneTool" allows you to backup your phone remotely to a NAS (or regular PC).