If you are seeking a great Adobe Acrobat alternative, Nitro PDF Pro is a full-featured PDF editor and creator that touts a complete set of content editing tools, review and markup features, form fill and signing capability as well as multiple security options for sensitive documents including password protection and data redaction.
The Nitro PDF Productivity Suite for Windows sits near the top of the heap, and it makes sense too. Nitro Pro download 64-bit is the strongest contender to Adobe Acrobat DC and its most advanced PDF editor and converter software, Inc., is incredibly easy and intuitive for beginners.
The features that have made Nitro Pro Editor beloved by users are all here in the latest version. This includes regular edits, including inserting, modifying, and deleting text and objects from pages, cutting out entire pages, filling out forms, changing layouts, converting between different formats, and securing and certifying PDF documents, which means your confidential information remains safe. You can add interactive elements like hyperlinks, images, or document files to your PDFs, and edit Bates numbering to legal documents.
Intuitive Microsoft Office ribbon-style interface
Beginners would surely love Nitro's Microsoft Office-style ribbon interface that groups features into task-based tabs. You can clearly see labeling such as Convert, Review, Page Layout, Forms, Share, and so on. This type of workflow feels simpler and more seamless than it would in any other PDF editor.
Nitro PDF Pro Price is $179.99 per user
Nitro PDF Pro isn't cheap. The Windows and Mac versions cost a one time-license of $179.99 per user. At the time of writing this article, Adobe Acrobat Pro is $19.99/month. There isn't a free version of Nitro PDF Pro editor, but a 10-day free trial is available.
Create and edit the smartest PDFs, convert PDFs to Microsoft Office formats, and so much more
Whether you're working on a desktop, mobile, or the web, you have a full set of tools to convert, edit, share, sign PDFs, add annotations, and more to make the necessary changes to the PDF.
PDF Creation and Editing is similar to Adobe Acrobat
Whether you want to add files or digitally sign the document, the screen would be reminiscent of older versions of Adobe Acrobat and other popular PDF editing programs.
For example, when you add files, you select My Files and Create. Similarly, you could add your signature to the document by clicking Quick Sign and typing your signature.
You can alternatively choose a formal Digital Signature field by clicking Forms in the ribbon and Digital Signature.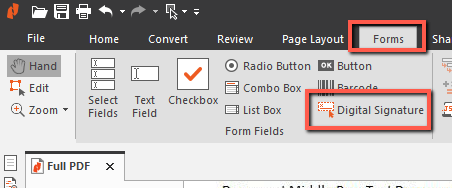 Here, you can select the contextual Form Tools box from the ribbon and fill in the signature space. Nitro PDF 32 bit/64 bit does a few important things here; the redaction tool responds to certain
At this point, I decided I wanted to do two more things: redact the document and convert it back to Word for editing.
Redaction is an important tool when responding to certain information requests where you want to send some information and not others. As I expected, the process was very straightforward and mimicked the workflow I'd had in other PDF editors.
All I needed to do was click Erase in the ribbon, Mark for Redaction, and draw my redaction box. Click Apply All Redaction. This will remove content that is marked for redaction. When you're done with redaction, you can bulk convert PDF files to Word-formatted documents.
Work from anywhere
Nitro PDF's cloud service enables faster collaboration from any device. Convert, compress, combine, share, and eSign your documents on the go, using just a web browser.
Nitro PDF download 64-bit performed exactly as expected. The intuitive and familiar layout let me work effortlessly. Overall, I was not disappointed with Nitro PDF Pro.
Download Nitro PDF to Word Converter on your Windows PC 64-bit/32-bit. Lastly, the Nitro Productivity Platform is a comprehensive suite of PDF and eSign tailored for business.
It offers a wide range of features aimed at enhancing productivity and efficiency. The platform is designed to streamline workflows and optimize operations.
My Thoughts after Using Nitro PDF Pro Editor
Is Nitro PDF Pro download for Windows worth it? Yes. It is. If you're wondering "Is Nitro PDF Pro a one-time purchase", then the software comes as a one-time perpetual license as opposed to a monthly subscription.
I think if you want a robust PDF editor with advanced features that are also easy to use, Nitro PDF Pro is a great option. If money and licensing weren't an issue, I would wholeheartedly recommend PDF Editor Free Download. It's a very functional product that's incredibly easy to use.
The Nitro software program runs well on slower devices. It is one of the most reliable and best PDF editors in the swamp. The only major downsides are the lack of a monthly subscription and live chat support, but most users probably don't stress that in the first place. Nitro PDF Pro download for Windows 64-bit/32-bit is clearly aimed to pull in the best of Microsoft Office and other PDF editors and make the user experience very straightforward. This helps businesses improve their workflow.
Can I get Nitro PDF for free?
Yes, you can download Nitro PDF free for Windows 11. Nitro Reader for Windows is a free PDF reading tool, and it offers a free trial that is accessible across all devices, including mobile. You can choose not to buy Nitro Pro 64-bit after your free trial, but you'll lose access to all other useful tools. It is clear that Nitro PDF download for Windows 10 wants to impress you with the full feature-set version of their app, so you'll sign up.
How do I download Nitro for free?
Click the Download button and the download page will automatically open.
Press the Download Now button, and the setup will download to your computer.
Choose your preferred language and the destination folder.
Free Alternatives to Nitro PDF Reader
Adobe PDF Reader
Foxit PDF Reader
Smallpdf
PDFelement by Wondershare