In an era where visuals rule the digital world, the demand for top-notch video content escalates like never before. Weaving stories through compelling videos has been a cornerstone in engaging audiences effectively.
Various software options have flooded the market, each promising to unlock new potential in video creation and editing. Amidst this, finding the best video editing software that resonates with one's needs and expertise level becomes crucial.
Different software brings something unique, from basic clipping and trimming to adding awe-inspiring effects that elevate the visual storytelling process.
One such software is Movavi Video Editor. This article aims to give an overview of the features it has to offer, its ease of use, and its overall performance.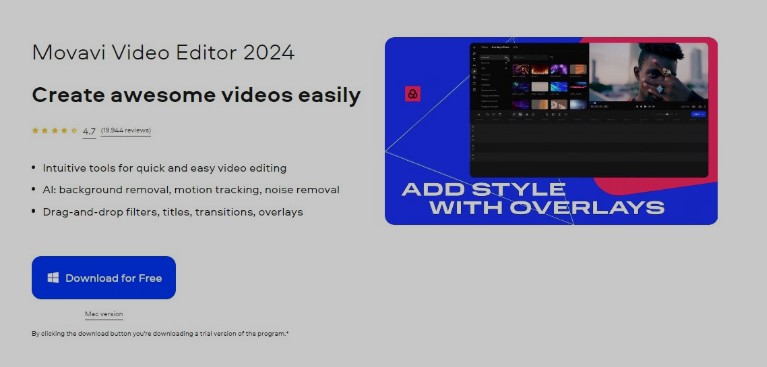 Movavi Video Editor 2024
Movavi Video Editor emerges as a popular choice when it comes to user-friendly video editing software. This robust tool brings a bouquet of features, making the process of movie-making not just professional but also enjoyable.
Whether you are mixing clips, creating a slideshow, or aiming for a cinematic masterpiece on a budget, it offers a suite of tools that cater to these diverse needs.
Compatibility
Compatibility is key in choosing any software. Movavi Video Editor shines in this area by supporting various operating systems, including Windows and macOS. This makes it easily accessible to a broader spectrum of users across different desktop and laptop environments.
Furthermore, it also offers a mobile application version for both Android and iOS devices, continuing its commitment to providing a seamless editing experience on the go.
User-Friendly Interface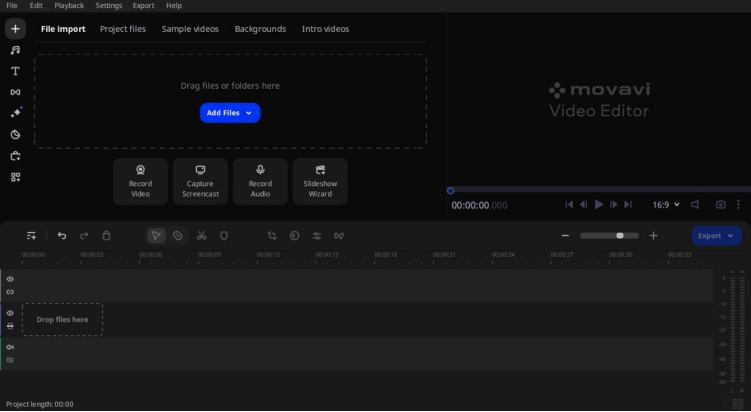 The user-friendly interface acts as an essential element in ensuring a smooth video editing process.
Upon launching the software on your PC, an intuitive interface presents itself. Even for newbies, navigation through its features is pretty straightforward as they are organized into different tabs.
The drag-and-drop feature also simplifies the process of creating a video project by allowing users to add and arrange clips with a simple click.
Video Editing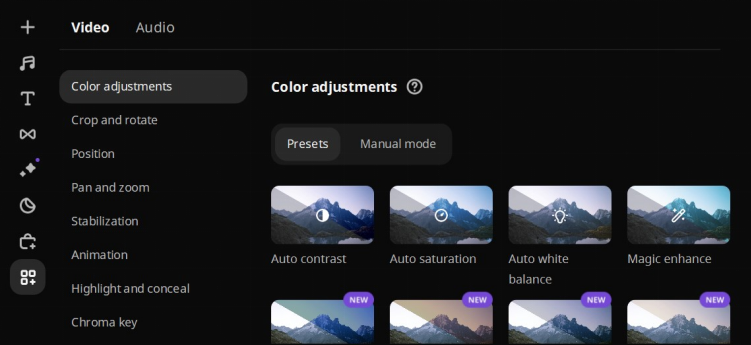 Basic tools
Movavi Video Editor offers a robust set of basic tools for post-production that allow users to perform simple edits. The new blade tool is a precise video cutter with a real-time preview.
Among others, users can also rearrange, split, merge, rotate, reverse, and crop the clips, as well as adjust the playback speed. These tools come in handy when fine-tuning the overall look and feel of a video project.
Advanced tools
For those looking to elevate their videos with something extra, Movavi Video Editor offers a collection of advanced features. These include chroma key, animation, PiP, video stabilization, color correction, and more.
AI-powered tools
You don't always want to spend hours editing a video. In such cases, the power of AI comes to the rescue. With Movavi Video Editor, users can take advantage of automation to detect scenes, track objects, stabilize footage, remove background, and add a preset color scheme to the entire video fragment.
There is also a transition wizard to automatically apply transitions between clips and a slideshow wizard that creates a video clip based on the chosen footage, style, and music.
Audio Editing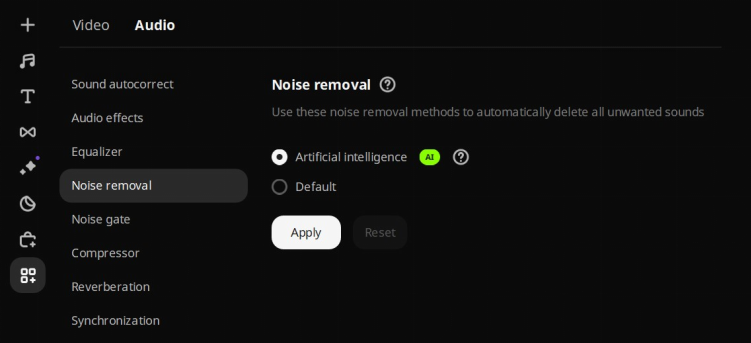 Basic audio tools
Movavi Video Editor also offers basic audio editing features to improve the overall sound quality of a video project. Users can adjust volume, normalize sound, add fades, compress noise, and more.
Audio effects
For those looking to add a touch of creativity to their videos, the software offers various audio effects such as echo, reverb, equalizer, and more. There are also different sounds available in the software's media library that users can add to their videos.
AI-powered audio tools
The same AI-powered tools that work for video editing also exist for audio editing. Users can automatically remove background noise, detect beats, sync audio to the video, and more with just a few clicks.
Content Library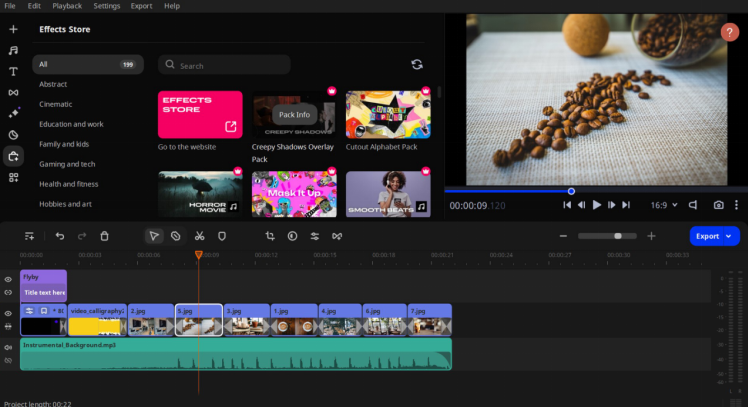 Media Files
Movavi Video Editor comes with a plethora of media files, including sample videos, backgrounds, and intro clips. Users can also add their media files. The software automatically organizes them into categories like photo, video, and audio, making it easy to find and add them to the project.
Music
The software has a vast music library with various genres and moods to choose from. Users can also add their music files or record voice over within the program. Additionally, the software offers an option to adjust the music's volume and duration according to the video's length.
Filters and transitions
You can apply different filters, overlay effects, and LUTs to enhance the visual appeal of a video project. Users can choose from various categories such as artistic, retro, blur, and more. Transitions are also divided into different categories, including abstract, cinematic, gaming, hobbies, etc.
Titles and stickers
To give an extra layer of personalization to the project, users can add titles and stickers from a vast collection available in the software. You can resize, rotate, adjust color, position, background, outline, and add animation to these elements.
Performance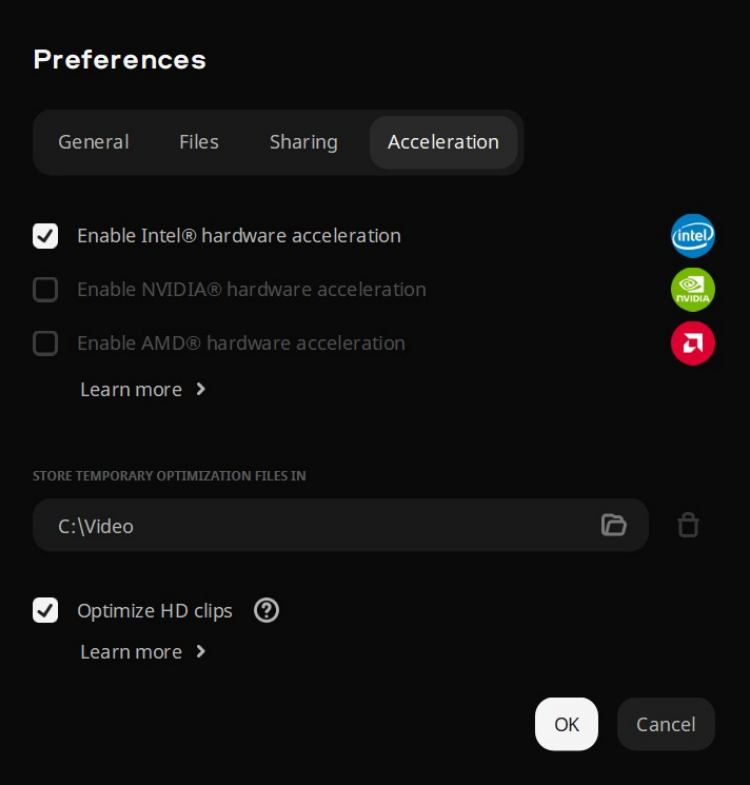 Rendering and Processing Speed
Movavi Video Editor guarantees a fast and smooth experience when it comes to processing footage. It uses hardware acceleration technology for faster rendering that can support 4K resolution videos with ease.
Handling Large Files and Complex Tasks
The software can handle large files and complex tasks without any lag, making it an ideal choice for professionals working with high-resolution footage. The Fast Track HD feature creates smaller copies of files to speed up the editing process.
Export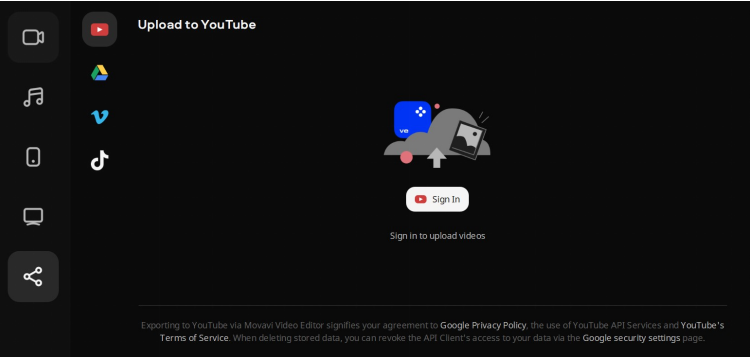 Video formats
Movavi Video Editor allows users to export videos in various formats, including MP4, MOV, AVI, MKV, and more. You can also choose the resolution and quality of the video before exporting.
Direct sharing
Want to share your masterpiece on social media or other platforms? Apart from saving on the device, users can directly upload videos to popular platforms like YouTube, Vimeo, and TikTok, export them to Google Drive, or share them on messaging apps and via email.
Our Thoughts
Movavi Video Editor offers a user-friendly interface and a wide range of editing tools for both basic and advanced users. Its AI-powered features and a vast content library make video editing a breeze, while its performance and export options ensure a seamless experience. With this software, anyone can create professional-looking videos with ease.