ScreamSploit is considered one of the most trusted and powerful Roblox exploits. Every exploiter looking to hack, cheat, or exploit Roblox games must download ScreamSploit. It features more than 5,000 scripts that enable you to use fly mode, god mode, teleport, speed mode, aimbot, ESP, and much more. You can hack more than 200 Roblox games with ScreamSploit. The software is available to install on Windows, Android, macOS, mobile, and PC platforms.
The ScreamSploit developers present software that includes a collection of scripts that covers almost every Roblox game and genre. You can use ScreamSploit to inject scripts to change the game's behavior and access restricted features of any Roblox game. The scripts help you with different cheat modes and enable you to troll other players, spawn items, and alter the game's appearance. With ScreamSploit scripts, you can create custom scenarios and build your world.
You can download ScreamSploit on Windows 11/10/8.1/7 PC, MacOS X, and Android mobile devices. With the user-friendly interface, you can get your hands on scripts for famous games such as Adopt Me, Arsenal, Phantom Forces, etc.
Highlighted ScreamSploit Features
SScreamSploit developers regularly update the software to keep it safe from bugs and errors. The regular updates of ScreamSploit present users with new scripts, features, and bug fixes. The most talked-about ScreamSploit features are as follows:
Scripts and User-Friendly Interface: The feature that helps ScreamSploit stand out among other exploits is the large collection of scripts. It features over five thousand scripts that you can use to hack and cheat in two hundred games. With a gigantic script library, it presents a user-friendly interface. With a few clicks, you can execute your favorite script and troll your opponents.
Script Saver: As you get a humongous script library with ScreamSploit, most players lose track of their favorite scripts. Usually, exploiters prefer to keep their top-priority scripts separate. For this purpose, ScreamSploit presents a feature of a script saver. With the help of a script saver, you can keep all your scripts in one place.
Auto-update: When you use ScreamSploit, you get multiple updates that help your software catch up with Roblox versions. Every update brings new scripts to the script library. You can use these new scripts to hack new Roblox games.
Key System: ScreamSploit features a key system to keep the software secure and authentic.
Discord Server: There is an official ScreamSploit Discord server where you can get all the news and updates. You can use the Discord server to interact with the ScreamSploit community and fix any issue you are facing.
How to download ScreamSploit on a Windows PC
Perform the following actions to download ScreamSploit on your device:
To start the downloading process for ScreamSploit, press the "Download" button above.
The "Download" button will take you to the official ScreamSploit website.
Scroll down to find the main "Download" button.
As you click the "Download" button, it redirects you to another website where you have to complete some tasks. For example, the site may ask you to subscribe to a YouTube channel.
After completing the given task, you will find a "Proceed To Target Site" button.
When you press the "Proceed To Target Site" button, ScreamSploit starts downloading on your device.
How to install ScreamSploit Executor
To install ScreamSploit on your device, execute the following steps:
Locate the folder that has the ScreamSploit download file.
Use any extractor to extract the decompressed files in the download folder.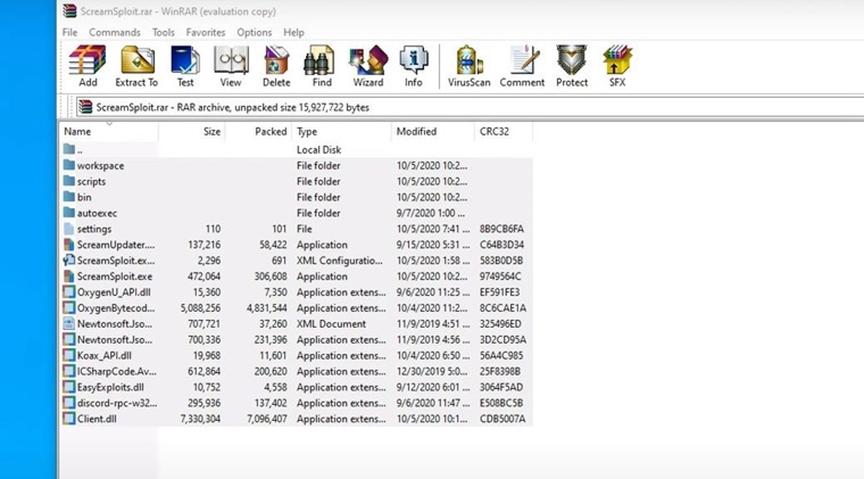 Search for the application file that has a ScreamSploit icon on it.
Double-click the application file to initiate the ScreamSploit installer.
Enter the location of the folder in which you want to install the software.
Keep pressing the "Next" button until the installation bar appears.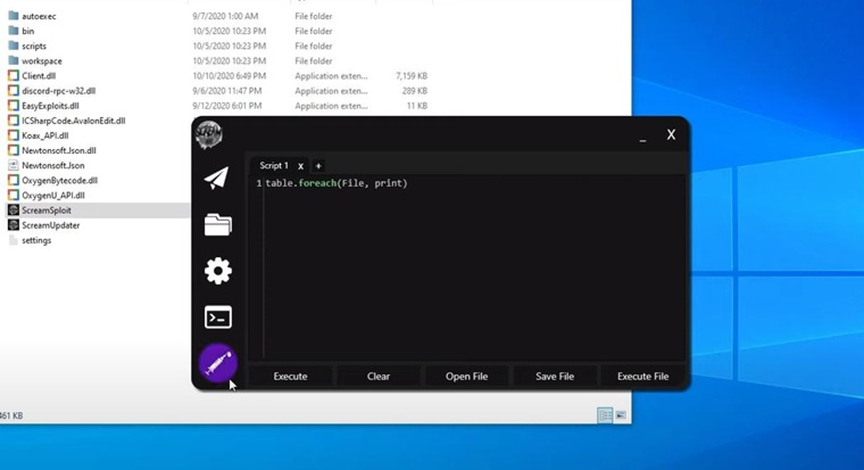 Wait for a few minutes for the installation to finish.
How to Get ScreamSploit Key (Requirements To Get The Key For ScreamSploit)
ScreamSploit has a key system in place that requires every user to get a key code. This key code helps the exploiter activate ScreamSploit premium features. For ScreamSploit, you have to get a key code every time you use it. The key system makes the software secure and stable. You can get your hands on the ScreamSploit key by following these actions:
After installing ScreamSploit, double-click the application file to launch the software.
As ScreamSploit launches, you can find a "Get Key" button.
Double-click the "Get Key" button to visit another website.
To get the ScreamSploit key, you have to complete a few tasks, such as watching a video or installing an app.
After completing the tasks, you will be redirected to a page where you will find your ScreamSploit key.
Copy the key from the page and open the ScreamSploit screen.
Enter the key in the textbox and press the "Verify" button.
Wait a few minutes for the software to verify your key.
Once your key is verified, you can access all features of ScreamSploit.
How to use ScreamSploit
To fully benefit from ScreamSploit features, you have to execute these actions:
l Open Roblox and double-click any game you want to hack.
Now, go to the ScreamSploit folder. Launch the software by double-clicking the application file.
As ScreamSploit launches, it will ask you for a key.
You can get this key by following the instructions presented above.
Enter the key and wait for ScreamSploit to verify it.
When the key is verified, you can access ScreamSploit.
In the ScreamSploit window, you will find many options. Click on the "Scripts" icon to see a list of scripts for different Roblox games.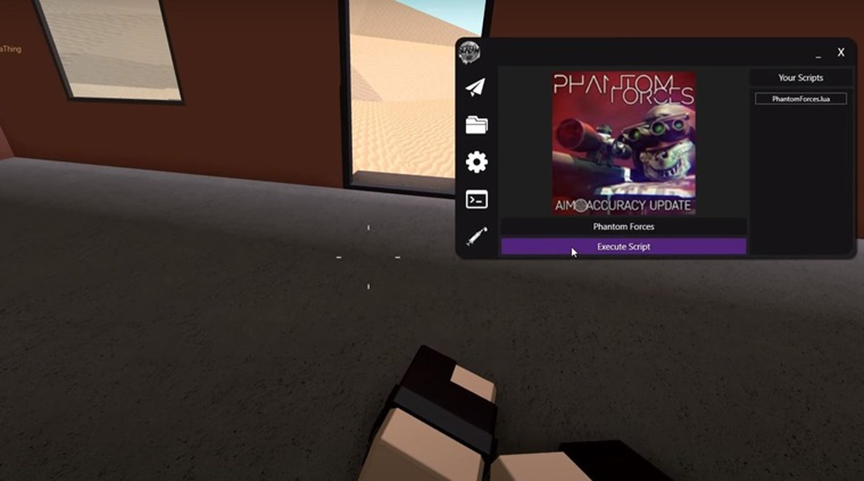 Select the script you want to use and press the "Execute" button to run it.
You will see the effects of the script in-game.
You can save your favorite scripts in one place by using the "Save Script" button. Using this button, you don't have to look for your scripts in the huge script collection.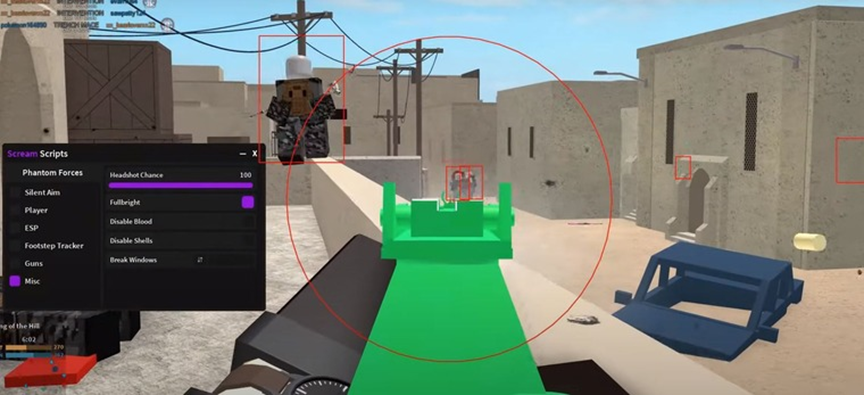 Best ScreamSploit Alternatives
The main characteristic of ScreamSploit that attracts the audience is that it provides exploits not only for Roblox but for other games as well. Some other software that can be used as an alternative to ScreamSploit are as follows:
Synapse X
Synapse X is one of the most trusted and used exploits among Roblox exploiters. They consider this software for its sleek and modern interface. With many other features, Synapse X provides the user with a sturdy script executor, a script library, and a custom bytecode compiler. However, you have to pay $20 to access premium features of this software.
Proxo
Proxo can give tough competition to ScreamSploit. Both software are free to use. Proxo is a trusted exploit. It presents a system that helps keep the exploiter's identity safe. At the same time, it is available to download on Windows PC. You can easily download Proxo on your device by visiting its official website.
Frequently Asked Questions
Is ScreamSploit safe?
The safest way to use ScreamSploit is to download it from its official website. However, while using ScreamSploit in Roblox, you are violating its terms of services policy. Therefore, there is a chance of getting banned if any player reports you for suspicious activity.
Is ScreamSploit free?
Yes! ScreamSploit is a free software. You just have to complete a few tasks, such as watching a video or subscribing to a channel, to get your hands on the ScreamSploit download file.
Where can I get more scripts for ScreamSploit?
You can find more scripts on YouTube videos or Discord servers dedicated to Roblox games. However, download the scripts at your own risk as they might contain viruses.