Softlay provides Windows 10 for x86 & x64 PC. You can download Windows 10 64-bit ISO file & install full version OS.
The operating system was released in July 2015, succeeding Windows 8.1 and is still consistently updated to include new features and fix issues. The OS upgrade enhances the user experience through aesthetic and practical improvements: speed, streamlined interface, accessibility, web browsing, etc.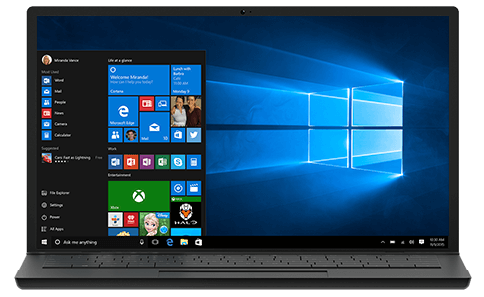 Download
Windows 10
64/32-bit OS For PC
🛡️ Safe & Secure
Download Specs
License: Free Product Key
Platform: Windows OS
Language: English
File Size: Variable
Downloads: 20,519,965
Developer: Microsoft
Download Windows 10 OS
Choose the right version to download Win 10 ISO file (DVD image) of the operating system.
A popular and powerful Microsoft operating system designed for PC.
You don't need the licence key to download Windows 10 ISO. You can use this ISO file to install a fresh copy of Win10 OS by creating a bootable USB. Not only that, but you can also upgrade from Windows Home version to Windows 10 Pro edition.
---
Windows 10 Overview 2022
Windows 10 is a recent operating system from Microsoft, it brings back many features lost in previous editions and introduces long-awaited functionalities that have already been available on competitor software for a while now.
One of its main novelties is the return of the Start menu to the traditional desktop after its disappearance in Windows 8.1. From it, you can access most of your installed programs as well as the 'Live Tiles' on the Metro desktop, the latter being another major improvement to the operating system: Windows Store applications will finally be combined with the traditional ones, so you can use both of them in windows.
Another much-anticipated addition is that it's finally possible to work simultaneously in multiple virtual desktops. 'Task Switch' has improved usability considerably by allowing you to change between one window and another, so it's now much more fluid to use lots of software simultaneously.
All these features have been combined into a single edition of Windows that covers all the platforms it possibly can. That is, the same edition of Windows 10 can run on both desktops and ultra-compact devices.
Detailed Windows 10 Features are listed on the Official Microsoft Windows Site.
Related: Download Microsoft Office
How To Install Windows 10 Full Version OS
After you successfully download Windows 10 ISO file. Save it on your PC. Follow this tutorial which tells How to install Windows 10 from USB Drive. The steps to install Windows 10 are simple and easy. Let us know if you face any issues during Windows 10 ISO Download or installation.
Windows 10 Related Searches in 2022