If you want to install Microsoft Office ISO on your PC, you need the to Download Microsoft Office original ISO file from Microsoft. However, similar to Windows, the Microsoft Office ISO Download file is not free, and only paid version is available on Microsoft's official site. You can only download the MS Office ISO file after paying for the license or as a free trial for a short time period.
Installing Microsoft Office is easy if you have an installation DVD or the setup data as a download. Locating the Microsoft Office installation files from the Microsoft website is very tricky. Most of the time, you end up with a test subscription to Office 365 download offline installer iso, but you actually only wanted to download the ISO files for a certain Office version.
In addition, Microsoft only provides the latest version of MS Office on the official site, if you still want to use MS Office 2010 ISO or MS office 2016 iso, you are out of luck. Your search is over now: In this article, we are providing an ingenious freeware solution for this problem. You can download any version of Microsoft Office ISO free of cost, directly from Microsoft.
Microsoft Office ISO Download Overview
Microsoft Office ISO Download is currently available in three different versions. The first version is, Microsoft Office 2016 which was released together with Windows 10 and the official support of this version is continue till 2025.
The Second Version of MS Office which is currently available officially is Microsoft Office 2019, which is the updated version of Office 2016 with several improvements and corrections.
The most recent version of Microsoft Office which is also available on the Official Microsoft site is Office 365. This is the subscription-based MS Office suite, integration with the cloud. This latest version of MS office allows us to make the most of the office suite.
Download The Latest Versions of MS Office ISO:
Get MS Office for Free Using Microsoft Windows and Office ISO Download Tool
Don't get confused, just the shortened name of the tool is Windows ISO Downloader and the full name is "Windows and Office ISO Downloader". You can use it to download any version of Microsoft Office 2007 or later.
Click Here to Download Microsoft Windows and Office ISO Download Tool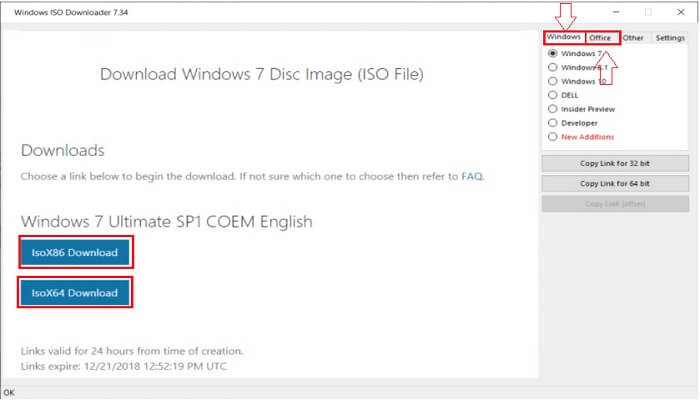 Microsoft Windows and Office ISO Download Tool provides a comfortable and simple way to download genuine Windows 10, Windows 8.1, and Windows 7 disk images (ISO) directly from Microsoft's servers, not only the Windows ISO but you can also Download Microsoft Office 2003, Microsoft Office 2007, Microsoft Office 2010, Microsoft Office 2013, MS Office 2016, MS Office 2019, and Microsoft Office 2021 for Mac and MS Expression Studio.
The tool taps into official Microsoft servers without any detours. You don't have to worry about the legality of the downloads, because after all you are downloading this ISO file directly from the Microsoft official site and you will only get the original installation ISO files. In order to activate Office or Windows legally, you need to buy a suitable activation key.
The operation is kept very simple. In the menu on the right, select the Office version that you want to load. You can choose from Office 2007, 2010, 2013, 2016, and 2019. Depending on the selection, the procedure in the main window differs: For Office 2007 and 2010 you must first select the exact version and then the language.
The tool then creates two download links, one for the 32-bit and one for the 64-bit version of Office. For Office 2013 and 2016, the download works via direct links. All you have to do is look out for the appropriate language version.
Office 2019 vs Office 365 Offline iso
Broadly speaking, Office 2019 and Office 365 are almost the same suits. Microsoft Office 365 Offline ISO includes all the Microsoft Office 2019 suites and Apps. The difference between both suits is, the Office 365 offline ISO has some additional services and along with cloud storage, price is another big difference between both office suits.
Microsoft Office 2019, is the upgraded version of Office 2016. This Office suite can be purchased for a one-time payment and we can use the program for a lifetime without any renewal charges. We will not get the latest version at the same price (but we will be entitled to get regular updates until the last support)
Microsoft Office 365, on the other hand, is a subscription-based office suite. We have to pay a monthly or annual fee to be able to use this program. But in return, we will enjoy the latest version released by Microsoft without having to pay more. We also can access the Insider version. Microsoft Office Insider version has some additional services, such as 1-TB of OneDrive cloud storage and 60 free monthly minutes to talk on Skype.
Furthermore, In terms of usage and operating system, there are some differences between the two office suites. The MS Office 2019 is a Windows-based suite, while Office 365 suite is compatible with Windows, macOS, Android, and iOS. In Subscription-based MS office 365 download offline installer iso Suite, we can use the word on mobile or tablet. We can also choose the number of devices and users, who can install and use the Office suite.
How to Install or Reinstall Microsoft Office ISO
What to Know?
After purchase, sign in and enter the product key. Then, select Install Office > Run > Yes on UAC > Yes to install > Close.
To reinstall Office, go to My Account, select the download link, and follow the installation instructions.
This article explains how to download and install Microsoft 365 or Office 2019 on a Windows or Mac laptop, computer, or tablet.
How to Install Microsoft Office 365 Suite ISO
After you purchase Microsoft Office, activate and download the product. Detailed instructions are included in the packaging if you buy the software at a retail store or order a key card online from someplace like Amazon. If you order directly from Microsoft, you'll get the link in an email. There's an "Install Office" link on the receipt.
Note: If your organization uses volume license versions, your company's IT department might use a different method to install Office. Talk to your IT department for installation help.
1 – Visit setup.office.com and sign in with your Microsoft account or create a new account.
2 – Enter your product key (or activation code). This product key lets Microsoft know the software was purchased legally. The key comes with any physical packaging you receive and is included in an email if you ordered it digitally. Select your country or region and language, as well.
Note: Write this activation code down and keep it in a safe place. You'll use it if you need to reinstall Microsoft Office.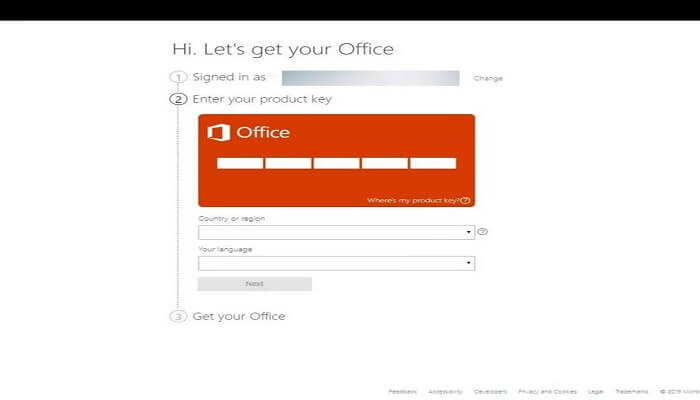 3 – Select Install Office. After the installation file is downloaded, what happens next depends on which web browser you use. When you select Install, a dialog window at the bottom prompts you to either run the file, save it, or cancel. Select Run and work through the installation process.
Note: The easiest way to install Microsoft Office is to use the Edge browser.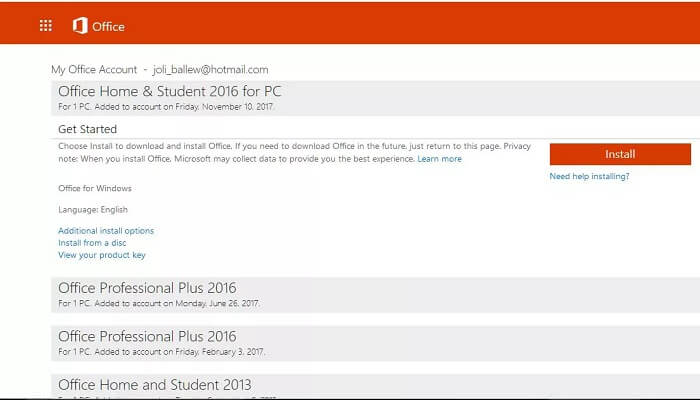 4 – If the User Account Control asks whether you want to allow the app to make changes to your device, select Yes.
5 – Once you run the downloaded file, the installation process begins automatically. If Windows asks if you want to allow the installation, select Yes. If it prompts you to close any open programs, select Yes again.
6 – The install is finished when you see the phrase, "You're all set! Office is installed now," and an animation plays to show you where to find Office applications on your computer. Select Close.
7 – Microsoft Office is now installed and ready to use.
Best Free alternatives to Microsoft Office
Although the free online version of the Microsoft Office suite is the best alternative to MS Office. But the free online versions don't allow us to use all the functions that we find in the complete Microsoft Office.
Therefore, if we need to create or modify our documents, spreadsheets, and presentations, we have to buy a license for the office suite or use one of the free alternatives to MS Office. We have listed the best alternatives of Microsoft Office suite down below…
1- OpenOffice
OpenOffice is one of the best and most papular alternatives to Microsoft Office and clearly inspired by Microsoft's suite. Open Office includes many tools designed specilly for text processing, creating of tables, presentations, spreadsheets, or databse creation and management.
In addition, this tool is fully compatible with MS office files, So we can open and edit Word, Excel, and Powerpoint files in OpenOffice as normal.
2- LibreOffice
LibreOffice is a completely free and open-source word processing software that emerged as an evolution of OpenOffice. Many users considered LibreOffice as the best alternative to Microsoft's office suite. Powerful LibreOffice offers a very clean and friendly user interface with all the options to create, edit, modify and format our documents files, tables, and presentations.
LibreOffice is fully compatible with Office suite files and allows us to open documents in .docx, .xlsx and .pptx formats, you can also modify your file and save them again in these formats. We can open and modify all of our documents, spreadsheets, and presentations in LibreOffice and Microsoft Office at the same time without any problem.
3- WPS Office Free
As in most office suites alternatives, Free WPS Office consists of a powerful word processor, a different program to create presentations, tables, and spreadsheets. This program is also compatible with all Microsoft Office file formats.
The free version of WPS Office shows certain ads while accessing some functions, this is very annoying for some users but these ads make it possible for us to use this tool without paying for a license previously.
WPS Office tools provides Eye Protection mode and Night Mode which with addition of edit paragraphs, and interface that is also a bit particular.
4- Softmaker FreeOffice
Softmaker is the most popular alternative to Microsfot office suites. Softmaker FreeOffice has both paid and free version that we can download from Softmaker official site.
Like the other office alternatives, Softmaker FreeOffcie is also fully compatible with files MS Office file formats such as .docx, .xlsx, and .pptx. You can open any files created in MS Word, Excel, and Powerpoint without any problem. Furthermore, the program is capable of saving the files in the same format again so you can open and edit them later.
Some of the interesting features of Softmaker FreeOffice is that it provides the possibility of exporting .epub files, it has a thesaurus, formula editor and other functions to edit images.