From what we can see, more and more people are using Mac computers in recent years as software compatibility is no longer a main issue thanks to the developers. In the first quarter of 2021, 14 millions of Macs have been sold by Apple. However, there are a lot of users like me that has a PC and Mac in my family as you can test different things on both platforms.
Two days ago, my laptop ran into blue screen of death issue after upgrading to Windows 11 and could not been fixed. I decided to roll back to Windows 10. To complete the job, I have to create a Windows 10 bootable USB on my MacBook running macOS Monterey.
New Changes in macOS Monterey
Creating Windows 10 bootable USB on Mac is not as easy as on a PC, especially on latest macOS Monterey. In the past, I was using the built-in free app Boot Camp Assistant to make Windows USB installer but now this feature was removed from Boot Camp app on macOS Monterey. You can only create a bootcamp partition now.
When I launched Boot Camp Assistan, connected a USB drive like usual, Boot Camp app asks me to eject all external devices. If not, you are unable to move to next step. This used to work well on Catalina and Mojave.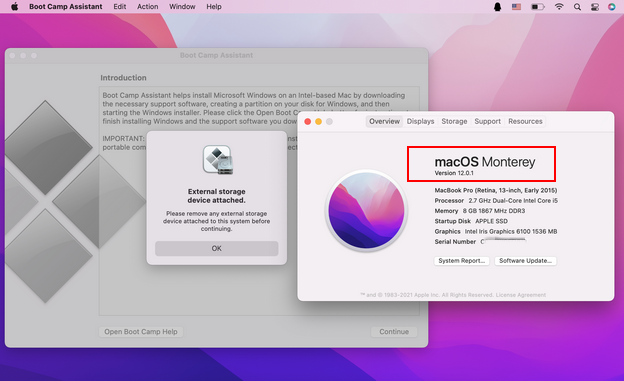 I though many folks have the same issue as me. So I did some researching work and found out a perfect replacement of Boot Camp Assistant for creating Windows 10 bootable USB installer on Mac Monterey.
In the following parts, we will tell you how to create a Windows 10 bootable USB on Mac in detailed steps.
Get a Copy of Windows 10 ISO Image

To create a Windows 10 bootable USB on Mac, Windows 10 ISO is a must. If you already have one, then skip this part. If not, please go to Windows 10 disc image download page.
Move over to the central of this page and choose Windows 10 under Select Edition.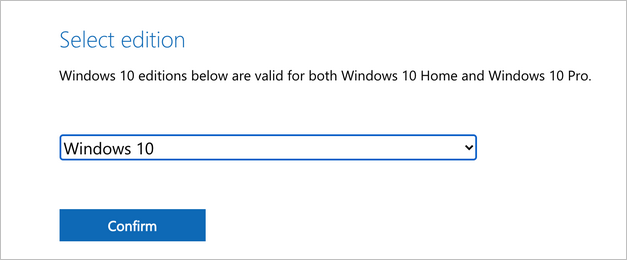 Click the Confirm button and choose the language for Windows 10 installation. Wait 3 seconds and Windows 10 ISO 64-bit and 32-bit download links are presented on the screen.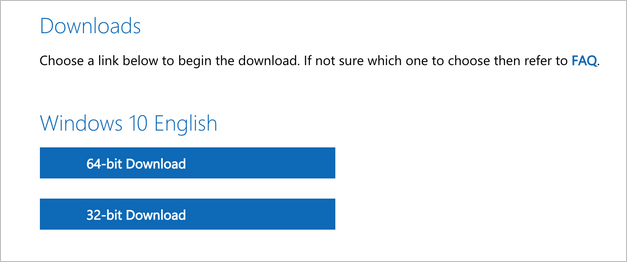 Finally, click the download link to save Windows 10 ISO on your Mac. It is 5.4 GB for latest Windows 10 21H1 Edition.
How to Download and Install UUByte ISO Editor for Mac
UUByte ISO Editor for Mac is a third-party app for creating Windows bootable USB on Mac. It supports Windows 11, Windows 10, Windows 8 and Windows 7 ISO. One of the prominent features about this app is that it can split install.wim file contained in Windows 10 ISO by default. On a Mac, you can not save a file more than 4GB on a FAT32 partition.
In addition, UUByte ISO Editor is also cable to mount ISO, edit ISO and create new ISO file on a mac.
You can get the dmg installation file from this link:
https://www.uubyte.com/download/uubyte-iso-editor.dmg
After download, double click the file to mount the dmg file and move app icon to Application folder.
How to Create Windows 10 Bootable USB on Mac
From now on, the preparation work is done. It is the right time to create Windows 10 bootable on Mac Monterey by using UUByte ISO Editor app.
Step 1 – Eject other external storage device and only connect one USB flash to Mac. Please take a backup of it first. The burning process will erase and format the drive.
Step 2 – Run UUByte ISO Editor app from Launchpad. There are five tabs on the main screen. Please hit Burn button to create bootable USB.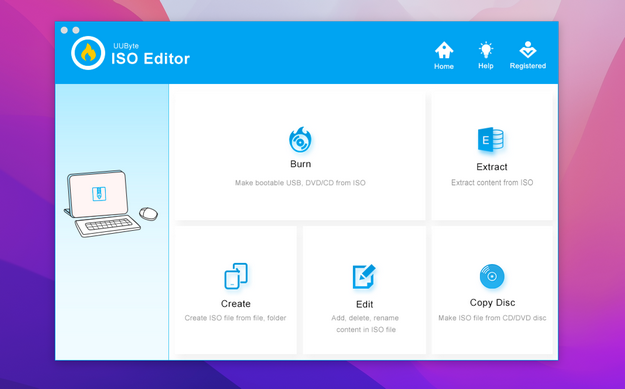 Step 3 – Import Windows 10 ISO by clicking the Browse button at the top and choose USB drive letter from drop-down menu. Don't touch other settings and click Burn icon to burn Windows 10 ISO to USB.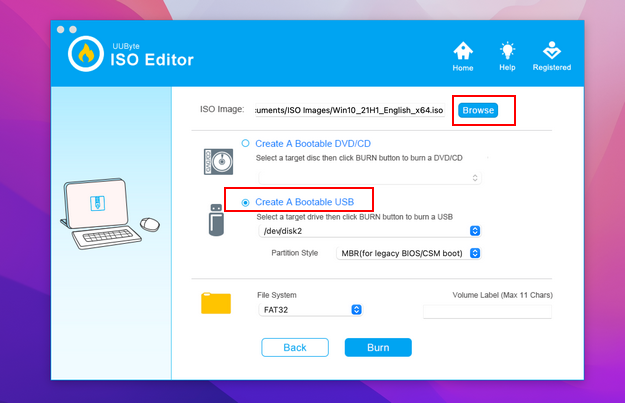 Step 4 – UUByte ISO Editor will format USB drive, extract content from Windows 10 ISO and copy all of them to USB drive. If the install.wim file was bigger than 4GB, then ISO Editor will cut it down into small files automatically.
Step 5: A Windows 10 bootable USB will be ready in less than 12 minutes. On a fast USB 3.0 drive, it only takes 6 minutes to finish the task.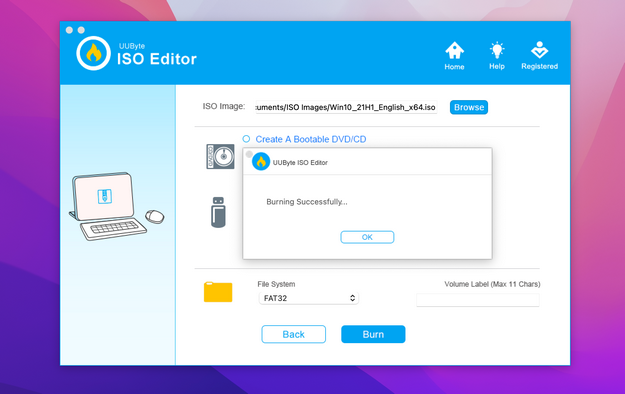 Currently, this is the best method to make Windows 10 bootable USB on Mac Monterey. Terminal can be a considerable option but it is too complicated for users who are not familiar with text commands.
Now, take out the USB drive and plug it into the PC to get Windows 10 installed. Boot PC from USB drive and start installing Windows 10 on it. That's all!