If you are seeing software reporter tool in Google Chrome and wondering why chrome using 100 % disk. Or if a message pops up telling you "Google Chrome Software Reporter Tool has stopped working." Then you might want to know what is this tool and how to disable or remove it.
What is Software Reporter Tool?
When users see the software reporter tool on windows 10, they think that it's unwanted software. Rather it's a legal process that monitors chrome browser. Each time, you install any software on your PC, this software reporter tool reports the same to chrome. The purpose behind this tool is to stop all those software that interferes with the normal functioning of the chrome browser.
When the google reporter tool scans your PC and found any add-ons that is not required. Chrome cleanup tool will remove that apps or add-ons. It's executable file is named as Software_reporter_tool.exe.
Related: What is Google Chrome Helper, Why Does Chrome Using 100% Memory in 2020
Google Chrome users face two main problems with Software Reporter Tool:
During the scan, the software reporter tool causes a high CPU load on the system. The reason is that its scanning process runs for at least 20 minutes. That is something which interferes with other activity on the computer.
Since this reporter tool informs Google about the scanning results many users dislike it because of privacy concerns.
Where To Find Software Reporter Tool on Windows 10/7 PC
You can locate the software_reporter_tool.exe file within the chrome users data folder. On Windows 10 and Windows 7 the path is the same;
C:\Users\USERNAME\AppData\Local\Google\Chrome\User Data\SwReporter\VERSION\software_reporter_tool.exe
Related: Google Chrome Download
How To Disable Google Chrome Software Reporter Tool?
In order to block chrome reporter tool, go to the above mentioned path;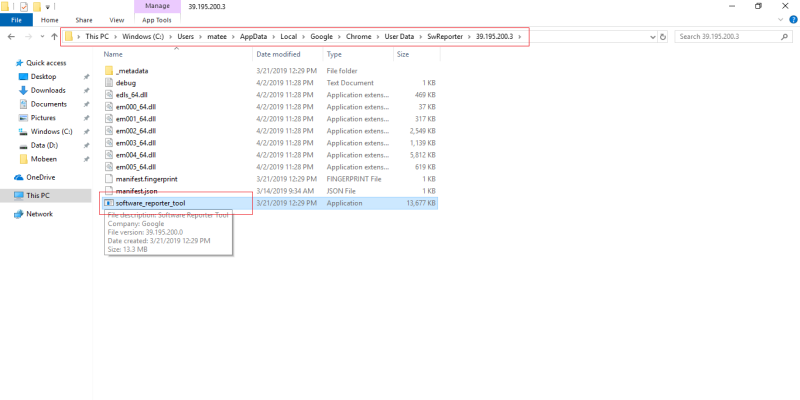 It is very easy to remove uninstall or delete the content of an entire folder. You can click the shift+ Del key to remove the whole folder but that a temporary solution. Because when Chrome updates itself this Google Chrome cleanup tool also comes back in.
So to permanently disable the chrome reporter tool you need to remove permissions so that no user has access to the folder. Follow these steps to disable reporter tool;
Right-click on the folder SwReporter and select Properties from the menu.
In the Properties dialog box click on the Security tab.

Then click on the select Advanced buttons and choose the "Disable inheritance" option.

Now click on the option "Remove all inherited permissions from this object" in the Block Inheritance window.
When you confirm, the action will remove all inherited permissions from this object.
Finally, select Apply and then click on OK button.
Once you are done with it no further Chrome update will activate this tool. This method also solves users' questions i.e "Can I delete Software_reporter_tool EXE?"
Is Chrome Reporter Tool Safe to use?
Google has digitally signed this tool. To check simply place the cursor on the .exe file. So this tool is completely safe. This tool doesn't connect with the internet, its only purpose is to report google chrome about any unwanted software.
This reporter tool doesn't infringe users privacy. On the other hand, if you removed the chrome reporter tool from your PC. The threat of unwanted apps increases. You may use third-party anti-malware or anti-virus tools like Malwarebytes or Avast.
This is how we solve this issue and fixed high CPU usage caused by the chrome software reporter tool. If the above solution helped you then post a comment.