Fretting about how to transfer data from an old phone to a new one? That might be the pain many people have experienced when switching to a new phone.
In fact, it is easy to solve. As long as you use an effective tool, you can move data without trouble. Even though there are mountains of files on your old phone, you can copy them to your new device with simple clicks. So, which tool is trustworthy? Go ahead, and you will know that.
You Need a Professional Data Transfer Software for Mobile Phones
A professional and reliable program will bring you multiple advantages.
First of all, it can move various data types. Apart from photos, songs and other media files, it can transfer those data inaccessible in a file manager, like contacts, messages, etc.
It can make the data transmission much easier. There is no doubt that it can help you import different file types at a time, so the transferring time will be shortened significantly.
It will not cover your existing files on your new phone after finishing the transfer.
In a nutshell, if you do want to keep your data on your new phone, and simplify the transferring process, you can choose a piece of transfer software.
What's the Best Mobile Transfer Software?
MobiKin Transfer for Mobile is an excellent program for copying data between mobile phones. Amazingly, it works for Android OS 4.0 or later, and iOS 5.0 or higher, including Android 12 and iOS 15. Thus, it supports most Android and iOS devices, like Samsung Galaxy S22 Ultra/S22/S21/S20/S10, LG K92/K71/K62/K52/K50/K40, ZTE, OnePlus, Google, Motorola, iPhone 13 Pro/13/12/11/XS/X/XR, and so on.
What's more, it can transfer your data without changing quality and formats, and put your data to corresponding locations. Besides, it adopts the one-stop mode so that your data will be imported to your new phone instead of being stored on your computer or other cloud servers.
With it, you can establish a connection between both mobile phones via USB cables without the need for a network. But if you want a wireless transfer between Android phones/tablets, you can also choose the W-Fi connection.
Plus, the read-only mode can keep the transfer safe, and no annoying ad appears on the interface. Furthermore, the transferred data will not overwrite your current data on the target phone.
What Data Types Can Be Transferred between Devices?
MobiKin Transfer for Mobile supports most data types on mobile phones. Let's check it out.
From Android to Android: contacts, pictures, music, apps, videos, SMS, call logs, and documents.
From iOS to iOS: notes, calendars, bookmarks, contacts, and books.
From iOS to Android: text messages, photos, videos, books, songs, and contacts.
From Android to iOS: contacts and documents.
How to Copy Data from an Old Phone to a New Phone?
Want to move all your data from the old phone to the new phone? You can make it in 3 steps.
Download and install MobiKin Transfer for Mobile on your computer. Then open it.
Connect both mobile phones to the computer with their data cables. The program will detect your devices immediately. Once connected, please ensure your new phone is on the "Destination" side, or you can click the "Flip" icon to change their positions.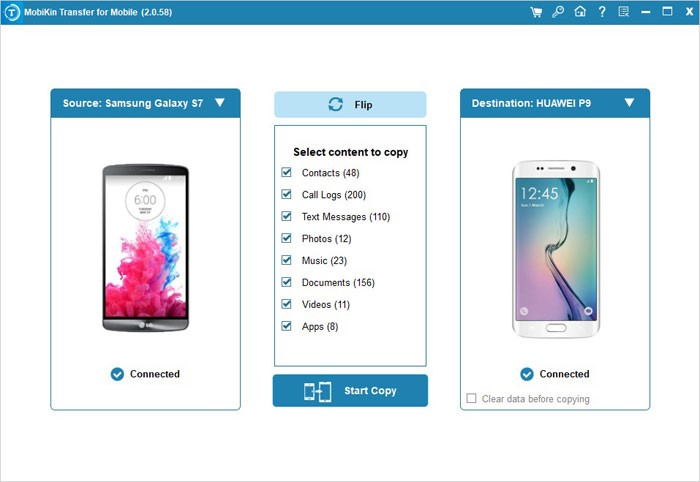 Select the categories you want on the middle panel, and tap the "Start Copy" button to begin the transfer. After that, you can securely remove your cell phones.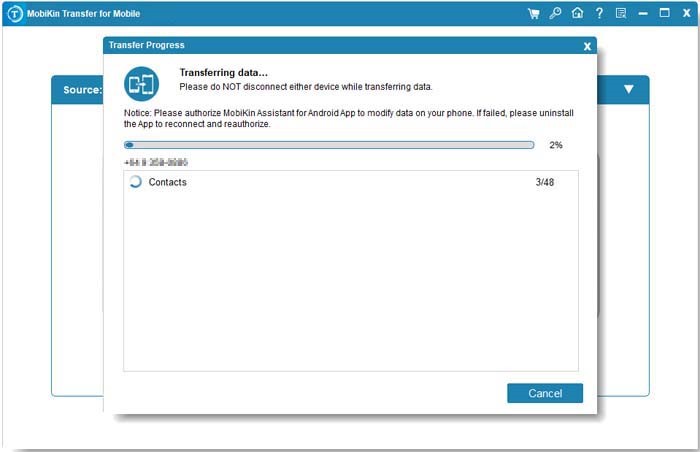 Final Thoughts
Congrats! With MobiKin Transfer for Mobile, you can smoothly move your old phone data to a new gadget. And you will no longer worry about this when upgrading your phone again.
Last but not least, a lot of apps can seamlessly transfer data from between mobile phones, but some apps might carry viruses, and steal your information. It is difficult to check if a program is safe unless you are tech-savvy.
In this situation, please pay attention to user reviews. Some evaluators will post their reviews on communities and some hot social platforms. You can browse these articles before making a decision. Besides, please download apps from credible websites.
Hope these tips will help you.