Steam users have the Friends and Chat feature to communicate with each other. Additionally, this feature controls if you can play games in an online mode. You can also invite your friends to join you. However, many Steam users report facing the notorious Friends Network Unreachable issue. Due to this issue, users face extreme limitations as most features on Steam stop working when Steam Friends Network isn't connected.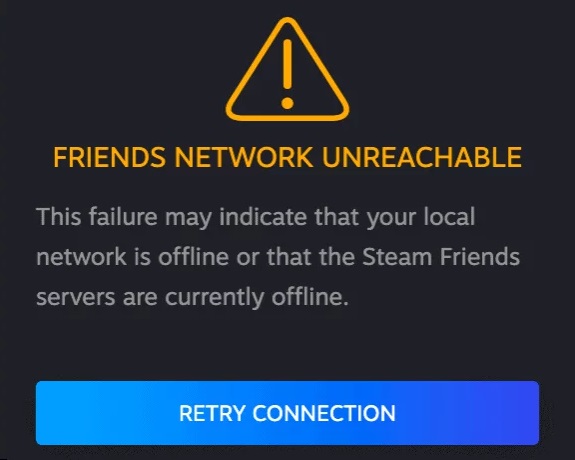 The Steam Friends Network Unreachable bug can occur due to multiple reasons. A faulty internet connection, steam servers being offline, wrong time and date settings, or even outdated network drivers are major causes. Many users report this issue started when Steam implemented their new chat UI a few years ago.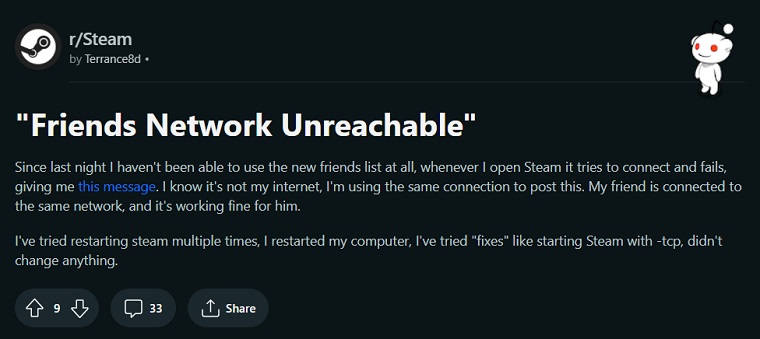 Before you proceed to the fixes we have for this problem, we recommend you check if your internet connection is stable. Also, make sure that the Steam friends servers are available as the issue could be on Steam's end. Once all of this is checked and the issue still persists proceed to the fixes below.
[Solved] Steam Friends Network Unreachable
In case, steam friends not working, your list is blacked or frozen, or friends can't join then follow the below fixes.
1. Restart Router & Replug LAN Cable
Users on Steam Community and Reddit report that restarting Router and replugging the ethernet cable solved the Steam Friends Network Unreachable issue for them.

It is quite simple enough to do, simply shut down your router and remove the ethernet cable. Wait 30-60 seconds and then replug in the LAN (ethernet) cable and start up your router again. Once online go ahead and launch the game again to see if the problem is fixed.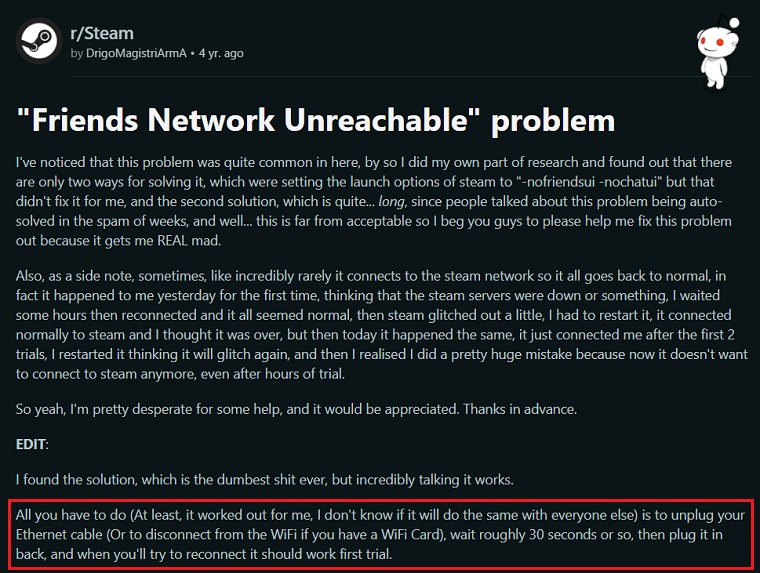 2. Update Network Adapter Drivers
There's a small chance that updating your PC's Network Adapter Drivers will fix the Steam Friends Network Not working bug in Steam. You can do this manually by opening Device Manager from Windows Search Bar. Under the Network Adapters menu right-click on the adapter in use and click Update Driver.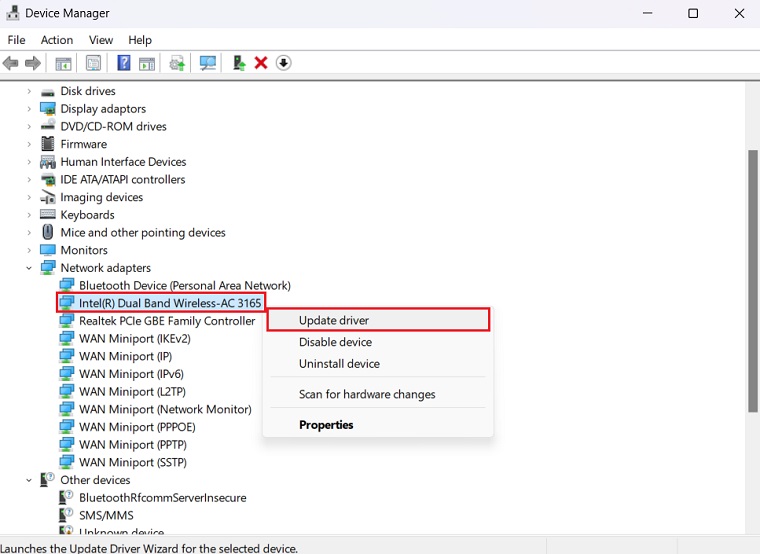 If you want to automate the whole process then download and install Driver Easy. It will simplify the entire process for you by finding the latest drivers for all of your devices. You can then install whichever ones you want to.
Download and install Driver Easy then run it to see if you have any driver updates available. If there's an update for the Network Adapter Drivers then install it and restart the PC. Once restarted run Steam again to see if this fix works for you or not.
3. Change Time And Date Settings
Multiple users report that letting Windows automate your Time and Date Settings fixes the Steam Friends Network Unreachable problem. Basically doing this eliminates any syncing issues which are causing the problem.

To do this follow the steps below:
Open Time and Date Settings from Windows Search Bar.
Set the following to On.

Set the time automatically.
Set the time zone automatically.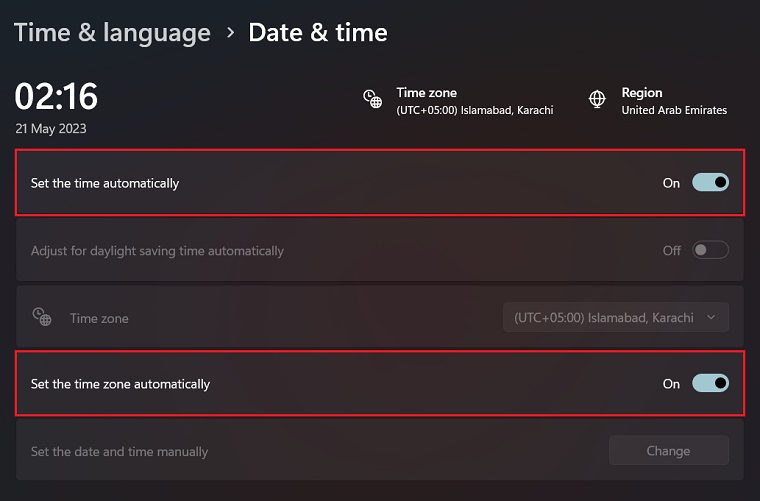 4. Clear Steam Cache & Cookies
Steam stores some data in the cache and cookies to improve performance. However, this data can sometimes become corrupted, which can lead to errors like Steam Friends Network Being Unreachable. To clear Steam cache and cookies:
Open Steam Settings.
Select Web Browser from the left menu.
Click on Delete Web Browser Data and press OK when the window pops up.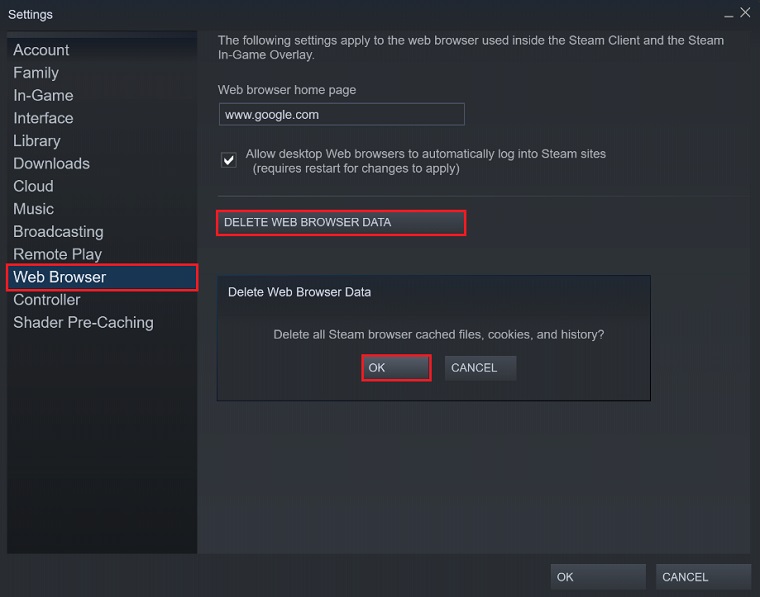 5. Revert Steam Chat To A Older Version
Multiple sources report that reverting Steam Chat to an older version fixes the Friends Network Unreachable problem for them. As we mentioned earlier this problem originally started when Steam changed the way we chat and interact with friends. Even though this was a long time ago the fact that this bug exists today only shows the laziness of the developers.

Follow the instructions below to revert Steam Chat to an older version.
Option 1:
Right-click the Steam shortcut on the desktop and click on properties.
Under the Shortcut tab go to Target and enter "-nofriendsui". (without the "")
Click Apply and OK.
Launch Steam to see if the Friends Network Unreachable error is fixed. If not proceed to "Option 2".
Note: Make sure to leave a space between Steam.exe" and -nofriendsui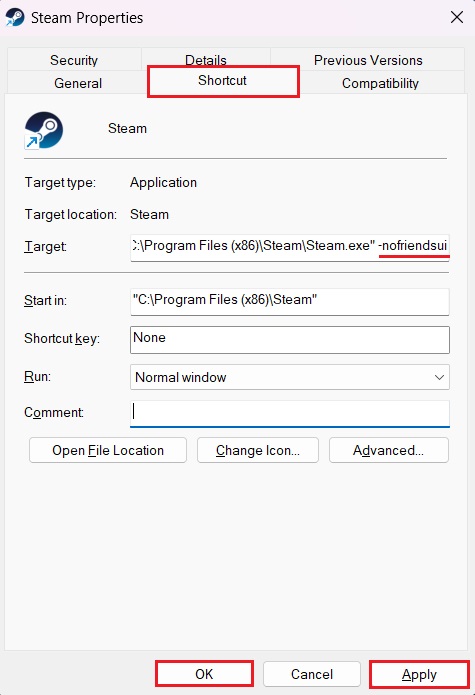 Option 2:
Go to the same Target section in Steam shortcut's Properties as in Option 1
Now enter -nochatui in front of -nofriendsui with a space in the middle.
Then click Apply and OK.
Start Steam to see if the Friends Network Unreachable error is gone.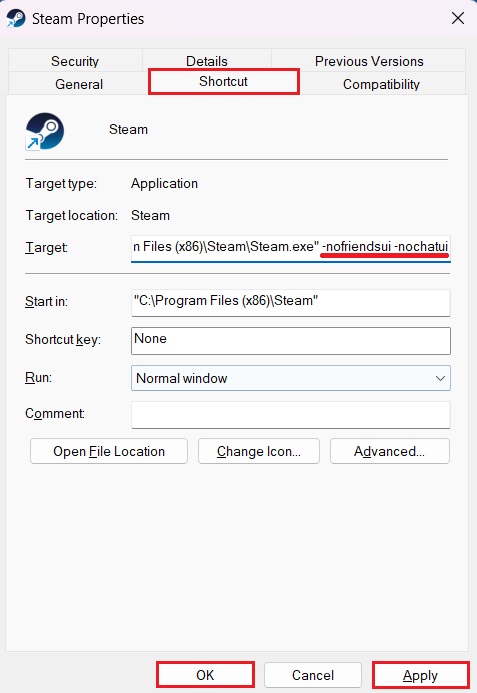 6. Use Steam Chat In Browser As An Alternative
Many users on Reddit say that using Steam Chat in a browser is a solid alternative to using Steam's built-in friends & chat feature. Users also report that after Steam Chat is open in the browser restarting Steam fixes the problem within the Steam app. To do so simply visit Steam Chat's Official Website and log in to proceed.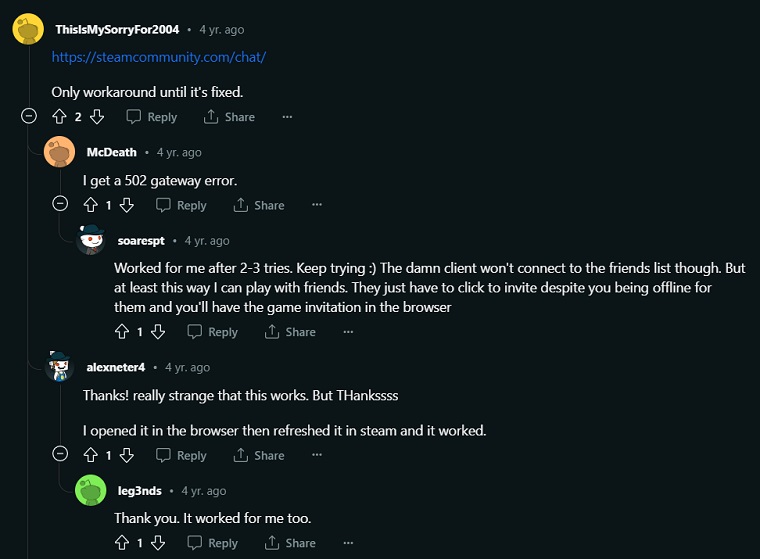 7. Update The ISRG Root X1 Certificate
This fix is provided by a Youtuber and multiple users say that this fixes the Steam's Friends Network Unreachable. To update the ISRG Root X1 Certificate follow the steps below. You can also see the video below for further detail.
Go to the Let's Encrypt website.
Scroll down and download the ISRG Root X1 root certificate as a self-signed Der file.

Press Windows + R to start Run and type in inetcpl.cpl and press OK.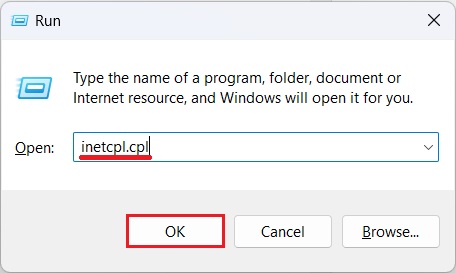 In the new Internet Properties window go to the Content tab and click on Certificates.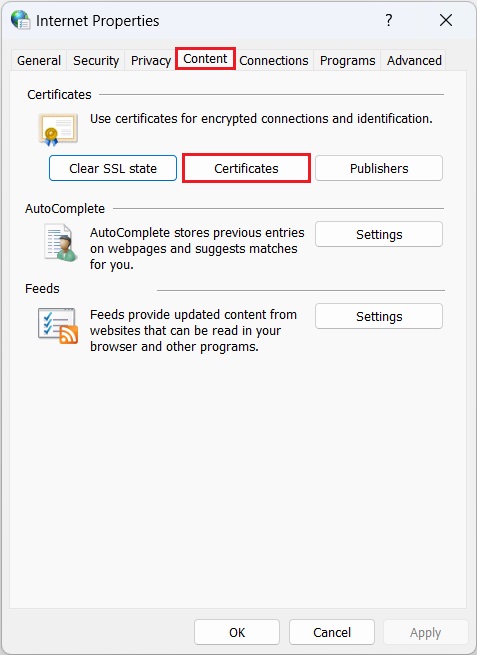 In the new Certificates window, go to the Trusted Root Certification Authorities tab and click import.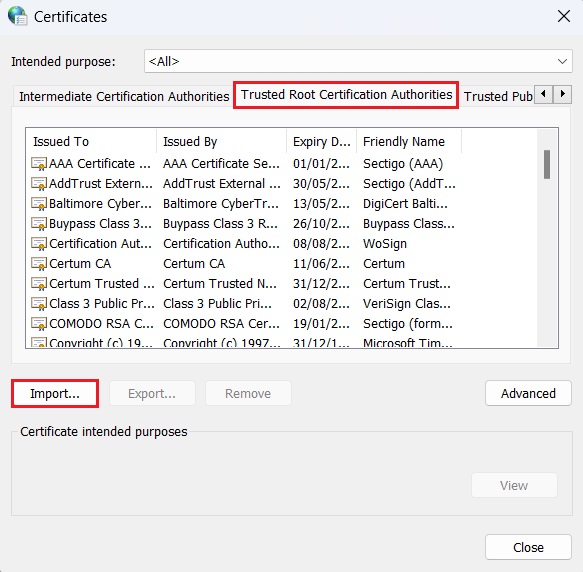 In the new Certificate Import Wizard window click Next.
Now click on Browse. Select view all files from the bottom right and proceed to show the file you downloaded.
Once the file is selected click Next.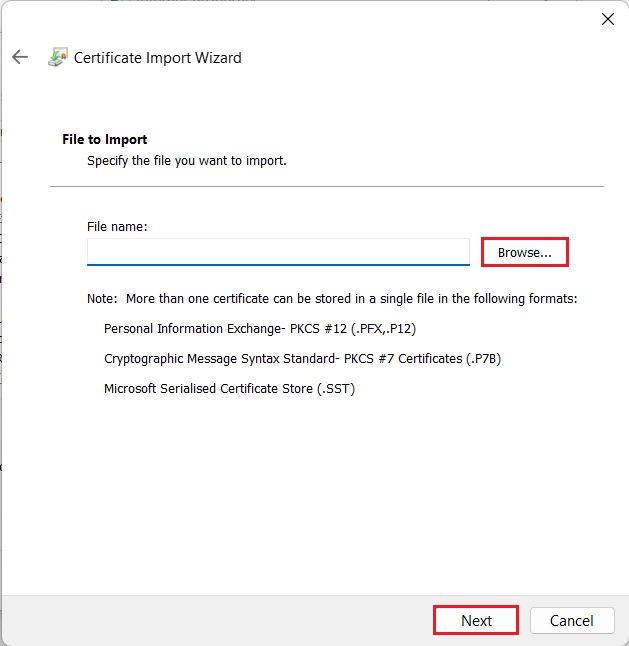 Now select "Place all certificates in the following store" and click Next then Finish.
Now in the Internet Properties Content Tab click on Clear SSL State and click Apply then OK.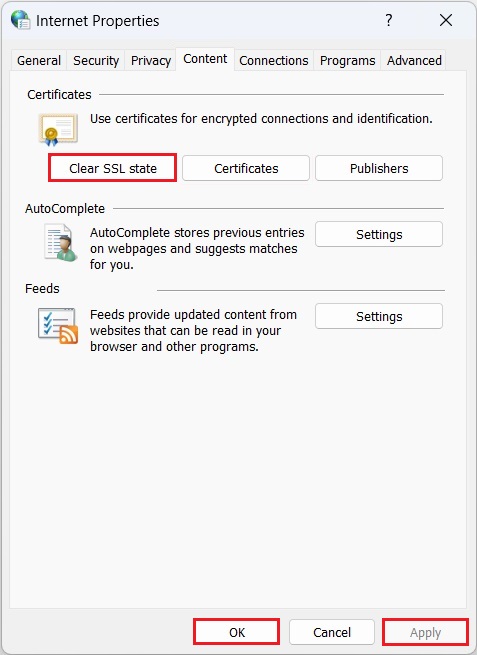 Now give your PC a restart and see if the Steam Friends Network Unreachable error is resolved. Alternatively, you can see step number six for further instructions too.
8. Opt In/Out of Steam Beta
Opting In/Out of Steam beta can help fix this Unreachable Friends Network bug. It is simple enough to do and if you want to apply this fix then follow the steps given below.
Launch Steam.
Open Steam's Settings from the top left corner.
Inside the Account section under Beta Participation click on Change.
In the new Beta Participation window select Steam Beta Update from the drop-down menu and click OK to save changes.
Note: If you're already enrolled into Steam Beta Update then go ahead and select None from the list.
Restart Steam to see if the friend's network unreachable problem is resolved.
9. Use A VPN To Launch Steam
As a last resort using a VPN can solve the Steam Friends Network Unreachable problem. VPNs can route your internet through another country. This can also help diagnose if the problem was with your internet connection or on Steam's end. To do so go ahead and close all instances of Steam from the Task Manager. Start up any VPN you have and connect preferably to a USA/UK Server. Once connected start Steam to see if the problem is resolved. If the problem is fixed with a VPN then it means there's an issue on your end or with your ISP (Internet Service Provider).