A screenshot means an image of a computer screen exactly how it appears at that instant. It is an important feature offered by nearly all devices now.

To learn how to take a screenshot on windows, keep on reading to get to know how quickly you can capture partial/all of the content from your screen in multiple ways using Windows Screenshot. Let's get started on our guide on how to take a screenshot on windows.
1. How to take a screenshot on Windows 10/8/7 using Keyboard buttons?
You can screen capture the Window with a few buttons in the following multiple ways:
Press Print Screen / prnt sc ->

In some Windows desktop PCs, you have to press the "fn" button as well.
Windows key + H ->

Windows will capture the screen. A toolbar will open where the image will be shared.

You can share it on your social media with your friends via Facebook, etc.
Windows Logo + Volume Down -> This will enable you to know how to take a screenshot on Windows Surface devices e.g. Surface Pro.  All you need is to Hold the Windows Logo and press the volume down key like it's done on an android.
Window key + Shift + S ->  

This partial screenshot is for Windows 10 only. Pressing these buttons will fade away the screen, and a cursor will be shown. Capture the part of the screen you want to take a screenshot of. The image will be copied to the clipboard where you can paste it by opening paint.
These are the 5 methods how to take a screenshot on on windows 10 using the keyboard.
2. How to use the Snipping Tool?

Learn How to use the Windows Snipping Tool to learn how to take a screenshot on Windows. This built-in tool is super easy to use. Either you can search it or find the Snipping tool by clicking Start then clicking on Windows Accessories in the All Programs list to locate the Snipping tool.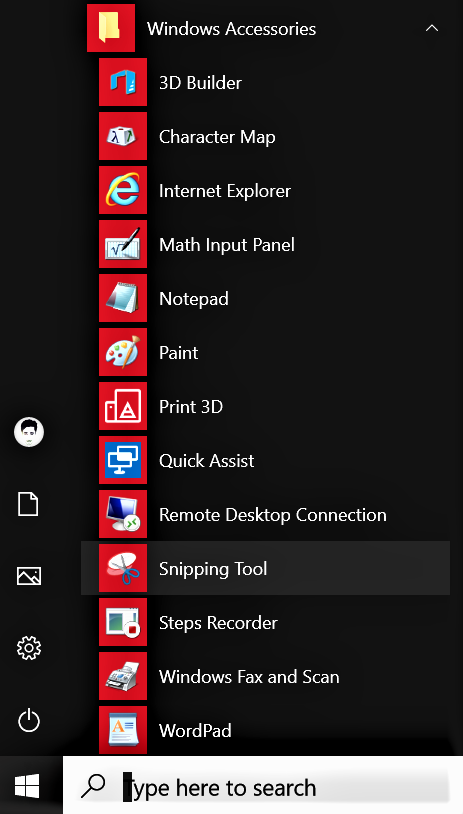 This tool will launch, and upon clicking "New", a rectangular selection will be seen that you can use to capture. You can use free-form selection as well. To make this process flexible, you can add a delay of up to 5 seconds in the post.
The tool will not save the picture of the screenshot you take. You need to save the image manually, while it automatically saves to the clipboard and that's how to take a screenshot on windows using the snipping tool.
3. How to Use The Game Bar in Windows 10 to capture a screenshot?
For the game lovers who want to know How to record/capture or take a screenshot while they play games. Windows 10 ships with DVR capabilities and lets you to capture the screen by pressing Windows Key and G simultaneously by default. This is how you can take a screenshot on Windows using the game bar.
Before doing this you need to open settings of the Xbox app. After toggling "Take screenshots using Game DVR", you can assign any key and capture your actual gameplay footage.
While taking screenshots, your Windows PC screen will dim shortly and your Screenshot is usually saved to Screenshots folder in Pictures. These are the 3 Ways how to take a screenshot on Windows.
Also Read: How To Burn a CD/DVD in Windows 10
Now it's Your Turn!
Did you learn how to do a screenshot on your PC/laptop? Tell us what kind of device you have and did all of the methods work on your Windows PC/devices ( Windows/Linux/Android/Mac)?
Don't forget to ask questions or any further advice you require on how to take a screenshot on Windows.