The Chrome Cleanup Tool (formerly Chrome Software Removal Tool) scans and removes unwanted software or malware installed on your computer causing problems with Chrome, such as unusual startup pages or unwanted toolbars and unexpected pop-up ads. Google Chrome Cleanup is available to download for Windows, Mac & Android. This extension comes built-in with the latest Chrome web browser.
Download and install the latest version 39.152.200 of Chrome Cleanup Tool for Windows & Mac. Works with both 32bit -64bit versions of Windows 10, Windows 8.1, Windows 7.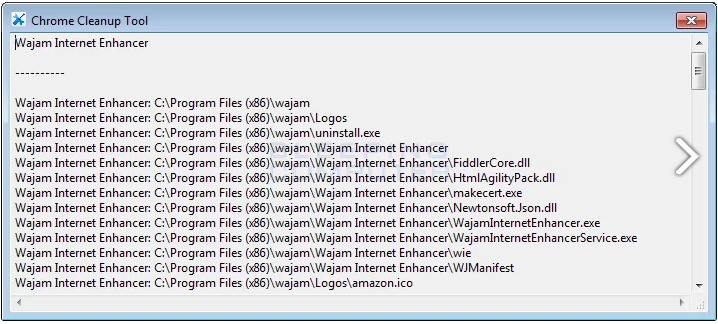 Interface
This tool is simple and easy to use. Downloaded the Chrome Cleanup tool latest version, and run the application. The tool then quickly searches and displays a list of malicious programs. Though this tool doesn't install on your computer, that is why it doesn't require high system resources.
If your Google Chrome web browser shows suspicious signs, you can run this tool to clean up the web browser from malware and regain the actual PC performance. It is a 100% safe and secure utility for windows 10 as well.
Extension
If you're running a Google Chrome web browser on any of the devices like PC, Mac, and Android phones, then use a chrome cleanup extension to remove unwanted software, malicious malware activity, adware, badware, pop-ups, and unwanted toolbars from your web browser. It makes the browser runs faster and safer.
Google developer has developed this tool specifically for the Google Chrome browser. If google chrome is running slow or causing high CPU or disk usage issues and other symptoms includes.
Pop-up ads and new tabs that won't go away.
Without your permission, your Chrome homepage or search engine keeps changing.
Unwanted Chrome extensions are installed or toolbars keep coming back.
Your browsing is hijacked and redirects to unfamiliar pages or ads.
Alerts about a virus or an infected device.
Successfully Removed Following Suspicious Programs:
| | | |
| --- | --- | --- |
| BrowseFox | Conduit Toolbars, Community Alerts & ValueApps | Etranslator |
| PullUpdate | Wajam | CouponMarvel |
| Vitruvian | Multiplug | PriceFountain |
| V-Bates | Shopper Pro | Techsnab |
| SearchProtect | Stormwatch | Colisi |
| SupTab | SmartBar | BrApp |
| MySearchDial | Dealply | Content Defender |
| SaveSense | SmartWeb | Consumer Input |
| Price Meter | MySearch123 | Crossrider |
| Mail.ru Sputnik/Guard | AdPea | LuckyTab |
Alternative to Chrome Cleanup Tool
If this cleanup tool won't download due to any reason, then you can update your chrome web browser. The latest version has a built-in mechanism to find and clean all suspicious toolbars, popups, adware, and malware on your PC, Mac, or Androids.
How to use Google Chrome Cleanup Tool on Windows 10
Open Chrome browser.
At the top right, click on these three dots, a drop-down list will appear here click on Settings.
At the bottom of settings, click on Advanced option.
Again, at the bottom, you will see the "Reset and clean up," option, click on Clean up a computer.
Click on Find and it will start checking for harmful software. It will take some time to wait for it to complete.
When it finishes it will ask you to remove unwanted software, so click Remove.
Now reboot your computer, if asked.
How to use Google Chrome Cleanup Tool on Mac
Open Finder.
On the left, click Applications.
Look for any programs you don't recognize.
Right-click the name of any unwanted programs.
Click Move to Trash.
When you're done, at the bottom, right-click Trash.
Click Empty Trash.
Download
Chrome Cleanup Tool
V39.152.200 for Windows 10
🛡️ Safe & Secure
Download Specs
License: Free
Platform: Windows OS
Language: English
File Size: 3.75 MB
Downloads: 4,672
Developer: Google