If you set alarms in Windows 10 or on any Windows 10 device you will be of peace of mind and stay on time.
Using an alarm clock can help keep your schedule consistent and help you stay productive throughout the day.
Windows 10 has a built-in alarm clock app that allows you to set one or multiple alarms with a selection of trigger conditions such as repeating alarm settings, snooze time intervals, and a variety of different alarm sound to choose from.
This short how-to tutorial will show you how to use the alarms app to set alarms in Windows 10.
Related Article: Windows 10 Volume Control Button Not Working
How to Set Alarms in Windows 10 To Wake You Up
Alarms work exactly as you expect; you set a time and days for the alarms to go off, pick an alarm sound, give the alarm a label and you're off to the races.
Here's step by step instruction of setting an alarm in Windows 10.
Type 'Alarm' into the Windows search box.
Click the 'Alarms & Clock' icon.
Click the Plug button to add a new alarm time. You can also edit the existing alarm to edit it.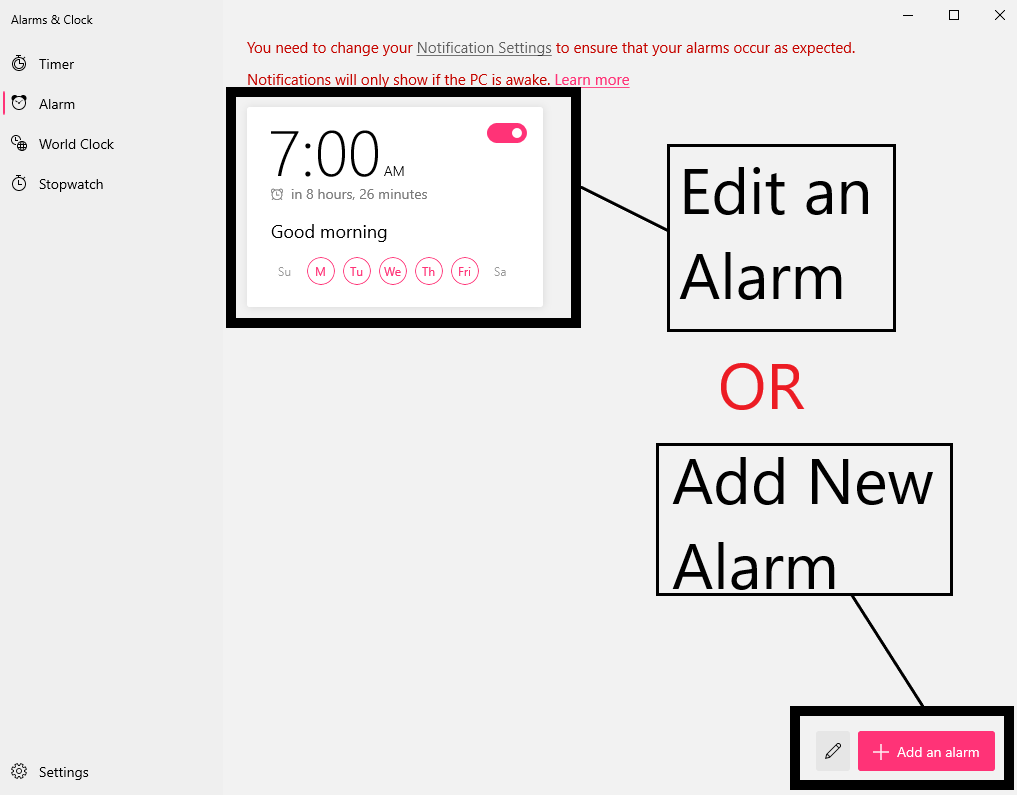 Set an alarm time, alarm sound, snooze time, number of times the alarm repeats and the name of the alarm.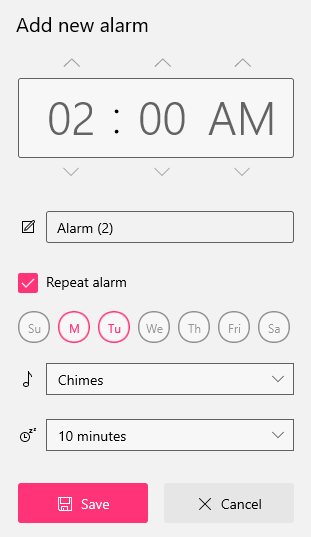 Click the save button in the lower right corner of the window.
Here's one thing to take note on:
Will my alarm go off if my computer is asleep?
Most computer will read that 'notifications will only show if the PC is awake'. So, for your alarms to go off, you will need to configure your computer not to go to sleep.
Here's how you can do the final step.
Type Sleep in the Windows Search Box
Click 'Power and Sleep Settings'
Set Sleep time to "Never" under 'when plugged in' and / or 'on battery'. If you don't let it sleep when you're on battery, you're computer battery will drain faster.
These are the steps you can follow to set digital alarm clock for PC for free in windows 10 or 8 or 7.
Some Really Important FAQ's
Below are some of the most important frequently asked questions to help you clear all the queries you have regarding windows 10 alarms and clocks.
Does sleep mode stop alarms?
In some cases however, the alarm will still sound when it's meant to. Only newer laptops and tablets with a feature called InstantGo can wake up from sleep to sound an alarm or timer. Therefore, your device can be in sleep mode(with the screen off), on silent and even have Do Not Disturb turned on and still the alarm will sound.
Is it possible to set an alarm on my laptop?
It depends on what operating system you have in your laptop. In some you might find the functionality in the clock application, where you can also set a timer or start a stopwatch. If it's windows 10, then the above solution will set alarms on your laptop or computer.
Why does my alarm not make any sound?
Make sure that the phone is not in silent mode. Ensure that the Bluetooth is not enabled, so the sound does not go to i.e. a headset. Make sure that all the volume sliders are up (Ring, Media, Messages, and system). The setting Settings > Accessibility > Turn off all sounds is not set. In fact, other sounds (such as ringing) function as expected.
These are the steps you can follow if your alarm doesn't wake you up.
How do you put a timer on your laptop?
You can set a timer on your laptop Windows 10 by following the steps below:
Launch the Alarms & Clock app.
Click 'Timer'
Click on the '+= button in the bottom-right to add a new timer.
How Do You Set Time and Date?
You can do this through the settings:
Launch the Settings
Search for Date and Time in the Settings window.
Tap date and time in the left pane when the window appears.
Make sure the option set automatically is turned on.
If the option is turned off, then set the date and time manually.
Do alarms work in airplane mode?
Airplane mode or flight mode only disables your phone's signal transmitting functions, not the functions that don't require a signal to function. So, yes alarms do work in airplane mode.