A major problem that iPhone users frequently experience is the "WhatsApp Couldn't Start" error. Whenever you launch WhatsApp, the error message shows. Your iPhone must be restarted in order to fix the issue.
You may be able to access WhatsApp once again after restarting, but in most cases, this remedy is just temporary or futile.
If you happen to contact WhatsApp then you should receive a message telling you that "This issue is out of the scope of WhatsApp support." That means the problem lies in your device and you need to fix it.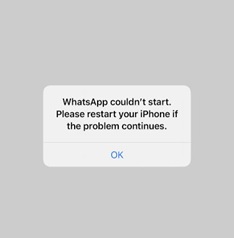 How to Fix WhatsApp Couldn't Start Problem on iPhone?
1. Ensure That Your Phone Is Connected To The Internet.
Make sure that your iPhone is connected to Wi-Fi, you can assure that by:
Going on Settings > Wi-Fi.
If the Wi-Fi is off, turn it on.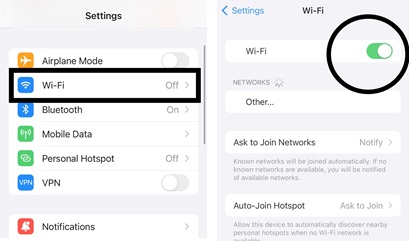 If not Wi-Fi then ensure that your phone shall have an internet connection via mobile data, you can on the mobile data by:
Going on Settings > Mobile Data.
If it is off, TURN IT ON.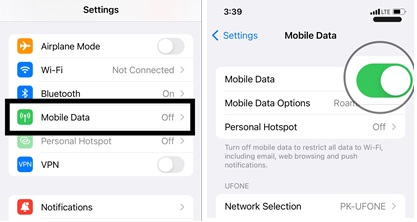 2. Update WhatsApp
Having the older version may cause an error in the working of WhatsApp as it may have bugs the updated version can on the other hand fix this problem.
Go to App Store
Search WhatsApp on the search bar
Click on Update.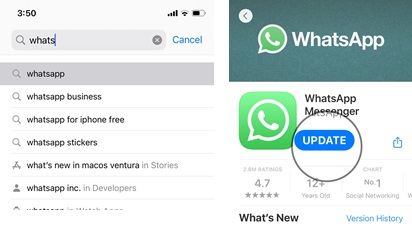 3. Free Storage Space
WhatsApp is one of the apps on an iPhone which may not function if enough storage is not available, for the proper functioning of the app make sure you have enough storage space.
To check the storage follow the steps:
Go to Settings > General > iPhone Storage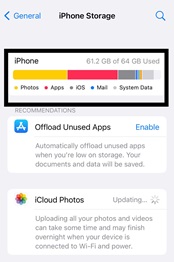 You can free the storage space on your phone by:
Deleting unnecessary images, videos, or files.
Offloading apps which are not in current use.
Deleting chats.
4. Uninstall and Reinstall
Another way to ensure the smooth working is to uninstall it and then reinstall it, you can do it by:
Tap on the WhatsApp icon on the home screen until it starts fumbling or shaking.
Tap on the cross (x) or minus (-) at the top right of the icon.
Go to the app store and locate the latest version of WhatsApp and download it.
5. Force Quit App
After clearing the storage space it is important to let the apps utilize RAM to run effectively, the best way to do it is by closing the apps which are running in the background.
It can be done by:
iPhone 8 and below:
Double-tap the home button, and swipe left or right to find WhatsApp.
Swipe up on the app to close it.
iPhone X and above:
From the device's Home Screen, swipe and then pause.
Swipe left or right to find WhatsApp.
Swipe up on the app to close it.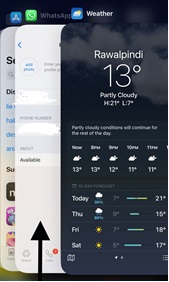 6. Update iOS
Updating iOS to the latest version can help in removing bugs and errors from the apps and would maintain the smooth working.
To update the iOS to its latest version:
Go to Setting > General > Software Update. Update it to its latest version.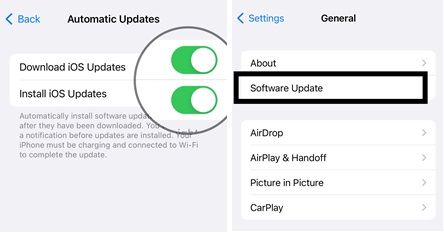 7. Factory Reset iPhone
Factory resetting your iPhone can be one solution to restore and get back to your WhatsApp but before that make sure that you back up all your important data including images, videos, files, etc because factory resetting your iPhone would remove all the data present in your iPhone.
Following are the steps for factory resetting your iPhone:
Tap Settings > General > Transfer or Reset [device]
Tap Erase All Content and Settings
If asked, enter your passcode or Apple ID password then confirm that you want to erase your device.
Wait for your device to erase
Depending on your device, it can take a few minutes to completely erase your data.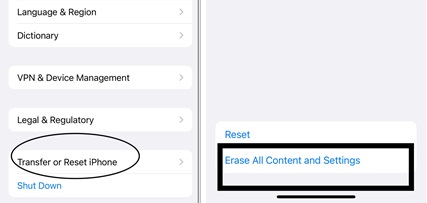 8. Reset iPhone as a New Device Without Restoring it from a Backup
This is the last resort if you keep dealing with WhatsApp couldn't start please restart your iPhone problem. According to a Redditor if you can set your iPhone as a new device and won't restore iCloud backup it can fix the WhatsApp Couldn't Start error.
Performing a Factory reset will remove all data from your iPhone so we recommend you create a backup using UltFone iPhone Backup Unlocker.
Once your phone turns on select the 'Set up as a new iPhone' option. After that download WhatsApp and log in with your phone number to use it.