Blox Fruits Script allows you to exploit, hack, and automate specific tasks in the popular Roblox Game Blox Fruits. These scripts grant players abilities like Auto Farm Levels, Auto Mastery farm, Fruit Finder and Fruit Sniper, Aimbot for guns, Weapon level farming, Auto Raid completion farming, Auto Bounty farming, Server hopper, Boss farm, ESP, Teleportation, a complete shop of all game items, dungeons, etc.
Different Blox Fruits Scripts grant different cheats/hacks, for this reason, we have all the best top Roblox Blox Fruits Scripts GUI listed below. You can experiment with them and try out each one to see which is best. Only the latest working Blox Fruits Scripts 2023 are provided taken directly from Pastebin. Patched Blox Fruits 2022 scripts are not included in this list. Some of these Blox Fruits Scripts also work on mobile via Acreus X V3 mobile Roblox Executor.
Note: You will need a good Roblox exploit or executor like Synapse X, Krnl, Fluxus, JJSploit, Acreus X V3 etc. that still works in 2023 to get these scripts working.
All Available Blox Fruits Scripts
Here's a list of all major Roblox Blox Fruits Scripts known to be working in September 2023. You can copy and paste them just like you would from Pastebin. Alternatively, you can also download these scripts for saving purposes from the download button above.
Note: Some of these scripts work on a key based system which will make you do certain tasks like watch videos, like videos, do surveys, etc. before letting you access the scripts features.
Blox Fruits Script HoHo Hub V3/Gen 3 2023
Some famous abilities this script provides in Roblox Blox Fruit are Auto Farm Levels, Auto Mastery, Bounty Farm, Fruit Finder, Race V4, Weapon Level Farm, Combat Macros, Devil Fruit Finder and farming, Bring Mobs, etc.
loadstring(game:HttpGet('https://raw.githubusercontent.com/acsu123/HOHO_H/main/Loading_UI'))()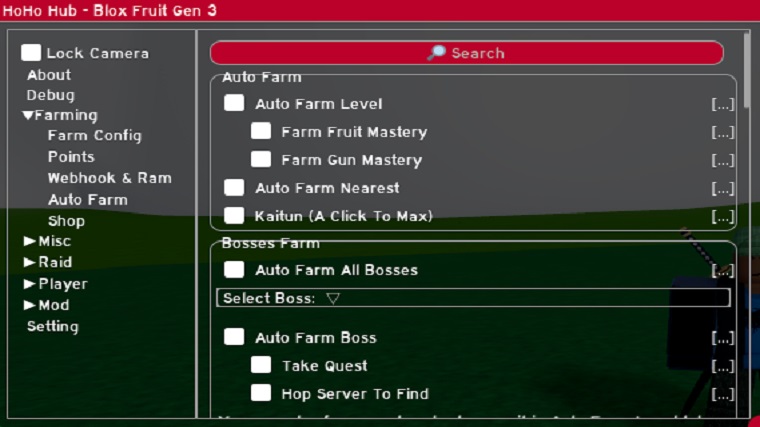 Blox Fruits Script Neva Hub V2 2023 Updated
Some noticeable powers this Blox Fruits script provides are Auto Mobs, Bring fruits, auto bounty, auto weapon and fighting style, Server hopper, boss farm, mastery farm, Devil Fruit finder and farming, etc.
loadstring(game:HttpGet('https://raw.githubusercontent.com/VEZ2/NEVAHUB/main/2'))()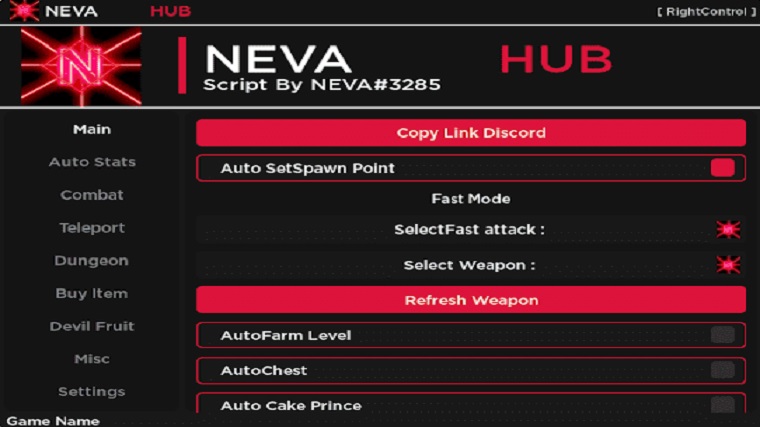 Blox Fruits Sara Hub Script 2023 | NO KEY Required
Cheats like Auto Raid farming, teleporting, Devil Fruit farming, full in-game shop, auto farming, chest farming, etc. are possible with this Blox Fruits Script GUI. This script is free and does not require a key to access to it.
loadstring(game:HttpGet('https://raw.githubusercontent.com/SaraSenpai/bloxfruist/main/Sarahub'))()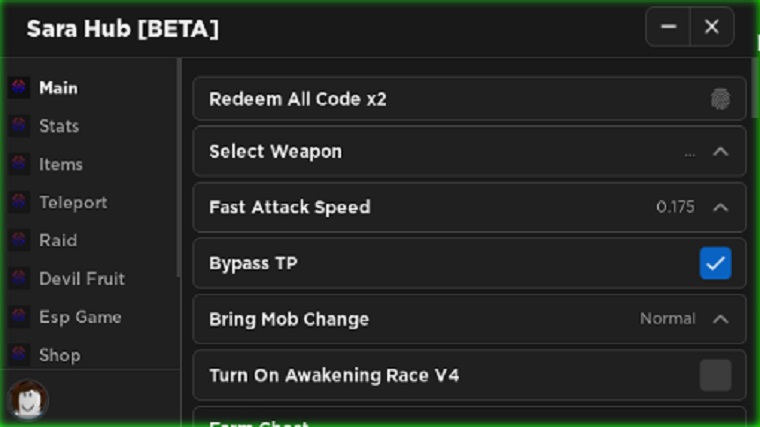 Blox Fruits Raito Hub Script 2023 Working
Some of the most popular hacks like Auto Raid Farming, Teleport, Devil Fruit Farming, Boss Farm, Dungeon Farming, and much more are possible with this Roblox Blox Fruits Script GUI.
loadstring(game:HttpGet("https://raw.githubusercontent.com/Efe0626/RaitoHub/main/Script"))()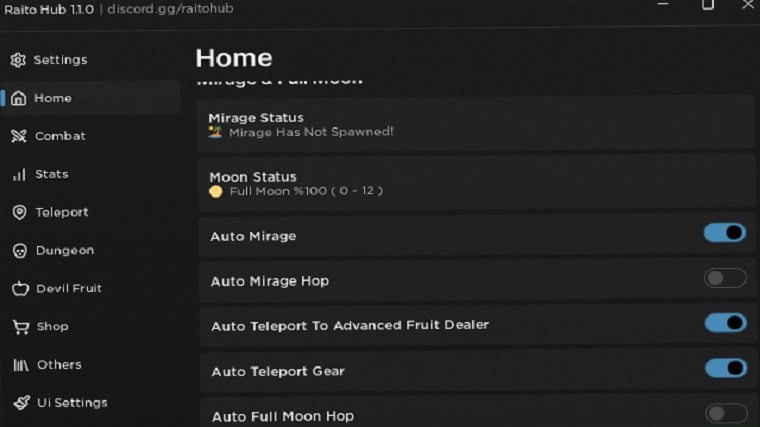 Blox Fruits Bull Hub Script Latest 2023
The following are some of the possible cheats with this Blox Fruits Script, Devil Fruit Finder & Farming, Dungeon Farming, complete in-game shop in the GUI, Fruits Sniper, Raid Farming, Auto Level & Weapon level farming, and many more.
loadstring(game:HttpGet("https://raw.githubusercontent.com/Fiend1sh/FiendMain/main/BullMain"))()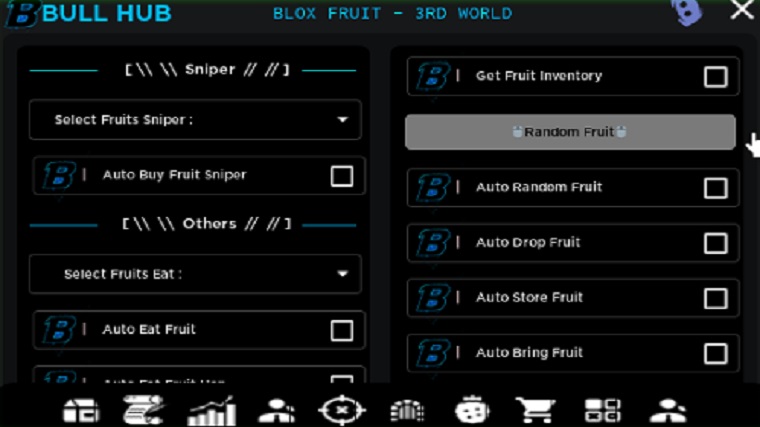 How to Execute Blox Fruits Script
To use any of the above given Blox Fruits Script for Roblox follow the short instructions given below.
Note: Please keep in mind we will not be responsible for any problems or bans you face for using these scripts. For your account's safety use a dummy or alternate account.
Step 1: Launch Roblox and then start the Blox Fruits Game/Experience.
Step 2: Wait 10 seconds and then launch your preferred Roblox Executor. Copy and Paste any of the Blox Fruits Script's code given above into the executor's script editor window.
Step 3: After pasting the script click on Inject and then Execute. If you've followed all the steps correctly then the GUI of the Blox Fruits script should open up and you can select which hacks/cheats you want to enable.