It's super easy to find a free VPN. The hard part is to find the best VPN for China that is worth the download. These are VPNs that bypass China's advanced online censorship system, known as the Great Firewall. Countries like China with strict internet rules put censorship on Western sites, apps and social media. Hence, a China VPN that promises complete protection and an escape from these strict Chinese government controls is a real bet.
Beknown to this fact, most people go wild at trying every China VPN they get at hand to get around the censorship and beat the great firewall. But, not all VPNs can pass China's Great Firewall and some that do are frustratingly slow. To avoid being cut off from sites and apps like Google, WhatsApp, and Facebook, it's important to know the right VPN that works best for China.
To make the decision easier for you, I spent 77 hours testing the 37 VPNs subsequently. When deciding which VPN to use in China, I looked out for a large range of available servers (particularly those in Asia), reliably fast connection speeds, and tight security features that adhered to a strict zero-log policy. In the end, I handpicked the three best VPNs for China that are legitimately reliable and true to their work – and they all come with a money-back guarantee in the event that you don't want to continue. So, ready to untangle the censored world and experience things that you couldn't your past days?
Short on Time? Here's a (1-Minute Read)
Quick Guide: Best VPNs That Still Work in China in 2023
How to choose the best VPN for China
In order to consider the best China VPN, we need to consider a VPN service with reliable obfuscation technology to escape the Chinese government strict controls. Obfuscation is a feature of a VPN provider that helps to mask the fact you're using a security tool, making your encrypted connection look like normal traffic.
Similarly, we recommend a service with a proven reputation and a strict no-logging policy, too. We recommend that you look out for a large range of available servers (particularly those in Asia), reliably fast connection speeds, and tight security features. Finally, the high-quality customer support that has 24/7 live chat is a must with China VPNs to remedy your problem if you run into server issues at any time.
3 Easy Steps: How to Use a VPN in China
Subscribe to a VPN that works best in China
Download the app to your device
Connect to a server recommended for users in China
The VPNs That Still Work in China — Don't Waste Time With Others
Not many VPNs work in China and this led us to find out which VPN tops our recommendations for the best China VPN that can bypass the Great Firewall and protect your internet activity. In this article, we present you with the best VPNs for China in 2023. All of the VPN recommendations on our list offer excellent data protection, speedy connections for lag-free browsing, and additional features to ensure your internet freedom.
#1 – ExpressVPN is the best VPN for China with the fastest and most reliable server network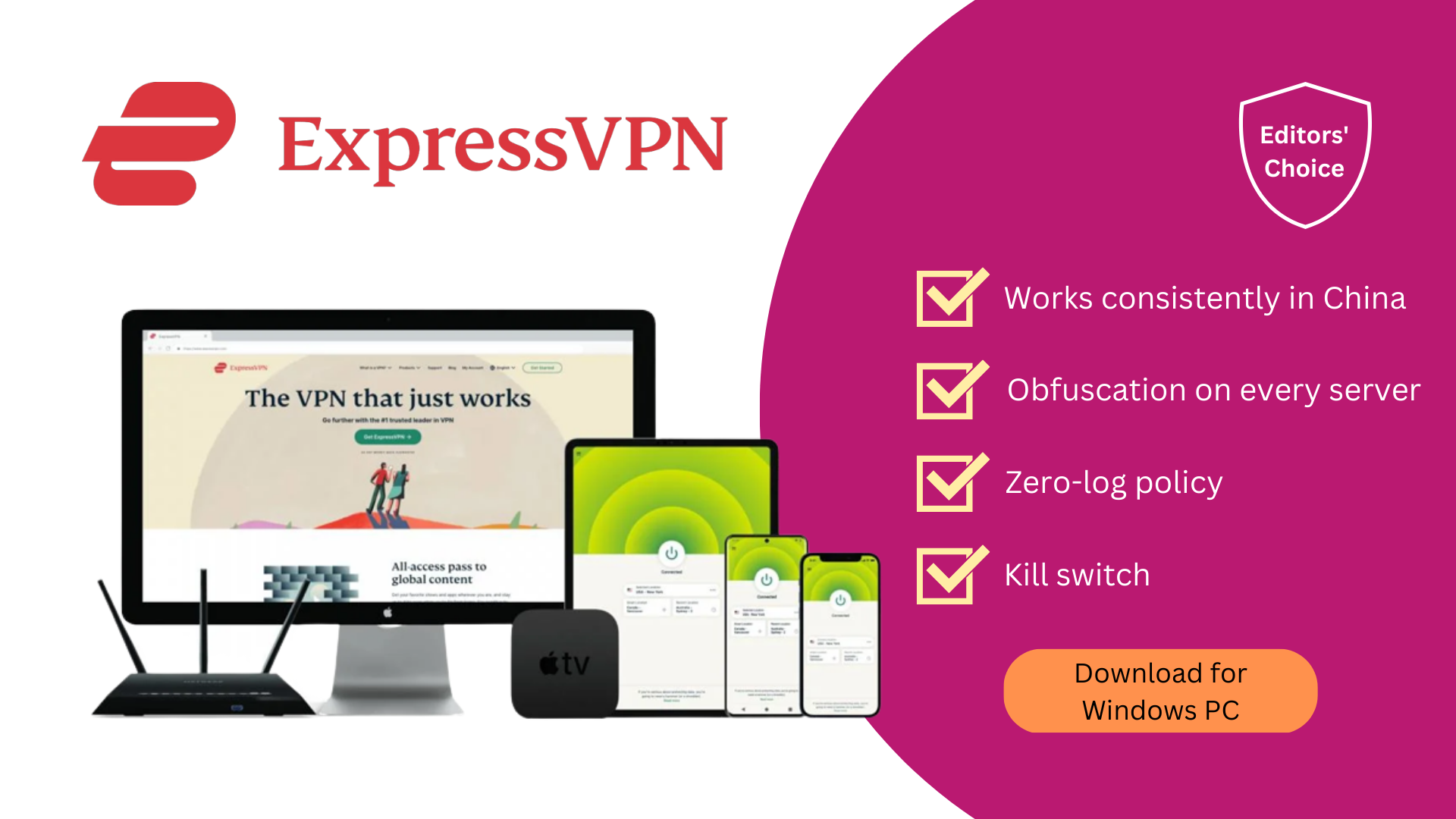 Why We Picked It
Works consistently in China — servers in Hong Kong, India, Japan, UK, US, and more
Obfuscation on every server — access to Netflix, Instagram, Google, WhatsApp, and more
Top-tier security and privacy keep your activity safe and anonymous
30-day money-back guarantee
With obfuscation on every server, ExpressVPN download for Windows ensures your VPN traffic can avoid detection by China's firewall. During tests, my colleagues and I tried multiple servers from China, and they all made successful connections — the best options being Hong Kong, Japan, and the US (New York).
ExpressVPN can keep speeds fast across its global network. In my tests, speed loss was minimal — just 18% on average from my regular internet speeds and it wouldn't feel like a big slowdown. These fast speeds are due in part to ExpressVPN's proprietary Lightway protocol designed for top speeds and security. This protocol is available for use in China but you can also switch to OpenVPN protocol.
This VPN for China ensures your data anonymity with AES-256 encryption, an audited no-logs policy, and RAM-only servers. In addition, there's protection against DNS, IPv6, and WebRTC leaks. Also, there's a strong kill switch to prevent any accidental data leaks, and stealth servers to better hide your VPN connection.
ExpressVPN is a little more expensive, but it's worth the cost for a VPN that consistently provides reliable connections in China. You can purchase your ExpressVPN subscription for $6.67/month and cover up to 5 devices at once. In addition, there's a risk-free 30-day money-back guarantee.
#2 – NordVPN – the best VPN to freely browse the internet in China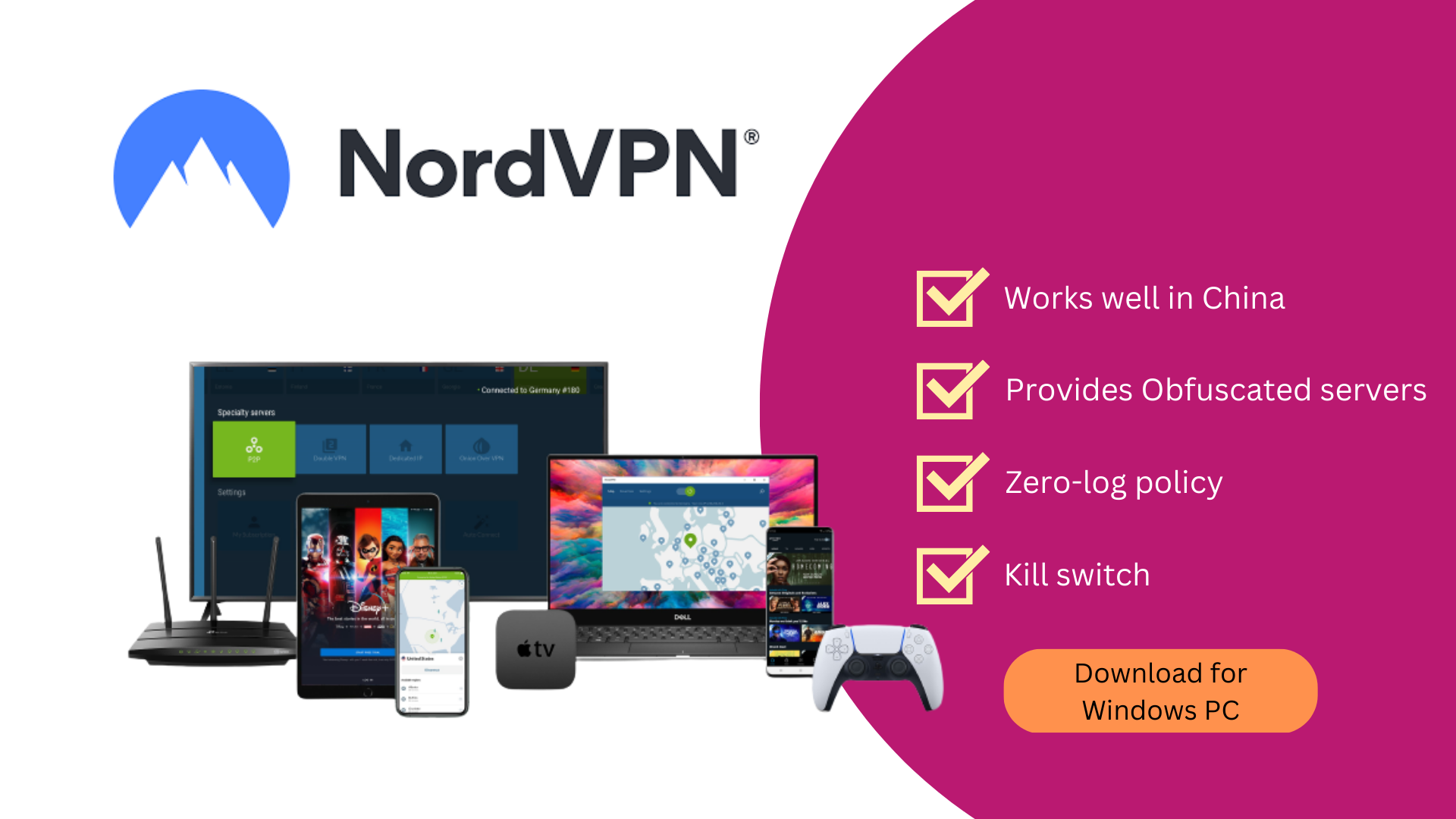 Why We Picked It
Works well in China – 70+ servers are in Hong Kong and surrounding countries like Japan, Singapore, South Korea, and Taiwan
Uses obfuscated server
Access to Netflix, Hulu, BBC iPlayer, Disney+, and more
Top-tier security and privacy keep your activity safe and anonymous
30-day money-back guarantee
NordVPN uses Obfuscated servers that hide the fact that you're using a VPN to reroute your traffic. This will allow users to connect to a VPN even in heavily restrictive environments. NordVPN download for Windows offers a vast list of 5500+ servers in 60 countries, out of which 70+ servers are in Hong Kong and surrounding countries like Japan, Singapore, South Korea, and Taiwan. It has obfuscated servers in nearby territories such as Japan and Hong Kong, with its Double VPN feature for further anonymity still available in Taiwan. Those local servers should mean more stability and speed when you're logging in from China.
The internet speed in China is far from the best and the ISPs tend to throttle your bandwidth. With the proprietary NordLynx, you'll achieve excellent speed performance. More so, the OpenVPN protocol has been updated for better performance with stealth servers.
An exciting new addition is its Meshnet feature. This advanced option allows you to connect yours' and other devices via encrypted NordVPN connections so that you can create your own secure network. That's perfect for those working in China that want to protect their workloads across multiple devices.
It uses AES-256 encryption and has a triple-audited no-logs policy. More so, extra protection comes from features like multi-hop (Double VPN), Tor over VPN (Onion over VPN), Stealth protocol (Obfuscated servers), and two types of kill Switches. NordVPN's price starts at $3.29/month and comes with a 30-day money-back guarantee that'll cover up to 6 devices.
#3 – Astrill VPN – secure VPN to bypass China's internet restrictions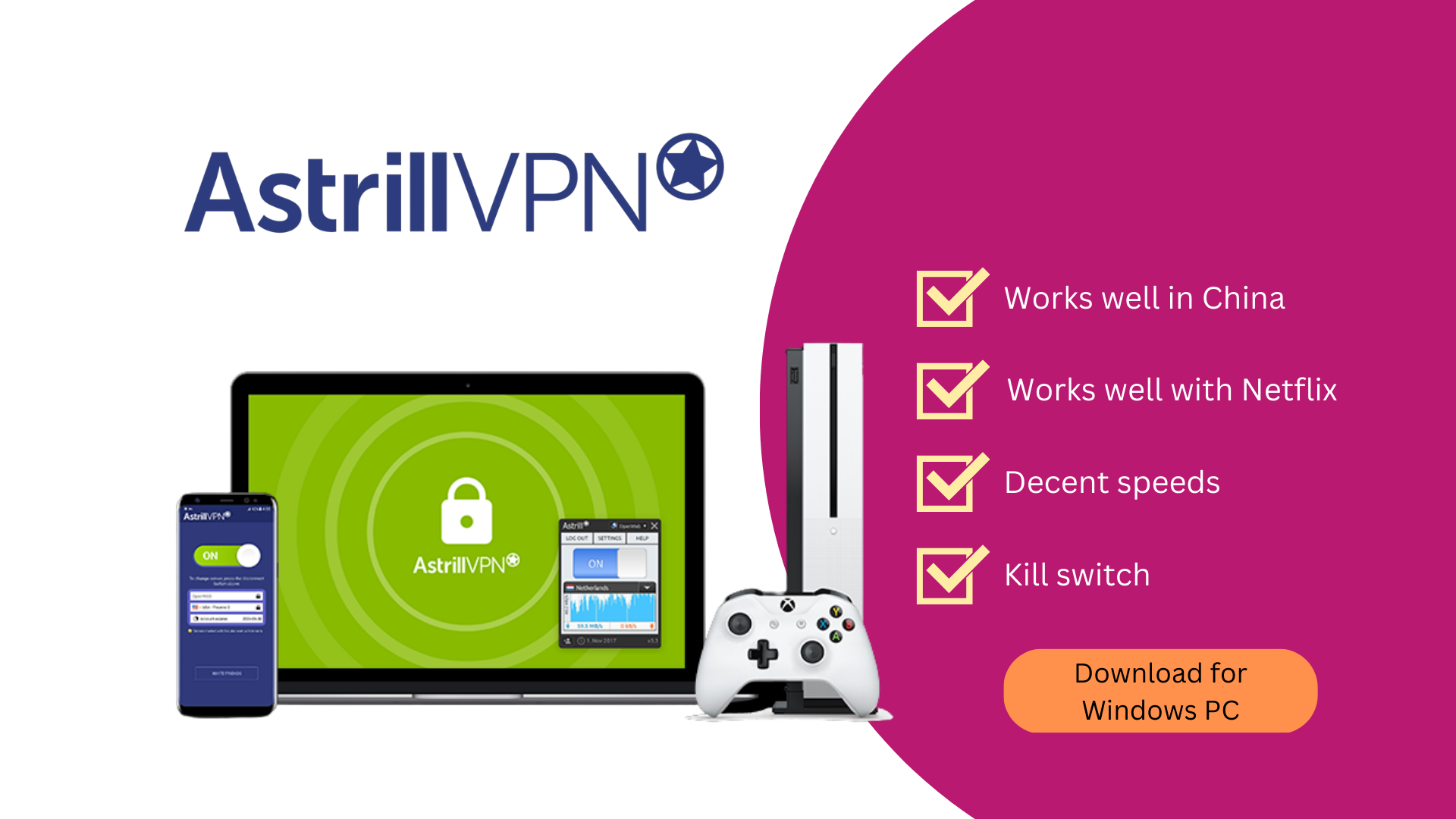 Astrill VPN has a Stealth VPN tunnelling protocol, which helps to bypass the Great China Firewall easier. It comes with an extensive 3000+ servers list in 57 countries. Better yet, it has one server in Hong Kong, and several in surrounding areas. That includes Japan, South Korea, Singapore, and Thailand. Unfortunately, for users in China, in order to successfully bypass the firewall, it's highly recommended to purchase the StealthVPN protocol upgrade.
This China VPN service offers decent speeds. However, the connections aren't the most reliable. Sure, the connection speeds are quick, and you won't experience major lags. Astrill VPN also boasts download speeds that can handle video streaming as long as users select a server without excessive load. The wide range of server locations makes it ideal for bypassing geo-restrictions.
It includes AES-256 data encryption with private encryption keys that change every 24 hours. Also, Astrill VPN for China is based in a privacy-friendly jurisdiction and has a no-logs policy, so your data isn't collected. More so, there's a kill switch to prevent accidental data leaks. In addition, there's a split tunnelling feature, port forwarding, and deep web support for secure browsing in the deep web.
You can purchase an Astrill VPN subscription for $12.50/month. This is one of the pricier VPNs on the market, and worse yet, there's no money-back guarantee. But if you're just looking for a VPN for China that will let you access the sites you want and protect your online identity from government eyes, then Astrill VPN could be worth splashing out on.
Are VPNs legal in China? Is VPN in China illegal?
They are legal but severely restricted. Back in 2018, the Chinese government decided to ban all VPNs that aren't approved by the government. Soon the VPNs disappeared from the local App Stores, and the ISPs started controlling them more tightly.
These measures were mostly targeted at locals, so travellers can still download and use the best China VPN apps. Even after the ban in 2018, some VPNs continued to work effectively. If you're a local, using a VPN will be much riskier, especially if you reside in provinces like Xinjiang, where the population is more strictly controlled by China's regime. If caught, citizens can face serious consequences.
How VPNs bypass the Great Firewall
A VPN encrypts your connection and makes it impossible to detect and thus filter out the pages you're trying to access. Even if it's the Great Firewall of China, your connection is passed through the outside server network that has unrestricted access to the Internet. That way, you're experiencing the Internet as if you were located somewhere else, but physically you're still located in China.
It's worth mentioning that China has cracked down on most free VPN services and proxies. The Great Firewall detects some free VPN IP ranges and blocks them in their tracks, making them useless. So, if you want any guarantee that a VPN will work for you, it's not a bad idea to think about a paid VPN service provider like ExpressVPN.
Why does China block most VPNs?
China is an authoritarian regime that likes to spy on its citizens and visitors alike. This is why they limit the available online content and spread government propaganda and keep foreign sources unavailable. Since VPNs are designed to unblock websites and services by bypassing the Great Firewall, China sees them as dangerous and detrimental to its policy.
Strangely enough, those VPNs that worked before 2018 continued to work today. That's probably because, without any VPNs, China would hurt itself economically. After all, there are foreign businesses that need access to various online resources to function. So in a sense, China is leaving those few VPNs in relative peace for its own good.
What is the best free VPN for China?
There are already very few premium VPNs that work in China, so finding a free VPN is practically impossible. The only free VPN for China that worked well is Windscribe. This is the best free VPN in China as of 2023 and gives you 10 GB/month to browse, stream, and torrent. So, with Windscribe, you'll be able to watch a three-hour-long movie or browse for more than five hours each day.
How to Choose a VPN for WhatsApp in China
Find a reputable VPN provider that works in China
Turn on Obfuscated Servers
Connect to the VPN
Try WhatsApp
VPNs that don't work in China
There are a few VPNs that work in China and plenty of VPNs that don't work. Take a look at the list so you omit these when looking for the best VPNs for China.
AirVPN
Avast SecureLine VPN
Betternet
CyberGhost
HideMyAss
IPVanish
MacAfee Safe Connect
Mullvad
Perfect Privacy
Private Tunnel
StrongVPN
SurfEasy
VPN Unlimited
ZenMate
Popular media platforms that are blocked in China
Social networks.
Streaming sites
Game publishers
News and informational pages
Search engines
Internet censorship circumvention websites.
File-sharing websites
Conclusion
China and its restrictions basically cut down everything on you. It blocks search engines social media apps, sites and basically everything you would want to use. A VPN for China is the best way to access all these while protecting your information, and keeping you anonymous online. So, your ISP won't be able to track your activity online and log it.
In my opinion, the best VPN for China is NordVPN. This VPN provider offers excellent data protection tools, has an obfuscation feature that helps to bypass the Great China Firewall, and, in turn, works really well in China. More so, NordVPN download for Windows PC offers excellent connection speeds and unblocks all of the popular streaming sites. So, you can enjoy lag-free browsing and unlimited content libraries. The best part is that it comes with a 30-day money-back guarantee.
I even scoured Reddit to look for the best China VPN and clearly, a bunch of people were mentioning LetsVPN and AstrillVPN. People have really great experience using it on PC and Android. So, this further reinstates that Astrill VPN and LetsVPN for Android are really gearing up for the title of the best VPN to use in China.