Wondering why is my Call of Duty Warzone mic is not working?
COD Warzone features an in-built voice chat feature that allows you to communicate with your teammates.
Since its launch Warzone is filled with number of errors and issues are never-ending. Disrupted communication can make a difference between winning and losing.
Excellent communication is key to success when playing battle online mode games like COD Modern Warfare, Battlenet Warzone. You may ask for help, give warnings, and plan attacks.
Some users have reported Call of Duty Warzone voice chat not working on PC. They cannot communicate with friends in the game at all.
If you're in a same situation, don't worry you can fix Warzone mic not working issue on PC & Console by following this guide.
Why is my Voice Chat not working on Warzone?
COD Warzone can't hear teammates? or Warzone voice chats are not working due to the following reasons:
Make Sure your Mic is set properly /microphone might b disabled
Modify the Audio Settings Within the Game
Audio drivers of your PC might be outdated
Update Windows 10
Solution 1: Toggle Voice Chat in the game To Fix Warzone Mic Not Working.
The voice chat feature sometimes gets stuck, especially if you've been using it for a long time. Fortunately, disabling and enabling the Voice Chat feature in Call of duty Modern Warfare or Warzone is sometimes enough to get it working again.
Launch the Call of Duty Modern Warfare or Warzone game.
Open the Options menu and go to Audio.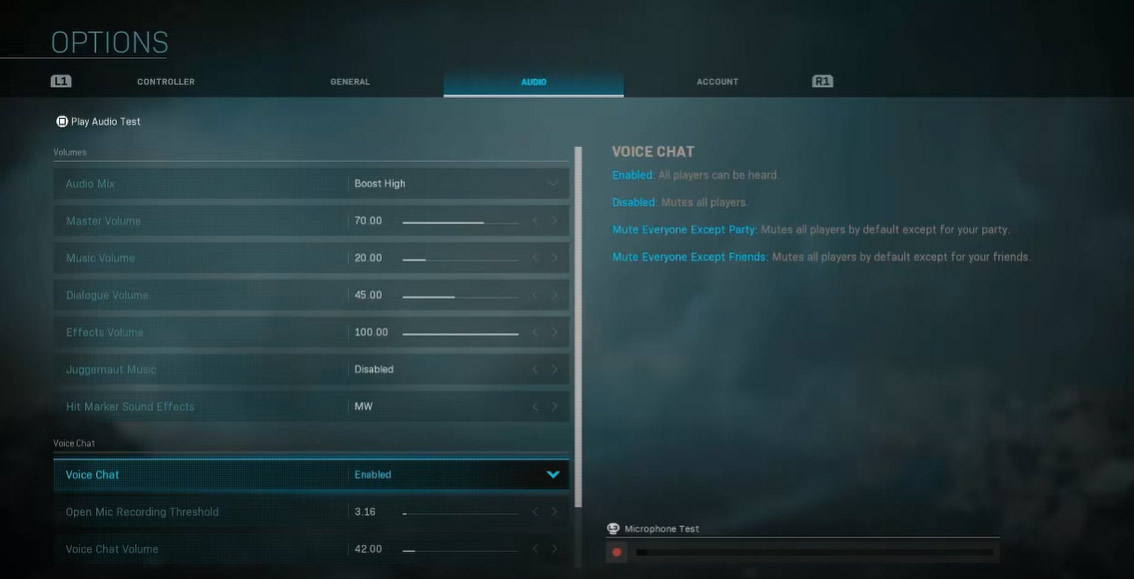 Change Voice Chat to Disabled then turn it back to Enabled again.
Put Open Mic Recording Threshold to a minimum.
Set Voice Chat Volume and Microphone Volume to a moderate value (more than 00).
Save the changes and run Call of Duty Warzone again.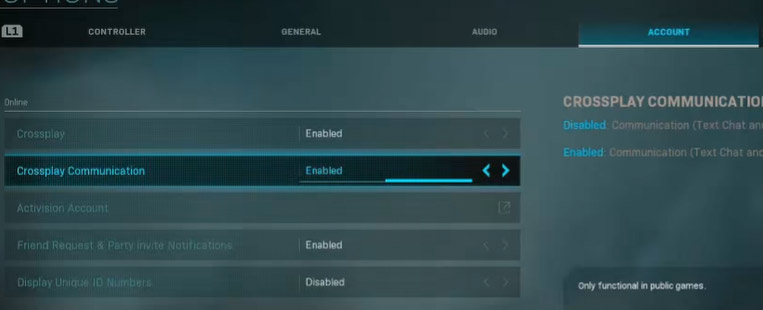 Go to the account section
Ensure that the Crossplay communication settings to Off, then turn it back On again other wise you wont be able to voice chat to different platforms on COD Modern warfare/ Warzone.
Solution 2: Make sure your recording device is set up correctly?
To enable voice chats in COD Warzone you need to check that your mic is appropriately attached to your PC. You should set your Mic, as the default recording device on Windows and Battle.net clients. Without the proper setup of the Mic, you'll get Cod Warzone Mic Not Working Error. To set up your Mic correctly on Windows follow the steps below.
Click the Sound icon and select Open Sound settings.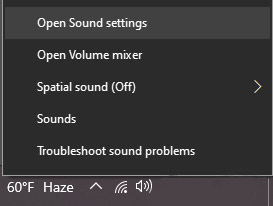 Under the Input section, make sure your input device is set to your desired one. Then click Device properties and test the microphone.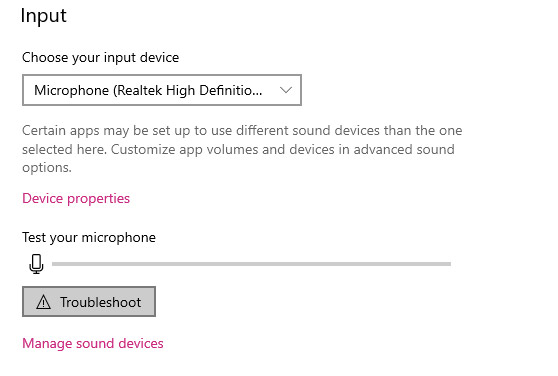 Uncheck the box next to Disable, and set the slider under Volume to 100.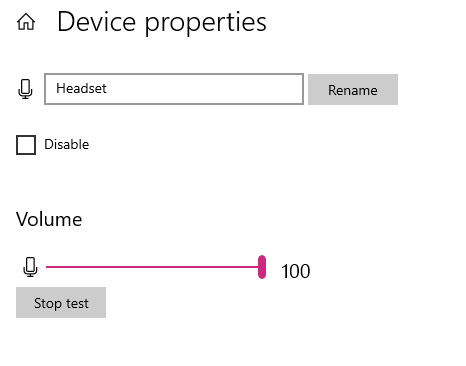 Click Start test and tap or speak to your microphone. Then click Stop test.
Set up your mic correctly in the Battle.net client
launch Modern Warfare via Battle.net
Now click on Options and select the AUDIO tab
And set Voice Chat to enabled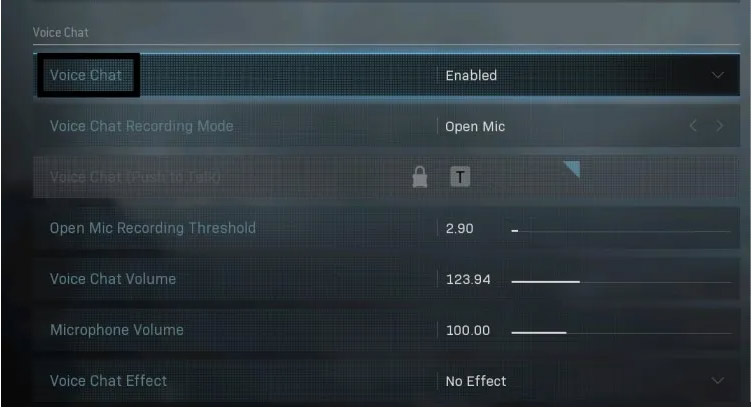 Now set Open Mic Recording threshold to the lowest (to 0)
If the setting is too high, your voice chat won't work
Save settings and launch your warfare to check Modern Warzone/Warfare Voice Chat Not Working
After enabling the voice chat now proceed to the next solution to fix Warzone audio issues after the update.
Solution 3: Update / Reinstall Audio Drivers to fix Modern Warzone Voice Chat not Working
In some cases, a faulty or outdated audio driver could also prevent the Warzone mic from working. Updating/Reinstalling the latest audio drivers for your PC could fix this issue. There're mainly two ways you can update your audio driver: manually or automatically.
Use the built-in Device Manager or a professional third-party free driver updater tool like DriverEasy (Recommended).
Update /Uninstall and Reinstall your audio driver manually
If you can't hear any sound from your game mates you should try updating sound drivers. Here's how you can do that.
Press Windows and R a dialogue box will appear
Type "devmgmt.msc" and press Enter key
A device manager box will open and expand Audio inputs and outputs
Then Right-click on each sound hardware
Select Uninstall device.
After uninstalling Right-click anywhere on the same box and click scan for hardware changes.
After scanning default audio drivers will automatically be installed
Restart your PC and launch the Warfare and check if Modern Warzone Voice Chat Not Working.
If still there's an issue then try updating your driver. Right-click on sound and hardware and then click Update driver.
Solution 4: Check for Updates Windows 10
An outdated windows version may lead to a warzone PC can't hear voice chat. In such a situation updating your Windows may help resolve the warzone mic not working issue.
Press Windows + I to open settings
Navigate to Update & Security> Windows Update,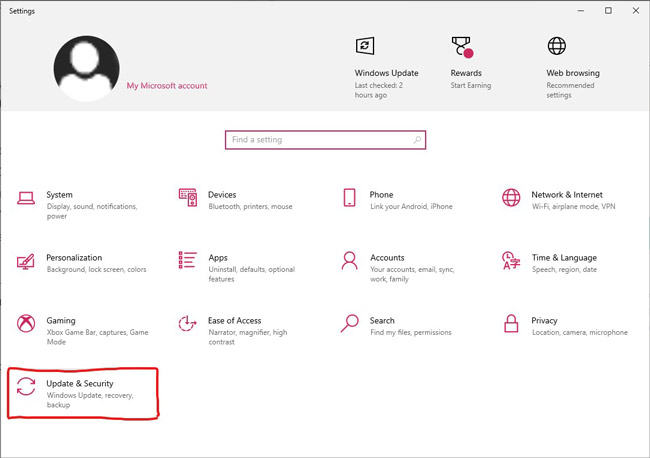 Click the check for updates button.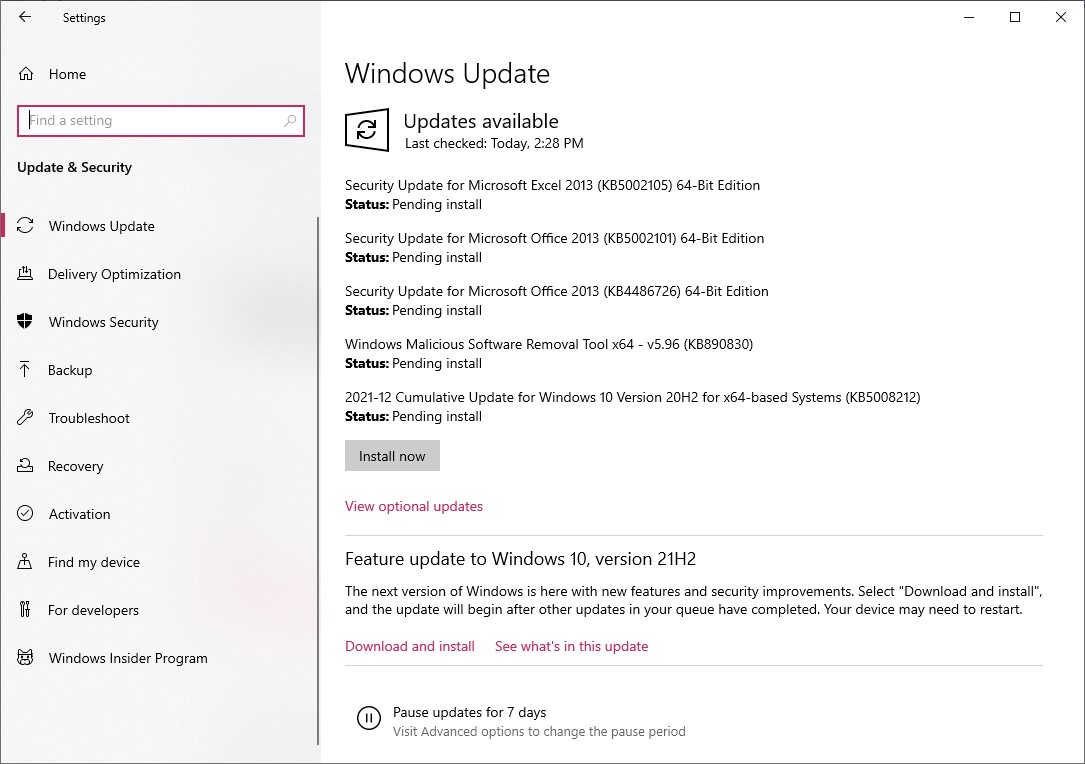 Download and install all the available system update and restart your machine.