God Of War is now available on PC, but one question that many players have is whether or not there are cheats for the PC version. Cheats can add excitement and depth to the game, but it's important to note that there are no official cheats for God Of War on PC.
In this article, we will explore any available cheats for God Of War on PC that can enhance your single-player experience.
God Of War Cheats and Trainer
Unfortunately, there are no official cheats for God Of War on PC that can be activated through an in-game cheat console. However, players can use third-party trainers and cheat engines to gain an advantage in the game. In this article, we will highlight the best trainers that offer cheat options for God Of War on PC. Furthermore, you can use God Of War Secrets tips & tricks on PS3/PS4 and Xbox while playing the game.
1. Download God Of War Trainer from WeMod
WeMod is a free platform that offers thousands of mods and trainers for popular single-player PC games. Using this tool, you can easily mod your games with just one click, as it automatically detects the games you have installed on your device.
This God Of War Trainer offers a variety of cheat options for God of War on PC, with a total of +15 options available. Simply visit the official WeMod website to download and install the trainer for your game.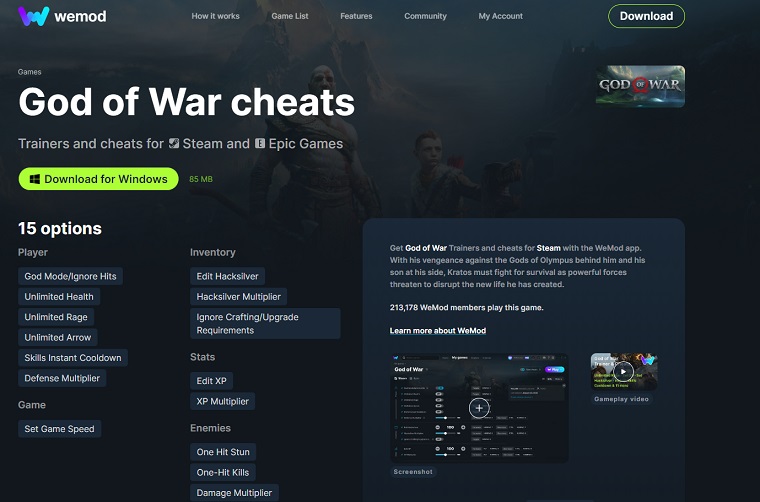 To use this God Of Trainer, simply follow the below steps.
Download WeMod for your windows PC. It is compatible with Windows 10, 8.1, and 7.
Launch WeMod and you will see God of War in it.
Load up the game and this is when you can enable cheats on PC. (Remember to read the notes and steps mentioned on the site to be able to activate and use these GoW PC cheats without issues. Use them at your own discretion and keep backups of your saves).
2. Download God Of War Trainer from FLiNG Trainer
FLiNG Trainer is a reliable source for God of War cheats on Steam, offering a wide range of free mods, cheats, and trainers for the game. Simply visit their website to find the cheat options you need to enhance your gameplay experience.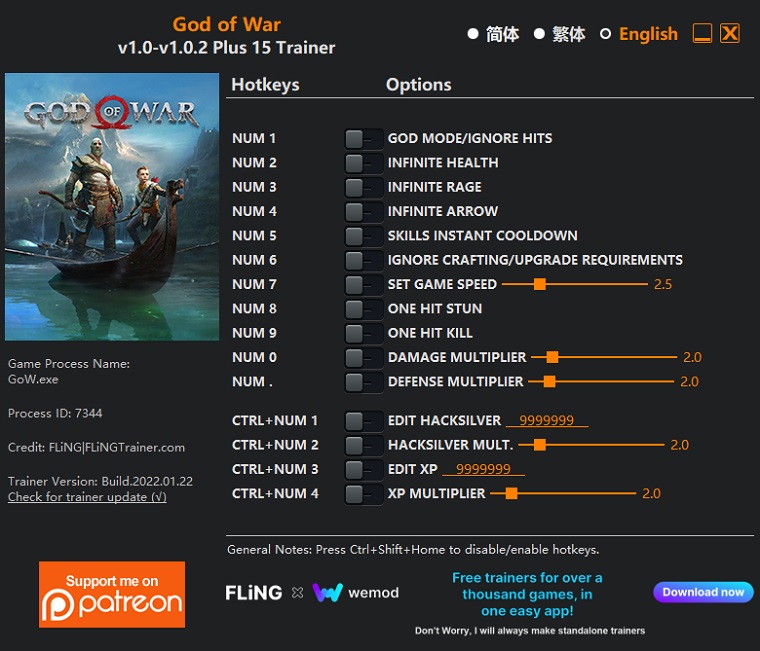 To access God Of War cheats for the Steam version of the game, you can use a trainer program like FLiNG Trainer. On the FLiNG Trainer website, you can find a variety of cheat options for the game, including +15 options. To use these cheats, simply download and install the FLiNG Trainer program, run it, and search for the God Of War game. Then, activate the cheats as desired to customize your gameplay experience.
That's everything you need to know about God of War PC Cheats and Trainers. If the game is crashing on your PC, you're getting the not enough memory issue, and FPS drops & Stuttering Issues check our guides that will help you out.